Running from July 1988 – October 1991, FEAR was a British monthly magazine dedicated to fantasy, horror and science fiction (although predominantly focused on horror fiction). Edited by, John Gilbert, throughout its life the magazine stayed true to its original blueprint by giving over a large portion of its pages to horror, fantasy & SF in literature, rather than the more mainstream angle of focussing on film. Despite relatively low sales throughout its 34 issues, the publication managed to survive the duration of Newsfield's business operations (the magazine publishers eventually went bankrupt).
Along with featuring detailed profiles on a vast array of the genre authors, FEAR also included short fiction within each one of its issues, with at least one of these shorts in each issue having been penned by a reasonably well-known author.
Click on the issue covers below for an insight into the contents, as well as reviews on each short story included in that particular issue. Although the complete set of 34 issues are included below, with their respective contents detailed, the short stories within each have not all been read and reviewed to date. This is gradually being rectified.
All that's left to say is thank you to John Gilbert for delivering such a damn fine publication and a firm salute to all of you who cherished each issue as much as I did.



In July 1991, Newsfield Publications launched the first issue of the horror short story magazine 'Frighteners'. The magazine's extremely short life saw only three issues of this sister-publication to FEAR (which collapsed at the same time as Frighteners). This was reportedly due to a particularly controversial and extreme short story by Graham Masterton entitled 'Eric The Pie' that was included within the first issue. After a complaint that led to both John Menzies and W H Smith refusing to stock the magazine further, the issue was subsequently pulled from circulation entirely, except from orders direct from the publisher (which was detailed in issue 2).
September 1991 saw the publication of the final issue of Frighteners, although no inkling of this being the final issue was included anywhere in the release. One final issue of FEAR followed (issue 34 - October 1991) and then both FEAR and Frighteners were finally left to rest.

Since its sad demise in October 1991, the much-loved magazine that was FEAR remained dead but far from forgotten. That is until October 2012 when the first of two A5 sized offerings, both with a very limited print run, were tentatively published by John Gilbert.

Following these two releases there was little activity with the resurrection of FEAR magazine until October 2013 when Gilbert all of a sudden published a free pdf-only 4 page newsletter entitled 'FEAR Weekly'. Sadly no follow-up newsletter emerged, and it was beginning to look like FEAR magazine had finally had its day.

Then in November of 2015 a 36 page ebook-only FEAR magazine (incorrectly numbered issue 35) was released, followed by a further ebook-only issue 36. Following these two electronic publications, Gilbert announced that sales were unfortunately too low for the continuation of the magazine in its current format to be viable.

Then in August 2016, FEAR magazine was once again reborn, this time returning to a full glossy publication. The first of these was issue 37.

Like many fellow genre fans, I remain hopeful that there continues to be a future for FEAR magazine. Show your support by purchasing copies of the relaunched publication, or better still, take out a subscription – all of which can be done at the official FEAR Magazine website: www.fear-magazine.com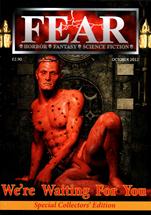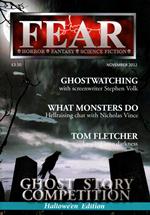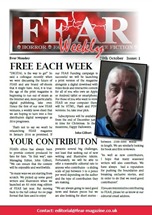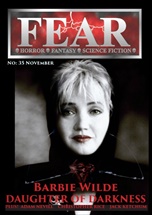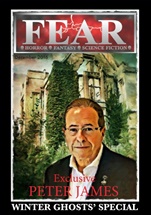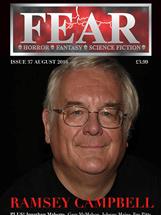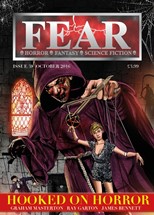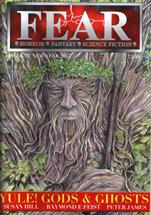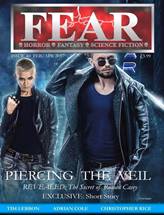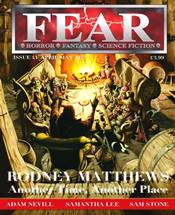 A B C D E F G H I J K L M N O P Q R S T U V W XYZ VARIOUS NON-FICTION