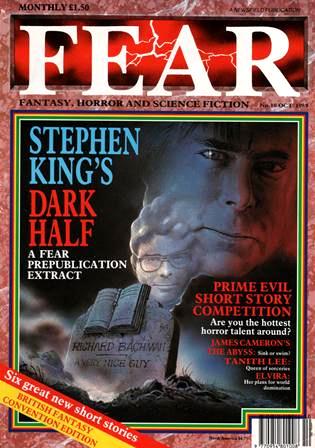 Issue 10 (October 1989)
74 Pages in total
Fear Fiction:
The Dark Half [Extract] – Stephen King – 4 Pages
Here we have a four page extract from US horror author Stephen King's novel 'The Dark Half' (1989).

Weighty Watcher – Adam Page – 5 Pages
Monty Whelp was just an everyday middle-aged husband, very much like any other husband of that age around the North of England. However, over the years of marriage with his wife, Minnie, Monty had gradually begun to distance himself from that of his once loving partner. Minnie's increasing addiction and near point-blank reliance on television and convenience foods were the root of the problem. And as she gradually became fatter and fatter - her days becoming consumed by television shows from dawn until dusk and then onwards into the night - Monty just came to accept that they were no longer going to share a life together. But it's when her bloated body finally gave up on her, and she died in the house she had spent the entirety of the last god-knows-how-many-years, that Monty finally saw the brighter things in life…

Laced with mischievous wit from the outset, Page's short spends the vast majority of its length detailing the ins and outs of the lives of our principal character and his ironically-named wife Minnie. Indeed, for the entire length of the short, not much really happens, other than Minnie getting increasingly fatter and Monty finally getting fed-up with his whale of a wife and moving out. Although written with a hefty slab of comical joviality, the short is still a little tedious in its verbose and meandering manner. Although it ends on a final joke, the reader still comes away feeling quite cheated that after all of that has been read, nothing really happened other than what was pretty much on the cards from the start. Witty, but nevertheless a bit of an overall disappointment.

Dreyfuss Dogs – Simon D Ings – 4 Pages
Four years ago the Dreyfuss Corporation of Montreal came up with a new combined surveillance and weapons system. Developed from Schnauzer stock, the genetics company had managed to link man to dog; enabling trained men and women to control their canine counterparts through a pseudo-psychic link. However, it soon emerged that one of their random employees, Harold Baker, was able to control the dreyfuss dogs without undergoing the usual biological implantations. He was unique; and as such, a much sort after specimen by Dreyfuss Corporation's Dr Gabriel Shephard. But Harold had other ideas. And together with Shephard's protégée, Judy Bramwell, the two of them planned to stop the corporation in its tracks…

Initially Simon Ings' short starts out like a cross between 'Fluke' (1977) and 'Cujo' (1981). However, as the fast-paced plot begins to take form, the story shows itself to be something of quite a clever and original note. Indeed, Ings has come up with an intriguing little premise for his short, coupled with some clever illustrating of the process of psychically 'leashing' the dogs, the story turns out to be one heck of a compelling read. Furthermore, Ings tells the story with a fast, but not overly rushed, flow to it. The whole tale works incredibly well, and certainly has the potential for a much longer and more involved story.


The Mirror – Deena J Carvell – 5 Pages
Peter remembered the mirror from when he was a small child. It used to hang in his grandmother's hallway; it's beautifully carved dark-wooden frame reflecting its age and quality. Now the antique heirloom was theirs. Passed down to Peter and Maureen. Kept in the family and always cherished by the women. But there was something about the mirror that wasn't quite right. Firstly, Peter didn't remember putting a nail in the wall for it to hang on. And Mo certainly wouldn't have done that. And secondly, how had Maureen, with her complete lack of skill at anything remotely involving arts and crafts, managed to restore the mirror so perfectly? And all of a sudden he could see the first cracks in their marriage appearing. Something strange was going on, and it had something to do with that god-awful mirror…

Deena J Carvell's short is certainly a slow burner. Indeed, it's quite some time before even the first hints of something odd begin to appear. And when they do, the suggestions are mild and somewhat clichéd in a 'haunted-old-object' kind of way. Sadly, the short barely progresses anywhere beyond this point, with painfully timeworn supernatural elements slowly creeping in, and barely anything of any real note occurring, until the tale eventually reaches a wholly unsatisfying conclusion. Getting there was a chore in itself, and for a tale with very little in it, Carvell manages to stretch out her disappointingly insipid idea to a yawn-inducing and highly unnecessary length.

Tar – Cliff Wallace – 4 Pages

Greg Wrapson had been making these drops for three years now. Always the same place. Always the same time of night. He hated doing it. Going to that vast derelict warehouse where the stench of smoke and tar clung to your every pore. But he knew he had to keep doing these drops. He'd already been warned what would happened if he backed out. It had taken his girlfriend – Jackie – a long time to get over the warning. The obvious threat that had been implied. So here he was again – in the dead of night – with a carton of cigarettes under his arm ready for delivery. He'd meet with Tar and get the drop over with as quick as he could. After all he couldn't stand to be in there for any longer than was necessary. The place revolted him. The shells of human life sickened him. The Children of the Smoke repelled his very core…

If ever there was an advert to give up smoking then this is it. Cliff Wallace clearly didn't plan to beat around the bush with his message. And fair do's to the man – he's pulled off one hell of an imaginative and gut-churning read. It's a bit of a weird one. Bizzaro-meets-Body Horror with an anti-smoking commentary emblazoned across its wheezing lungs. But it's with the vivid descriptions of the grotesque and malformed 'Children of the Smoke' and their fucked up place of residence that really make the short what it is. Smoker or non-smoker – you can't help but be repelled by the visceral imagery on show. It's grim and nauseating. And it does absolute wonders for the effectiveness of the short tale.


The Journey – Cliff Ramshaw – 2 Pages
Aclan was old. His age showed in the deteriorating joints and rusty parts of his vast metallic body. He was no longer able to fly – his wings long since broken and riddled with expanding holes. He was now forced to crawl over the hills and across the plains at an ever decreasing rate. Which was how the tiring dragon came across Sir Griman the dragonslayer. Although it was the most unlikely of pairings, the two would soon become firm friends, making their way across the land towards the mountains and eventually the Dragons Graveyard. For the dragons time was running out. And the two had a long way to go…
This is a strange one. Not so much a complete story, as it is an excerpt from what surely should be a larger piece of fantasy fiction. The title pretty much tells you the long and short of the 'plot'. It's a journey. A short story that takes the reader from A to B, with a bit of whimsical banter in-between. It's all set in a Tolkien style world, with mechanical dragons and dragonslayers roaming the plains. But without any twisting plot, or wonderfully inspired revelations in it, the story just feels incredibly and undeniably flat. Sadly, altogether an effortless and unimaginative piece of uneventful fantasy fiction.

A Biter Bit – Simon Clark – 4 Pages
They'd only arrived in town yesterday, and ever since then they'd been drinking. It was what they did. People drank to kill the pain. These two had their own reasons. They'd come to the carpark for a quiet place to drink. But now they were in trouble. A couple of thuggish bouncers were accusing them of messing with a hardass club owners' Porsche. A kicking was bound to follow. That wasn't the problem. They could take a beating. They'd no doubt had much worse over the years. What was a worry, was if Emmerson sobered up. Then the shit would really hit the fan…

Wow is this a weird one. God knows where Clark got his idea for this short story from. What starts out as a run-of-the-mill late-night dark alley contretemps with a couple of thick-skulled bouncers, gradually develops into some weird Bizarro style horror. It's wacky and pretty darn surreal, embracing alcoholism in a strange and perplexing way. There's absolutely zero chance you'd guess where Clark's planning to take the story. It's equally as imaginative as it is off the wall. But damn if it isn't just a damn good read.

Pro-Files:
Tanith Lee – Letting Go Of The Here And Now – 4 Pages
"Strange places, peopled with dark, alien and often erotic vision, lie at the heart of Tanith Lee's most popular fiction. And yet the author of The Birthgrave, Night's Sorceries and Death's Master refuses the fantasy label. In a rare interview with FEAR's Stan Nicholls, this fascinating writer finally reveals the answers to questions her fans have always wanted to ask."

Douglas E. Winter – Night's Dark Agent – 2.5 Pages
"Lawyer by day, writer by night, anthologist Douglas E Winter is also one of the most renowned horror critics. His controversial short fiction has been nominated for awards, his fabulous collaborative novel with Charles L Grant will undoubtedly see print soon and Prime Evil, his first brand-name horror anthology, sees paperback publication in October. As FEAR's Philip Nutman soon found out, this is a man with big things to say."

Ralph McQuarrie – The Breed: Source Of The Soul – 1 Page
"Star Wars concept artist Ralph McQuarrie has leapt on board the good ship Nightbreed to bring the mammoth monster movie some new monsters, a host of imaginative matters and an expansion of the mythology. Clive Barker talks to this living legend, while John Gilbert listens in."

Bob Grogan - Murder Most Foul – 1 Page
"You only have to look in your high street video store to discover that, from Freddy and Jason to Michael Myers, tales of multiple murder are sure fire crowd pullers. But what happens when fantasy trips into real life? Where do film and video producers draw the line? And how can distributors hope to 'market' representations of human tragedy sensitively, when their eyes are on the box-office and rental returns?
A new video out this month, The Case Of The Hillside Stranglers, prompts just such questions. In a disturbing interview with Bob Grogan – the hard-boiled, ex Los Angeles Police Department detective who investigated the original case – John Gilbert discovers that, in reliving such horrific factual events, the line between social responsibility and morbid fascination is a very fine one."

Stephen King – Dissecting Stephen King – 2 Pages
"What do Stephen King and William Shakespeare have in common? Apart from a desire to write for the mass market, they are also two of the world's most written about authors. Stanley Wiater examines the growing body of criticism and analysis concerning the younger of the two writers."

Set-Up:
The Abyss - Into The Abyss – 5 Pages
"More hype and budget than Batman? That's what some commentators are saying of The Abyss, director James Cameron's underwater science fiction epic. But is the behemoth worth the wait? In two special reports Matthew Costello, novelist and author of the movie's Making of… book, drops in for some hot water on set and cold criticism at its world premiere."

Movie Mainline:
Comic Books Into Movies - From Script To Screen – 3 Pages
"The road to live-action superherodom is littered with snagged tights, dented egos and irate comic fans. It is often claimed that a comic is a movie on the printed page, but despite the superficial similarities, comics are not sophisticated storyboards; accordingly, the transition is often unsatisfactory. Brigid Cherry examines the history."

Book Reviews:
Nemesis – Isaac Asimov
Beasts – Stephen R George
Still Life – Sheri S Tepper
Tarot Tales – Rachel Pollack & Caitlin Matthews
The King In Yellow – R W Chambers
The Best Of Modern Horror – Edward L Ferman & Ann Jordan
History Of The Future: A Chronology – Peter Lorie & Sidd Murray-Clark
On Stranger Tides – Tim Powers
Memories Of The Space Age – J G Ballard
Lex Luthor: The Unauthorised Biography – James D Hudnall & Eduardo Barreto
Druid's Blood – Esther M Friesner
The Black Company – Glen Cook
Winter Wolves – Earle Westcott
Plague 99 – Jean Ure
The Faceless Tarot – Keith Seddon & Jocelyn Almond
Toady – Mark Morris
The Book Of Azrael – Leilah Wendell
Little Heroes – Norman Spinrad
Carnival – William W Johnstone
The Language Of The Night – Ursula K LeGuin
The Suiting – Kelley Wilde
The Corpse Had A Familiar Face – Edna Buchanan

Film Reviews:
The Carpenter - Directed by David Wellington
The Laughing Dead - Directed by Somtow Sucharitkul
Bad Taste - Directed by Peter Jackson
Elvira: Mistress Of The Dark - Directed by James Signorelli
Parents - Directed by Bob Balaban
Chud II: Bud The Chud - Directed by David Irving
The Chair - Directed by Waldemar Korzeniowsky
Dolls - Directed by Stuart Gordon
Alien Nation - Directed by Graham Baker