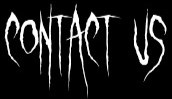 PUBLISHERS & AUTHORS:
If you would like one or more of your books (horror, dark sci-fi, dark thriller or something closely related) to be reviewed by DLS Reviews, then please contact me via the email link below. Furthermore, if you are an author who would be interested in being interviewed for the website then please also feel free to get in touch.
IMPORTANT NOTE: I currently only accept hardcopy books, comics & audiobooks for reviewing purposes. As such, please kindly refrain from requesting reviews of ebook only novels and/or emailing ebooks straight to me.

GENERAL COMMENTS: (including corrections, additional information and/or potential improvements)
If you notice any spelling mistakes, grammatical errors, type-o's, incorrect information, or have a potentially useful addition for a review, then please do email me to let me know.