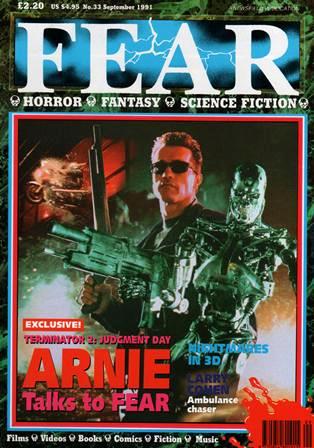 Issue 33 (September 1991)
66 Pages in total
Fear Fiction:
Dem Bones – G J Ricci – 4.5 Pages
[DLS Review to come]

Flamingo Villa – Lynne H Sharp – 2 Pages
[DLS Review to come]

The Ship Of Death – Ralph W Hill – 2.5 Pages
[DLS Review to come]

Fiction Files:
Campbell Black – Fiction File 51 – 0.5 Pages
"What's in a name? Campbell Black talks to John Gilbert about pseudonyms, success and Stateside heroes."

Paul J McAuley – Fiction File 52 – 0.5 Pages
"Paul J McAuley unlocks the secret history of the universe in his latest novel, and his revelations come complete with equations. He takes time out to talk to Liz Holliday about the appliance of science."

Pro-Files:
Marion Zimmer Bradley – Women Of Legends – 1 Page
"Champion of the real woman in fantasy fiction, Marion Zimmer Bradley talks to FEAR's Liz Holliday about her past and present preoccupations…"

William S Burroughs – The Ordinary Wild Boy – 1 Page
"Writer of such fantasy cult classics as The Wild Boys and The Naked Lunch, William S Burroughs is becoming known as something of a prophet. Peter Burton takes a tour of Burroughs' landscape of fear and listens to the voice behind the vision."

The World Of Fear:
Terminator 2: Judgement Day – Arnie Talks – 2 Pages
"The Terminator is back…Arnold Schwarenegger had vowed never to make another sequel, but the fans were crying out for the return of their favourite cyborg. The star of Twins and Kindergarten Cop tells FEAR why he thinks Terminator 2: Judgement Day is 'the best film that has ever been made'."

John McNaughton – Putting Voyeurs In The Picture – 1 Page
"Have we changed so much since the days when gladiators fought to the death in the name of entertainment? John McNaughton, director of Henry: Portrait of a Serial Killer, thinks not. He talks to Philip Blinko about the dark side of human nature."

Forrest J Ackerman – The Man Who Created Monster Magic – 1 Page
"Forrest J Ackerman is the man who set the genre ball rolling in movie journalism. He's still an avid horror fan, but nurses a secret ambition to literally turn the clock back to the golden age when Kong was King. He tells Paul Woods why."

Blackpool's Movie Magic – The House Of Rubber – 1 Page
"John Gilbert bounced in on Blackpool's latest tourist attraction – only to find all his old horror movie cronies lying in wait…"

Child's Play III – Playing Rough! – 1 Page
"Chucky is once more amongst us, leaving a trail of terror in his wake. JB Macabre follows at a cautious distance, in the company of Child's Play III screenwriter Don Mancini."

Fear Factor:
3D Cinema – Blood Stereo – 5 Pages
"With a 3D climax to A Nightmare on Elm Street 6 heralding another mini-revival of the process, Brian J Robb looks back at the history of the most long-lived of cinema gimmicks…"

Larry Cohen – The Stuff Of Nightmares! – 4 Pages
"Larry Cohen is a multi-talented movie-maker who simply can't stop writing. He talks to Stanley Wiater about what it takes to triumph in Tinseltown."

Movie Makers Part Two – 'You'll Believe A Man Can Fly'… - 4 Pages
"'Where does he get these wonderful toys?' asks the Joker in Batman. Well, Oscar-winning visual effects artist Derek Meddings knows and, in the second part of our Movie-Makers series shares some of his secrets and philosophy with FEAR's Stan Nicholls."

Graphic Novels – Graphic Detail – 2 Pages
"Once more Warren Lapworth delves into the world of speech bubble, cape and Meanwhile…, to meet super and wonderful men."

Book Reviews:
King Of Morning, Queen Of Day – Ian McDonald 5/5
Seven Little Girls – Chris Hockley 4/5
Literary Outlaw: The Life And Times Of William S Burroughs – Ted Morgan 4.5/5
Dream Weaver – Jonathan Wylie 3.5/5
Little Myth Marker – Robert Asprin 5/5
The Wanting – Campbell Black 4/5
Slice – Rex Miller 3.5/5
Medusa: A Tiger My The Tail – Jack L Chalker 2.5/5
The Heirs Of Hammerfell – Marion Zimmer Bradley 3.5/5
Tarra Khash: Hrossak! – Brian Lumley 4/5
The Angel Of Pain – Brian Stableford 4.5/5
Satan's Harvest – Michael Lasalandra, Mark Merena, Maurice & Nancy Theriault, and Ed & Lorraine Warren 4/5
Clay's Ark – Octavia Butler 3/5
Tek Lords – William Shatner 4/5
My Pretty Pony – Stephen King 3.5/5
After Such Knowledge – James Blish 4/5
The Nightmares On Elm Street – Martin H Greenberg 2/5
Star Wars: Heir To The Empire – Timothy Zahn 2/5
Raft – Stephen Baxter 4/5
Lie To Me – David Martin 3/5
The People Collection – Zenna Henderson 5/5
The Mammoth Book Of The Super Natural – Colin Wilson 4/5
Aleph – Storm Constantine 3/5
The Revenge Of The Rose – Michael Moorcock 3.5/5

Film Reviews:
The Rocketeer - Directed by Joe Johnston 3/5
Robin Hood: Prince Of Thieves - Directed by Kevin Reynolds 4/5
Henry: Portrait Of A Serial Killer - Directed by John McNaughton 5/5
Django - Directed by Sergio Corbucci 3/5
After Dark, My Sweet - Directed by James Forley 4/5
The Comfort Of Strangers - Directed by Paul Schrader 4.5/5
Wishful Thinking - Directed by Murray Langston 1/5
Dawn - Directed by Niall Johnson 3/5
House IV - Directed by Sean Cunningham 3.5/5
Vigilante Cop - Directed by Mel Damski 3/5
Scissors - Directed by Frank de Felitta 3.5/5
IT - Directed by Tommy Lee Wallace 3.5/5
Kick Boxer 2: The Road Back - Directed by Albert Pyun 3.5/5
Jason And The Argonauts - Directed by Don Chaffey 4/5

Music Reviews:
Prime Cuts – Alice Cooper 4/5
Welcome To My Nightmare / The Nightmare Returns – Alice Cooper 3/5
Flying Through Life – Hellfire Club 4.5/5