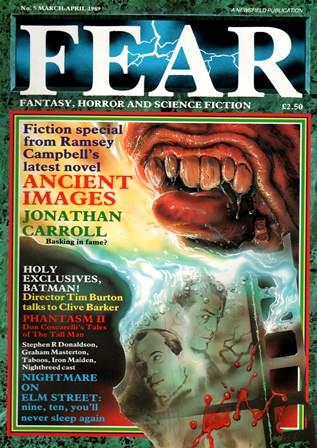 Issue 5 (March 1989)
82 Pages
Fear Fiction:
Hooks – Steve Rasnic Tem – 4 Pages
Ever since the day that Brian's wife left him, the hooks had been tormenting what was left of his depressively pitiful life. Even though he hadn't seen his wife or kids for eight years now, the void they left in his life was a constant aching pain to him. And he knew a lot about pain. Thanks to the hooks. It wasn't really when they entered his flesh, but much more when they did their work inside his body. Tapping into the nerve channels and tearing away at his delicate fleshy parts. Still, this was his life and he'd grown to accept it. But in the darkness that had since become his constant home, the most unlikely of sympathies could well be found…

From the outset, Tem's short grinds away at the reader with its instantly attacking imagery of piercing hooks within an all-consuming depressive atmosphere. No doubt very much inspired by the visceral depictions of painful suffering within Clive Barker's 'The Hellbound Heart' (1986), the short plays with the reader's inherent fear of such callous and torturous puncturing of the flesh. Admittedly, aside from the continuous tortures being suffered by our protagonist, the short offers little else, other than wallowing in a pit of depressive regret and finishing with a vague suggestion of something a lot more expansive to the somewhat limited plot. It's a weirdly disturbing read. It consumes you for the short time it takes to read it. Taking you to a place that isn't entirely wanted. A place that makes you feel lost and cold to the world. For the atmosphere and sheer overwhelming bleakness, the short has excelled.

Ancient Images [Introduction & Extract] – Ramsey Campbell – 3 Pages
Ramsey Campbell begins with a page long introduction to his latest novel 'Ancient Images' (1989) which sets down a reasonably thorough synopsis of the novel's story up to the point at which the following two page extract commences. The introduction was written by Campbell in January of 1989.
Pro-Files:
Tim Burton – Die Laughing – 3 Pages
"Batman director Tim Burton is adding 'absurd humour' to the superhero's aura of darkness, and despite casting disputes he remains faithful to a personal image drawn largely from the TV series. Clive Barker discussed comics and the dark knight with Tim Burton; Mark Salisbury eavesdropped on their wide-ranging conversation."
Stephen R. Donaldson – Lord Of The Rings – 3 Pages
"As Stephen R. Donaldson launches his latest fantasy epic, A MAN RIDES THROUGH, he is also looking for new worlds to conquer. But, as he tells John Gilbert, his fans are in for a surprise when they discover he's already a crime writer and aims to scale the heights of science fiction."
Jonathan Carroll – Moon Child – 3 Pages
"Allegorical, exotic, even extraterrestrial. Those are just a few of the words used to describe Jonathan Carroll's fantastical books. Problems only occur when you try to give his work a generic tag. Fortunately this author knows where he's going and, in the first part of an exclusive interview, takes FEAR's Pete Crowther to his Land of Laughs."
Stephen R. Bissette – Taboo: Beyond The Limits – 3 Pages
"Comic books and graphic novels are again in vogue after decades in the doldrums. FEAR's Stanley Wiater asks the infamous American illustrator Stephen R. Bissette if there's anything he wouldn't include in TABOO, the very graphic comic book which has just scraped past British Customs officials."
Graham Masterton – Master Behind The Mirror – 2 Pages
"Graham Masterton is a fixture of most high street horror bookshelves yet few people have ever seen a photo of him. Is her British or American, married or single? Those and other questions are, according to our postbag, what you're dyin' to know. So pay attention. John Fraser has finally tracked him down and here are the answers."
Ray Bradbury – The Illustrator Man: Part II – 3 Pages
"At 69, Ray Bradbury, one of the world's most admired fantasy writers, is still as prolific as ever. In part two of our exclusive FEAR interview, Pete Crowther asks the questions."
Janny Wurts – Solo Fight – 3 Pages
"Janny Wurts' introduction onto the British fantasy book scene was as collaborator with Raymond E. Feist on Daughter of the Empire. Her first solo SF saga, Sorcerer's Legacy, is due for publication in February and, as John Gilbert discovers, it's likely to boost this remarkable lady's name into the bestseller lists yet again."
Douglas E. Winter – Winter's Approaching Millennium – 2 Pages
"Douglas E. Winter, American horror critic, author and lawyer, talks to FEAR's Philip Nutman about his criteria for reviewing fiction, the emergence of Splatterpunk, new talent, and Anti-horror."
Set-Up:
Phantasm II – Mortuary Memories – 2 Pages
"David Cox braves sinister monkish midgets, a mad mortician, and a vampiric silver ball to talk exclusively to Don Coscareili, director of Guild Pictures' PHANTASM II."
Phenomena:
First Past The Post (How To Make A Movie: Part Five) – 2 Pages
"The post production period of a film can be more exhausting than the shooting schedule. In the last of his series of articles on film-making, John Gilbert discovers that log nights, thousands of feet of film plus the constant worry of reshooting, timing, and classification add to the strain on director, producer and film editor."
The Films Of Jack The Ripper – Pieces Of Hate – 3 Pages
"Was Jack the Ripper a madman – or a woman – whose only ambition was to destroy the lives of ladies of the street? Did he hack his victims to bits because of some perverse hatred? Was he from outer space or some other more terrestrial time? As Kim Newman points out in the second part of his Ripper filmography, the theoretical nuggets have best been explored on film and video."
The Fear Factor:
Freddy's Nightmares – An Audience With Freddy Krueger – 6 Pages
"The horror cinema of the Eighties has yielded few more memorable menaces than Freddy Krueger, the bastard son of a hundred maniacs who hasn't let his cooked hamburger complexion, major manicure problem, and revolting taste in striped sweaters hold him back from movie fame. An old-fashioned showman, he's not even averse to pulling his own brains out on camera just for the sake of a cheap laugh. And now it's little surprise that our hero has been signed up for his own TV show, FREDDY'S NIGHTMARES, which means we'll soon be able to see filmdom's favourite child molester introducing a series of TWILIGHT ZONE-type terror tales from The Hall of Dreams. So, let's take a leaf out of our favourite fiend's book with a lengthy look at his past, present and potential misdeeds. And where better to start than…"
Stephen Laws – Age Of Unreason – 1 Page
"The wary and imaginative child within all of us is the fear novelist's best friend and the key to writing dark fantasy. Stephen Laws tackles the problem of reader involvement in the second instalment in his series on horror writing."
Iron Maiden – A Taste For Torture – 2 Pages
"To many people, heavy metal is personified by Iron Maiden. Their stage act and energetic music have formed the basis of a cult which can be traced back to their genesis some ten years ago. Controversial horror writer Shaun Hutson's long-term friendship with Iron Maiden makes him an obvious choice when it comes to uncovering the secret fears of the band. But, as he soon discovered, such terrors are easier to find in their music than in their personalities or memories…"
Book Reviews:
Ancient Images – Ramsey Campbell
The Jaguar Hunter – Lucius Shepard
Greenbriar Queen – Sheila Gilluly
29th Pan Book Of Horror Stories – Clarence Paget
Neveryon I: Tales Of Neveryon – Samuel R. Delany
Fantastic Voyage II: Destination Brain – Isaac Asimov
Nightmare Movies: A Critical History From 1968 – Kim Newman
Lowland Rider – Chet Williamson
Arabesques – Susan Shwartz
The Book Of The Damned: The Secret books Of Paradys I – Tanith Lee
Down River – Stephen Gallagher
Mania – Guy N Smith
Horror 100 Best Books – Stephen Jones & Kim Newman
Film Reviews:
The Adventures Of Baron Munchausen - Directed by Terry Gilliam
Heart Of Midnight - Directed by Matthew Chapman
Fright Night: Part II - Directed by Tommy Lee Wallace
Slipstream - Directed by Gary Kurtz
Lair Of The White Worm - Directed by Ken Russell
Friday The 13th Part VII: The New Blood - Directed by John Carl Buechler
Rampage - Directed by William Friedkin
Cameron's Closet - Directed by Armand Mastroianni
Evil Altar - Directed by Jim Wimburn
Grandmother's House - Directed by Peter Rader
Dr Alien - Directed by David DeCoteau