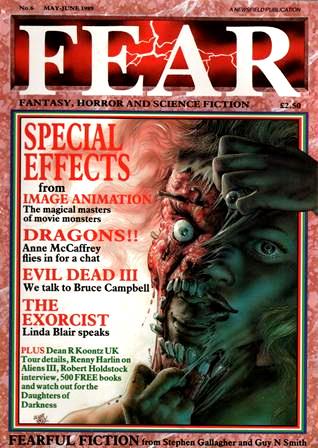 Issue 6 (May 1989)
82 Pages in total
Fear Fiction:
Driving Force [Part 1] – Stephen Gallagher – 4 Pages
Reuben was a professional car thief. Nothing more and nothing less. Since coming out of prison, he'd thought that a regular job was going to bore him witless. But then he received a phonecall from a man named Bob. A simple one-off job was offered to him. Steal a specifically designated car and deliver it to them and he'd make enough money to comfortably last him for the next year. A job that he couldn't possibly refuse. And so that's why Reuben found himself in the nowhere town of Ash Fork in Arizona, just off the infamous Route 66. And he'd already gotten the vehicle in question within his sights. At first glance it didn't look much at all. Just a nondescript car with little in the way of distinguishing features. But once he was inside the vehicle, and hurtling down Route 66 looking to rendezvous with Bob's receiving transporter, Reuben began to see the neat little gizmos that the car had going on inside. This was no ordinary car. This was a top-secret test model destined to be the next big release. Still, Reuben needed to get it off his hands pretty darn quickly. So where the hell was Bob's transporter?...

For the first part of this two-part short story, Gallagher spends the majority of this first half getting the reader reasonably well acquainted with our dodgy protagonist whilst laying down the basic plot along with setting the scene of the dusty Arizona backdrop. Reuben himself comes across as (surprisingly) quite likeable, and this in itself forms the main aid in keeping the interest up in the plot-establishing-first-half. Okay, so aside from our protagonist half-inching the car and shooting off down Route 66, nervously on the lookout for his employers collecting transporter, not much else really happens here. The first part does however set the scene perfectly for the second instalment, whilst ending on a sudden but still very slight cliff-hanger. Nevertheless, interest is still very suitably whetted at this stage. The second part to the tale was included within 'Fear Magazine - Issue 7' (July 1989).


Come On In And Join Us – Guy N Smith – 5 Pages
Louis is a fresh-faced school graduate, who after searching for a job, manages to secure one within a local second-hand bookshop. However, Louis soon realises that there's something that's not quite right about the eerie little bookshop and its decrepit owner - Mr Klein. The only customers it appears to have are dirty derelicts, who he sees entering the dingy bookshop either clutching a large tome or otherwise leaving with it. And so one day when Louis is left to look after the bookshop, his curiosity gets the better of him and he breaks in to the bookshop's cellar that Klein had specifically warned him to keep away from. And there, in the gloomy depths of the cellar, Louis will witness an ungodly secret that will tear away at the young lad's sanity...

'Come On In And Join Us' is another dark and intriguing tale, reliant more on atmosphere than anything else. The weird mysteriousness of the bookshop and its keeper is what quickly draws the reader into its peculiar storyline. The conclusion is surprising and delightfully imaginative (as well as exquisitely pulpy). The characters all display rich individual characteristics making the short an all-round entertaining and encapsulating read.

The short was later reprinted in Guy N Smith's short story collection 'Horror Shorts – 2nd Collection' (2001), and then later again in 2004 in a standalone chapbook by Horror Express which was limited to 100 individually signed copies.

The Last Flight – Matthew Cage – 3 Pages
He woke, alone, exhausted, dehydrated and a broken man. All around him, as far as his bleary eyes could see, was just endless desert. The heat of the midday sun frying his brain. His arms and legs smashed to useless pieces. All that he has left is vague memories and dreams of flying a plane. But upon waking again from one such dream, he realises that he is no longer alone. Towering over him is a cloaked figure bearing a scythe – undoubtedly Death himself. But if you don't look into his face, he can't take you…right? At least that's what he seems to recall from somewhere. And so he shuts his eyes and waits for the inevitable. But then he hears some calling to him. Someone has found him. Rescue is actually here. But as he's soon to learn, when it's your time, it really is your time. Salvation is only fleeting…

Cage's wondrously lonesome short begins as it means to continue – in a vague and pain induced semi-conscious state. The atmosphere that is portrayed is almost mesmerising in its palpable intensity. The unknown man is scared; he barely has any memory of why he's there or what happened to him. All he knows is that he's going to die. And that scares him to death (so to speak). Ok, so the supposed twist ending isn't anything spectacular. You can see it from a mile off. But it's menacing and suiting for the bleakness of the short tale. It's just a damn good downbeat read.

Pro-Files:
Image Animation - Games Without Frontiers – 4 Pages
"Special effects company Image Animation, employing one of the youngest crews in the business have proven that talent has nothing to do with age. Co-founders Bob Keen and Geoff Portass talk to FEAR's Brian J Robb about their history, and present work on Clive Barker's latest film, Nightbreed."
Anne McCaffrey - On Wings Of Wonder – 3 Pages
"Horses and dragons may be worlds apart but SF writer Anne McCaffrey finds it easy to cultivate an interest in both from her home in Southern Ireland. Her dragon books have made her internationally famous, but she's much more than a one-idea woman. Books such as Dragon Flight and, just recently, Dragons Dawn, co-exist with other SF successes, such as the Crystal Singer series and several mainstream romances. John Gilbert recently braved benevolent dragon breath, dinosaurs, and fire lizards to probe Anne's imagination."
Dave Carson – Shadows Out Of Time – 4 Pages
"The monsters of HP Lovecraft have served illustrator Dave Carson well but, as Stephen Jones discovered, the life of even the most gifted artist can be anything but a fantasy."
Renny Harlin – The Hollywood Dream Master – 4 Pages
"A Nightmare on Elm Street 4: The Dream Master recently became the most successful independent film in American history and is likely to be an instant success when it hits Britain in May. Director Renny Harlin talks exclusively to FEAR's Peter Briggs about his fight to keep Robert Englund interested in the film series, his battle to break away from the Nightmare stereotypes and his recent coronation as director of Alien III."
Robert Holdstock – The Celt From Kent – 2 Pages
"Robert Holdstock established himself with the science fiction novels Eye Among the Blind, Earthwind and Where the Time Winds Blow, but has also demonstrated his skills in the horror field with Necromancer and the well-received Night Hunter series, published under the pseudonym Robert Faulcon. Other work includes novelisations (The Emerald Forest, Legend of the Werewolf, The Professionals, Bulman), fantasy series (Beserker, Raven) and anthologies (Other Edens, One and Two, with Christopher Evans). His Mythago Wood was hailed by many as one of the most important fantasy novels of the Eighties, and he has recently produced a follow-up. Kim Newman asked him why his latest book doesn't count as a sequel…"
Jonathan Carroll – Sky's Not The Limit – 2 Pages
"As we revealed last issue, fame has come slowly over the horizon for writer Jonathan Carroll. But, as Pete Crowther finds out, he's only just begun to divulge his weird, but strangely realistic, worlds to eager fans."
Linda Blair – Dispossessed – 2 Pages
"Linda Blair, star of The Exorcist, was tormented both on and off screen for her role as the devil-possessed child Regan. Sections of the press and public alike pilloried her parents for letting her take part in the movie. Yet, as Allan Bryce discovers, despite continued press criticism of her lifestyle, she is proud of that part and still an actress."
Bruce Campbell – Killer Cop – 3 Pages
"Maniac Cop star Bruce Campbell has time for only the briefest of vacations before starting work on Evil Dead III which, he reveals to Allan Bryce, may be filmed in England."
Rachel Pollack – Tarot Tales – 2 Pages
"Tarot expert and author of the fantasy novel Unquenchable Fire, Rachel Pollack describes her style of fiction as magical realism. FEAR's Stan Nicholls asks her if she would enjoy living in her mythical vision of American society and how she balances it with the contemporary commercial climate of the country."
Phenomena:
Fear Of Heights, Fear Of Falling… - The Long Drop – 1 Page
"Horror author Stephen Laws jumps from an aircraft to prove that fear is not so easily banished and, on the way down, shows that an author's commonest personal phobias can be communicated to readers."
Female Horror Writers – Daughters Of Darkness [Part One] – 3 Pages
"Though horror is thought of as principally a male domain, the fairer sex has been producing excellent examples of spine-chilling tales as far back as the Gothic horrors of Ann Radcliffe with her Mysteries of Udolpho in 1794, and Mary Shelley, who introduced us to the infamous Frankenstein in 1818. In the first of two articles on female horror writers, Di Wathen looks at their work and poses the question, are they a match for their male counterparts?"
The Fear Factor:
Ken Russell – The Worm Returns – 2 Pages
"Ken Russell, British director of Gothic, Lair of The White Worm and a tentative new version of Dracula, shares his unease of the horror film industry with Mark Salisbury and Alan Hedgcock."
Book Reviews:
The Blood Kiss – Dennis Etchison
A Difficulty Of Dwarves – Craig Shaw Gardner
The Silence Of The Lambs – Thomas Harris
Bare Bones: Conversations On Terror With Stephen King – Tim Underwood and Chuck Miller
Demon Lord Of Karanda – David Edding
The Story Of The Stone – Barry Hughart
Chiaroscuro – Tim White
Midnight – Dean R Koontz
Abduction – Jenny Randles
Night Visions 6 – Dark Harvest
The Gateway To Women's Country – Sheri S Tepper
The Coming Of The King – Nikolai Tolstoy
Film Reviews:
Bad Taste - Directed by Peter Jackson
Paper House - Directed by Bernard Rose
Out Of The Dark - Directed by Michael Schroeder
Critters 2: The Main Course - Directed by Mick Garris
Vampire In Venice - Directed by Augusto Caminito
The Caller - Directed by Arthur Seidelman
A Return To Salem's Lot - Directed by Larry Cohen
Edge Of Sanity - Directed by Gerard Kikoine
The Entity - Directed by Sidney J Furie
Blood Diner - Directed by Jackie Kong
Vengeance: The Demon - Directed by Stan Winston
It's Alive III: Island Of The Alive - Directed by Larry Cohen
Mortuary Academy - Directed by Michel Schroeder
High Spirits - Directed by Neil Jordan
My Demon Lover - Directed by Charles Loventhal
Out Of The Body - Directed by Brian Trechard-Smith
Howling III - Directed by Philippe Mora