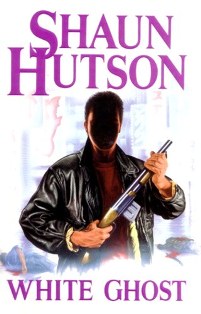 First published back in March of 1994, British horror author Shaun Hutson's gritty thriller novel 'White Ghost' formed the second instalment in the Detective Shaun Doyle series, following on from the first book '
Renegades
' (1991).
DLS Synopsis:
Five years have passed since Sean Doyle's traumatic ordeal as a result of David Callahan's meddling with the forces of darkness. Following the end to the culmination of those ungodly events, Doyle found himself needing some serious time to recover. But although he was advised to retire from the Counter Terrorist Unit ('CTU'), he had other ideas. That just wasn't his style.

Meanwhile in Hong Kong, Sergeant George Lee has instigated a raid on a known Triad gang hideout for members of the Tai Hung Chai. Together with Officer John Ching of the Royal Hong Kong Police, they had been working hard hitting the Triad gangs for the last ten months, hoping to finally push them out of Hong Kong for good.

Back in London and a Triad gang member named Billy Kwan is killed by two men carrying nine-inch-long cleavers. A murder that both Detective Sergeant Nick Henderson and Detective Constable John Layton jump straight on to. A ritualistic attack which quickly becomes the first of many to hit the Tai Hung Chai. Violence that threatens to spark off aggressive repercussions from the Triad gang, who begin to suspect the Hip Sing Triad are responsible for the recent attacks. They will not be dishonoured. And so they promise that bloodshed will follow.

Meanwhile, Doyle has travelled to Kilburn tailing Michael Neeson, a known IRA member who is wanted in connection with two recent bombings in London. But when a convoy of Scania trucks travelling from Newry to a British army base at Portadown is ambushed en route, Doyle is pulled off the Neeson case and ordered to instead go after the stolen guns.

Doyle will need to infiltrate the Provisional IRA ('PIRA') on the trail for the stolen weaponry. A high-impact move that Doyle suspects PIRA member, Paul Riordan, is part of. And one that will ultimately lead to a rivalling Triad war and the IRA's worrying involvement in it.

From the picturesque roads of Northern Ireland, to the crammed alleyways of Hong Kong, to the hectic overcrowded streets of London – violence is erupting everywhere, and Doyle is at the heart of the seemingly endless bloodshed...
DLS Review:
Following on from '
Renegades
' (1991), Hutson's gritty protagonist Sean Doyle returns with this second book in the Detective Sean Doyle series. Removing itself almost completely from Hutson's usual horror safety net, 'White Ghost' like with his last offering, '
Deadhead
' (1993), has adopted an explosive thriller plot in favour of his usual horror element. With a principal protagonist akin to a John McClane-cum-Jack Bauer amalgamation, 'White Ghost' (and indeed the two further books to follow) were well and truly geared-up to take on a much more thriller based plot.
The tale is one split between a number of parallel running threads; each one situated in its own separate location. As such, each chapter effectively jumps between the handful of different threads – from London to Northern Ireland to Hong Kong. The novel neither benefits nor is it particularly hindered by this constantly roaming construction. At times it has to be said that the tale feels a tad broken, with the pace constantly competing against the constant adjustment of flittering between the three to four different threads. But at the same time, the novel takes advantage of a more tightly layered storyline that is afforded to it by opting for this piecemeal construction; allowing there to always be something of importance occurring.
Utilising a plot that's immersed in the complexities of gang rivalry and terrorism, Hutson has met with the challenge of taking on a different genre angle with a surprising amount of forethought. Clearly playing to his principal character's strengths, Hutson has put in a respectable amount of research into the real life Triad gangs residing in London, with references to the 14K Society, the Shui Fong, the Wo Shing Wo, the Sun Yee On and of course the Hip Sing. Building upon this, Hutson has created his own fictional gang which the tale predominantly works with – a fictitious Triad gang named the Tai Hung Chai.
The character of Doyle is fleshed-out to a much greater degree than he had previously been afforded in '
Renegades
' (1991). Although still very much a 'Hutson' style of exaggerated character, Doyle has nevertheless been made more human in this second book; with layers added to the character's personality and glimpses of true-to-life human flaws to this otherwise 100% gritty and uncompromisingly tough individual.
Although 'White Ghost' has so much going on over its multiple threads, the tale nevertheless comes across as slightly more restrained with the action than with the majority of the author's other novels. More emphasis has quite purposefully been put on setting down a tight and gradually unravelling storyline, with many complexities and twists thrown in as the tale advances towards the eventual merging of the various threads and the action-rich finale that is sure to follow.
And as for the ending, Hutson delivers the goods in abundance, pulling together the final showdown of an elaborate and tightly inter-woven thriller that keeps its goal in sight from the outset; working through the thrills and spills of the entertaining carnage to make it to a well-rounded and satisfying ending.
The novel runs for a total of 346 pages.

© DLS Reviews

Other

'Sean Doyle' instalments: