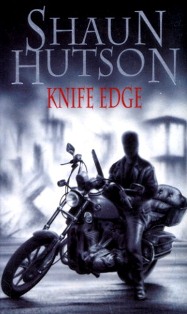 First published back in April of 1997, British horror author Shaun Hutson's gritty thriller novel 'Knife Edge' formed the third instalment in the Detective Shaun Doyle series, following on from '
Renegades
' (1991) and then '
White Ghost
' (1994).
DLS Review:
In County Clare in The Republic of Ireland, thirty-eight-year-old Patrick Macarthy is celebrating them finally reaching peace in Northern Ireland, together with coiste seasta members Liam Black and Eamonn Brady. Having been a member of Sinn Fein for the last eight years, Macarthy now has much to be happy about. But their celebrations come to an abrupt end when Patrick and Liam are shot dead, with Eamonn barely escaping the attack with his life.

Meanwhile in Belfast forty-six-year-old William Hatcher, who has been an Ulster Unionist MP for the past six years, has just finished an interview about the recent peace agreement when he is killed in a car bomb explosion.

With so many deaths suddenly emerging, the head of Military Intelligence, Major John Wertherby, requests a meeting with thirty-seven-year-old Sean Doyle from the Counter Terrorist Unit. A meeting in which Wetherby, together with two other military officials, inform Doyle of the recent hits – which by now include five known IRA prisoners that were released from Long Kesh as well as the three UVF men that were recently assassinated.

But the real revelation for Doyle is that the military already know who is responsible for the hits. The man behind it all is a thirty-eight-year-old British solider named Corporal Robert Neville who had been a para specialising in explosives. And now they want Doyle to put a stop to the ex-soldier's murderous mission of vengeance.

But time is off the essence. They need Doyle to find Neville before the IRA, the UVF or the media can find out the truth. And when Doyle has Neville – he is instructed in no uncertain terms to kill him. Doyle has just two days in order to complete his mission.

But when Doyle locates Neville, the explosives expert is holding his own wife and daughter hostage in their family home. Neville manages to negotiate his getaway, leaving his wife with a bomb strapped to her and his daughter in a house rigged with enough plastic-explosive to level a whole street. However, when Neville's safely two-miles-away from the property, he detonates the bomb, expertly destroying just the roof of the house and leaving his distraught family totally unharmed.

But Neville's vengeful madness doesn't end there. The suitably pissed off ex-para calls the authorities demanding to speak with Doyle – and only Doyle. His next move is enough to make even Sean Doyle's blood run cold. Neville demands that he's reunited with his daughter within the hour or he will explode a bomb somewhere in the centre of London. And from then on, a bomb will be detonated every hour until he gets his daughter. And if after all of that, she is still not handed over to him, if there is still not enough bloodshed on their hands, then by 8pm one-hundred pounds of C4 will go up in his final act of utter devastation on the city.

But Doyle has a problem. Not only does he not want to give over the innocent young girl to this madman – but he can't. Neville's wife has fled with her daughter after learning that she might be used as a bargaining tool. And as such, Doyle has no choice but to track down and face this highly-trained ex-para before the madness and killing can go on much longer. The clock is ticking, and for every hour that Doyle takes, another bomb is exploded in Britain's crowded capital city...
DLS Review:
Hutson's much-loved anti-hero, Sean Doyle, is back again with another gritty thriller bursting with terrorist mayhem and a monstrously desperate plot, where time is of the absolute essence, and there's plenty at stake to keep the adrenaline pumping.
The novel's principal antagonist – the pissed off ex-para Robert Neville (another nod towards '
I Am Legend
' (1954) from Hutson), is an interesting choice of character. In a similar way to the likes of 'Falling Down' (1993), the reader (as well as the characters in the book) is able to emphasise to some degree with Neville's plight. However, Neville's reaction to his mistreatment far outweighs the crimes against him, and his lunacy must be ended as soon as possible. And so in comes Doyle.
With the plot suitably established within the first thirty-or-so pages, the novel quickly moves on to the fast-paced and utterly nail-biting action that occupies the rest of the tale. Expect something akin to the '24' TV Series (2001 – 2010) with elements of 'Die Hard: With A Vengeance' (1995) thrown in for good measure.
Hutson keeps up the tension with what seems like an endless twisting and turning storyline; with almost every short chapter throwing another problem at the feet of a very tired and lonely Sean Doyle.
The odds are stacked up against the Counter Terrorist Unit agent from the start. It really is a thriller awash with energy and gritty excitement. Admittedly the characterisation is somewhat slapdash through most of the book (no surprises there). But that's not what it's all about. You don't need to feel connected or close to the characters to appreciate and enjoy the thrills-and-spills on offer. Doyle has already been established to a reasonable degree within the two prior novels. From here it's just straight on in with the insane action. Hutson knows it. And he doesn't disappoint.
This ferocious action and nerve-jangling intensity keeps on mounting throughout the entirety of the tale, making it near impossible to put the book down at any given point. And as the novel comes screaming to its finale, Hutson throws in enough crazy-ass mayhem to keep even the hardiest thrill-seeking action-addict happy.
The novel runs for a total of 365 pages.

© DLS Reviews

Other

'Sean Doyle' instalments: