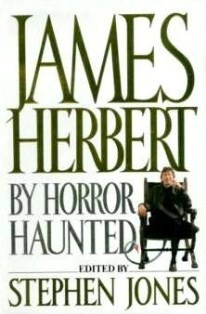 First published back in October of 1992, editor Stephen Jones' book 'By Horror Haunted' collected together a variety of interviews, articles and short stories on Herbert and his work from over the years – with a number of the contributions written purely for this publication. The end result is an intriguing book, showing much of the man behind the novels and the many aspects of his career this far.
Chapter One – James Herbert: Introduction – Stephen King
- 8 pages
With much admiration and revere, US author Stephen King writes a fitting introduction to James Herbert and his work; marking Herbert out as a true master of the horror genre. For King, who's first novel, '
Carrie
' (1974) was published just after Herbert's '
The Rats
' (1974), writing the introduction to this book was a prime opportunity for King to revisit Herbert's work. In doing so, King rekindles his love of Herbert's writing style – particularly in respect of the author's evolution across his novels. King amusingly, (but nevertheless quite aptly) compares Herbert's early work – most notably that of '
The Rats
' (1974) and '
The Fog
' (1975) with The Sex Pistols. From this intriguing comparison King moves on to explain the "grow or die" conundrum that faces all authors in their chosen careers. Finally, King endearingly talks about a man who is down-to-earth, which he is convinced ultimately enhances the readers' pleasure in the books.
Chapter Two – A Category To Himself – Stephen Jones
- 13 pages
Highly respected horror editor Stephen Jones (the man behind the existence of this very book) is next to give his contribution– here in the form of a typed interview with James Herbert, with noted points of reference and comments injected between Herbert's responses. Herbert begins by answering the usual questions surrounding his early exploration into writing – how, when and why he first started, the success of his first two books, his apprehensive involvement with the publishers and enlisting his first agent. From here Herbert tells of how he goes about writing his tales, the somewhat weak adaptations into film (at the time) and ending by telling of his unfaltering passion for what he does. It's an interview that exposes much of the man behind the books – Jim Herbert. And it makes for absolutely fascinating reading.

Chapter Three – A Life In The Day Of James Herbert – Victor Olliver
– 4 pages
Originally published within the 11th September 1983 issue of 'The Sunday Times Magazine', Victor Olliver's rundown on an average day-in-the-life (or 'life in the day') for the author is a short but interesting insight into Herbert's quite reserved life. Accompanied by three small B&W photos, the short article simply jots down the everyday events (or non-events) that make up Herbert's working life. And in it we glimpse how very down-to-earth Herbert really is. How remarkably like all of us he is. It's quite heart-warming.
Chapter Four – Bowled Over By The Beat: Me And My Car – James Herbert
– 3 pages
Originally published within the 18th September 1988 edition of 'The Sunday Times', in his own words James Herbert details the various cars that he has owned throughout the years (up until 1988 obviously) – from his 56 Hillman Minx (that cost him £25), to his Ford Capris, to a Toyota Celica, to his first and then second Jaguar XJS ('The Beast'), and on to an Austin Mini and finally a Granada Scorpio.
Chapter Five – At Home With James Herbert – Dave Hughes
– 3 pages
Originally published within '
Fear Magazine – Issue Eight
' (1989), Dave Hughes' look around James Herbert's apartment in the Queen's Gate area of West London reveals a quiet but comfortable life for the bestselling author. Much of the conversation detailed talks of Herbert's home life, his family and his home(s). A short but equally interesting read.

Chapter Six – Doing It With Style – Douglas E. Winter
- 16 pages
Originally published within 'Faces Of Fear' (1985), Douglas E. Winter's visit to James Herbert's home in Sussex reveals a reasonably lengthy interview which explores Herbert's childhood, his life as he grew up, his successful career in advertising and then on to his career as a bestselling horror author. Herbert references his dislike for the 'Nasties' tag that his early career has been stamped with, his favourite books and authors, religion (he's a Catholic), his influences and passions and many other insightful topics that reveal a great deal about the man behind the books.
Chapter Seven – Comic Relief – James Herbert
– 3 pages
Originally published within the July 1987 issue of 'She' magazine, here James Herbert details about how it was in fact comics that first got him into literary fiction – in particular the Casey Ruggles western comics that were penned by US artist Warren Tufts. Herbert goes on to tell a sad story about him contacting Tufts, finally arranging to meet, and then Tufts sadly passing away. The short chapter concludes with a one page section of sample drawings from Herbert's graphic novel '
The City
' (1993).
Chapter Eight – Castaway – Mike Ashley
– 5 pages
On the 15th September 1986, James Herbert appeared on the 'Desert Island Discs' radio programme, being interviewed by Michael Parkinson. Published here for the first time is Mike Ashley's write-up of the interview, Herbert starts off by informing Parkinson that he actually based his principal protagonist – Harris – from '
The Rats
' (1974) on Parkinson. A further brief insight into Herbert's childhood gets the interview properly underway, whereby Herbert's divulges his love of rock 'n' roll, picking out 'Mars' by 'The Planets', 'I Guess The Lord Must Be In New York City' by Harry Neilson as well as his love for H. G. Wells' novel 'The History Of Mr Polly' (1910).

Chapter Nine – My Ten Favourite Books – James Herbert
– 3 pages
First published in the 'Waterstone's Catalogue 1989-1990' (1989), James Herbert lists out his ten favourite books with a very short paragraph on each – all of which were based on the novels that have left the biggest impression on Herbert over the years.
Chapter Ten – The Craft – Neil Gaiman
– 13 pages
James Herbert has been interviewed many times over the years, but one aspect of the bestselling horror author's life that has only ever been briefly discussed is his time spent in advertising. And so, fellow author, Neil Gaiman is given the task of speaking to Herbert about this particular period in his life. From his first tentative steps into the advertising world, to his hard work and 'bolshy' personality, to when '
The Rats
' (1974) was first published and his eventual resignation from the advertising firm. Another intriguing insight into the life and past of the author.
Chapter Eleven – Breakfast – James Herbert
– 5 pages
Here we have a vignette reprinted from Herbert's novel '
Domain
' (1984) in which an emotionally damaged mother prepares breakfast for her dead family after the world has gone to hell. The post-apocalyptic setting for the scene fits with that of '
Domain
' (1984), however the passage can nevertheless work perfectly as a standalone short story – as it does in this removed and reprinted setting. An excellent example of Herbert's haunting and chilling skills as a writer.
Chapter Twelve – Season Of The Rat – Adrian Cole
– 5 pages
British author Adrian Cole brings to the table his thoughts and reaction to Herbert's signature 'Rats' series, most notably his reaction to first seeing the cover of '
The Rats
' (1974) after having come up with and researching a similar idea and concept for a novel himself. However, losing the idea to Herbert has not marred the author's utter admiration for his work, in particular that of '
Domain
' (1984), which he clearly holds highly in acclaim.
Chapter Thirteen – Horror Of The Rats – John Gilbert
– 2 pages
First published in the October 1985 issue of 'Farnborough News & Mail', FEAR magazine's John Gilbert reviews the now seldom heard of Commodore 64 / Spectrum ZX game 'The Rats' which was released in 1985 by Hodder & Stoughton Software. Obviously very much of its time, Gilbert's review of the computer game adaptation of Herbert's classic novel is very commending, both to the overall format and gameplay. An interesting addition to the whole 'Rats' franchise.
Chapter Fourteen – The Fog – James Herbert
– 2 pages
Originally published in 1988 for the reissued version of '
The Fog
' (1975), Herbert talks about the violence and message in the novel, its place in his development as an author, and his reasoning for not reworking some of the details in the reissued edition.

Chapter Fifteen – The Curious Case Of The Spear – Jo Fletcher
– 8 pages
Quite unsurprisingly, much of Jo Fletcher's writing on Herbert's fifth novel, '
The Spear
' (1978), deals with the court case that surrounded the release of the novel in hardback and the claims that Herbert infringed Trevor Ravenscroft's copyright in relation to details taken from his book 'The Spear Of Destiny' (1973). Fletcher incorporates quotes from Herbert, said in hindsight to the ordeal, which sets down a realistic view of the entire fiasco. A good solid insight into the controversial issues of the book which the media went to town on at the particular time.
Chapter Sixteen – Maurice And Mog – James Herbert
– 13 pages
Like with 'Breakfast' from Chapter Eleven, here we have another reprinted vignette/chapter from '
Domain
' (1984) which again works as a standalone short story. This one is about Maurice Joseph Kelp and his underground bunker within which he survives the holocaust along with the unwanted presence of a ginger cat he names Mog. A tragic short story laced with black comedy. However, what's perhaps most interesting about this particular chapter is the inclusion of a number of pen & ink illustrations by James Herbert as well as a draft storyboard sketch for the first page of '
The City
' (1993).
Chapter Seventeen – James Herbert And Science Fiction – Michael A. Morrison
– 13 pages
In this chapter, Michael A. Morrison (a professor of physics at the University of Oklahoma) attempts to show how the vast majority of Herbert's work hails (at least in part) from a decidedly Science Fiction background. Furthermore, Morrison goes on to elaborate on how horror and science fiction are often so ingrained into each other that it is sometimes difficult to differentiate from the two. From here Morrison delves into a number of specific examples of Herbert's work - namely '
The Fog
' (1975), '
The Dark
' (1980), '
The Rats
' (1974) and '
Domain
' (1985); describing, analysing and dissecting the novels to a reasonably in-depth degree. Whilst referencing these specific examples, Morrison talks of the symbolism that Herbert utilised in much of his work, his dislike for the 'nasties' and 'pulp' labelling he has so often been dubbed with, as well as touching upon Herbert's religious background and poor upbringing. The end result is a very interesting analysis of Herbert's earlier work – and definitely one of the highlights to the book as a whole.
Chapter Eighteen – The Dark Domain – John Fraser
– 9 pages
First published in the January / February 1988 issue of 'Horrorstruck: Vol.1 No. 5' (1988), John Fraser interviews James Herbert at The Ritz hotel in London where he proceeds to delve into the writing process Herbert adopted for each novel, his inspiration, themes and the public response. Not the most revealing of chapters, but another insightful brick in depicting the many parts of the author's career.
Chapter Nineteen – Breaking The Mould – Stephen Laws
– 3 pages
Fellow author, Stephen Laws, spends a few minutes detailing his admiration and respect for Herbert's work, in particular in respect of Herbert's ability to 'thrill' his readers. Laws also writes about how Herbert has broken the mould in relation to moving outside of one given genre; seemingly effortlessly adopting different styles whilst still maintaining that distinctive Hebert 'voice'.
Chapter Twenty – The Eidetic Image – Michael A. Morrison
– 3 pages
Originally published as 'The Unreal Estate' in the 9th September 1987 issue of The Washington Post, Michael A. Morrison's review of '
The Magic Cottage
' (1986) is full of praise for the novel; providing a good overview for a synopsis along with detailing the novel's subtle ability to chill yet leave a warm lasting impression with its skilful depth of characterisation.
Chapter Twenty-One – A British Phenomenon – David J. Howe
- 11 pages
First published in a slightly different format within the September 1988 issue of 'Starburst: No. 121' (1988), David J. Howe speaks with James Herbert as he prepares for the release of '
Haunted
' (1988). From here Herbert explains how '
Haunted
' (1988) started out as a screenplay commissioned by the BBC for a TV Drama. Herbert details how he came up with idea for the story from a dream, his inspiration, the proposed plans for the screenplay, and the BBC's eventual drop of the project and its subsequent transformation into the novel it is now. Howe then questions Herbert's inspiration behind his other books – with insightful and intriguing answers provided most notably for '
Sepulchre
' (1987), '
The Magic Cottage
' (1986) and '
The Dark
' (1980). Howe further quizzes Herbert on his feelings regarding the publication of his first novels, the resulting 'nasty' tag they received, his critics and reviews, and finally the initial controversy surrounding the release of '
The Spear
' (1978).
Chapter Twenty-Two – Hebert, Haunted, And The Integrity Of Bestsellerdom – Stephen Gallagher
– 7 pages
Fellow author Stephen Gallagher takes a look at Herbert's success, whether his work justifies such a bestselling status and how his books have subsequently developed and progressed. However, what is perhaps most interesting about this particular chapter is Gallagher's overview on the history of how '
Haunted
' (1988) came to be written, and his personal opinions on the end result of the re-written screenplay that became '
Haunted
' (1988).
Chapter Twenty-Three – Haunted By Success – John Gilbert
– 9 pages
Originally published within '
Fear Magazine – Issue Two
' (1988), John Gilbert interviews Herbert on his previous career in advertising, how he came to write '
The Rats
' (1974), horror in general, the film adaptations, the history of '
Haunted
' (1988) and the constantly evolving styles that Herbert adopts. Amongst these (and perhaps the most interesting response from Herbert) is regarding the symbolism and concept behind '
The Rats
' (1974) and then on to '
Lair
' (1979) and '
Domain
' (1984). All in all a very interesting interview provoking some particularly insightful answers.

Chapter Twenty-Four – Selling A Bestseller – Nick Sayers, Ian Hughes, David Singer, Tony Hammond
– 9 pages
Starting off this chapter, Nick Sayers who was the Senior Editor on '
Sepulchre
' (1987) and '
Haunted
' (1988) at the time, details what it was like working with James Herbert and editing (however limited it may be) his work. Next Ian Hughes, the Art Director on Herbert's books, details the amount of involvement Herbert maintains with the whole process of getting each book ready for publication. David Singer, the Commercial Director for H&S, provides a brief insight into the marketing and point-of-sale of Herbert's paperback releases; whilst finally, Tony Hammond, Publicity Director, details the extensive marketing campaign the publishers utilise on Herbert's hardback releases. All in all, the chapter, although very brief in its overview, provides plenty of interesting insight into the whole design, marketing and promotional aspects of Herbert's books.
Chapter Twenty-Five – In The Hall Of The Monster King: Music And The Maestro Of Horror – Edwin Pouncey
– 7 pages
Music journalist Edwin Pouncey is instructed to "find out everything you possibly can about James Herbert and music…" for his contribution to this book. And so Pouncey visits Herbert at his London flat and discusses the author's taste in music (primarily rock 'n' roll), his guitar and piano playing, horror in music (and vice versa) as well as a possible future collaboration with Rick Wakeman.
Chapter Twenty-Six – Hall0we'en's Child – James Herbert
– 13 pages
First published back in October of 1988 within the Daily Mail's 'Male & Fernail' magazine, James Herbert's short story 'Hall0we'en's Child' was originally written for charity and is one of just four short stories which Herbert ever sat down and wrote purely to stand on its own. Written in the first-person-perspective of a father-to-be as he waits for his wife to give birth to their first child, the strange tale follows our anxious narrator as he races off to the hospital in his car so that he can be with his expectant wife as she goes into labour. However, en route he hits something in the road. Panicking at what he might have hit, he gets out of the car to investigate. But it's Halloween, and strange things are out on this most hallowed of nights…

Chapter Twenty-Seven – Swamp Thing – James Herbert
– 3 pages
Originally published as a foreword for the comic 'Swamp Thing' (1987), Herbert's short praise-filled passage on how he came by the 'Swamp Thing' comics tells of his previous love for the comic format and how these particular ones reawakened (or rekindled) that passion. Herbert tells how the 'Swamp Thing' comics included a more involved storytelling, which ultimately changed the face of comics.

Chapter Twenty-Eight – The Devil You Know – John Gilbert
- 7 pages
Originally published within '
Fear Magazine – Issue Twenty
' (1990), John Gilbert once again interviews James Herbert, this time just before the release of his novel '
Creed
' (1990). As you would expect, much of the interview is about Herbert's new book (at the time), detailing the reasoning behind the principal protagonist, Joe Creed, being neither a hero nor an anti-hero – but just a dislikeable shit. However, Herbert's mission was to make the reader eventually grow to like Creed – a challenge, but one that Herbert feels that he nevertheless conquered. Following on from this, Herbert goes on to talk about how he incorporates an element of humour in all his novels. Finally, Herbert gives his thoughts on how the public currently perceive the horror genre, the reaction he has had, and his own love of writing horror fiction.
Chapter Twenty-Nine – Creed: The Advertisement – David J. Howe
– 4 pages
Originally published in September 1990's 'Starburst – Issue 145' (1990), David J. Howe's short chapter details the inspiration, creation and post-production of the 20 second long cinema commercial for the release of '
Creed
' (1990) in hardback. The chapter describes exactly what the commercial involved, how it was made, and H&S / Herbert's response to the commercial – which was entirely positive. The commercial was further used on the television for the paperback release. Another interesting insight and one that shows Herbert's commercial appeal at the time.
Chapter Thirty – Big Climaxes And Movie Bullshit – Stefan Jaworzyn
– 11 pages
Written and published for the first time here, editor and compiler Stefan Jaworzyn's particularly critical look at Herbert's movie adaptations (at the time of writing) produces a somewhat scathing (but entirely deserved) view of 'Deadly Eyes' (1982) and 'The Survivor' (1980) movies. Here Jaworzyn includes quotes from Herbert on the decision to make the films, the process and the poor end results, as well as the possibility of four further adoptions (at the time of writing). The BBC's dropping of '
Haunted
' (1988) is also brought up, with Herbert's same response. Interestingly, '
Fluke
' (1977) was noted as being the most unlikely to reach fruition from the four proposals – however, this was indeed latter made into the 1995 film by Carlo Carlei.
Chapter Thirty-One – From Rats To Riches – Dave Hughes
– 5 pages
Originally published in the October 1989 'G.M. Magazine – Issue 8' (1989), Dave Hughes meets with Herbert at his London flat for an interview two weeks before the paperback publication of '
Haunted
' (1988). The interview consists mostly of Herbert talking about the possible movie adaptations that were in the pipeline, his dislike for blood and gore in cinema, and his success in the UK in comparison to the likes of Stephen King.
Chapter Thirty-Two – Jim Meets Gray – Graham Masterton
– 3 pages
Originally published in a slightly different form in the January 1990 'Mystery Scene – Issue 24' (1990), author Graham Masterton's brief write-up of his get-together with Herbert over a book signing tells very little other than simply how friendly, approachable and tidy Herbert is.
Chapter Thirty-Three – Dark Dreamer – Stanley Wiater
– 11 pages
Originally published in a slightly different form within the book 'Dark Dreamers: Conversations With The Masters Of Horror' (1990), Stanley Wiater's lengthy interview with Herbert explores an interesting array of areas on the author's life and work, most notably – his working environment (sitting upon Aleister Crowley's old chair no less!), Herbert's attitude to the horror genre in general, the process of writing, the splatterpunk tag, the four novels that he would choose if he was to introduce someone to his work, and Herbert's personal connection with his stories. All in all, it's the chapter is perhaps one of the most informative and interesting interviews to be included in the entire book.

Chapter Thirty-Four – They Don't Like Us – James Herbert
– 5 pages
Here we have another one of the few short stories that James Herbert ever penned. And to be frank – it's an absolute corker – laced with black comedy, playing around with the reader's instant assumptions and signing off with a devilishly smug twist. The short begins with our narrator walking into a bar for a drink. However he knows that he'll not exactly get the best reception here. People don't generally like those like him – 'zooks' as they've been calling them. Not exactly a term laced with affection. And as he tries to order a whisky, his shaky hand offering the exact money, the barman's attitude turns sour as soon as he sets eyes upon him. And that's where the trouble always starts. It's a hard life…
Chapter Thirty-Five – Notes Towards A Reappraisal – Ramsey Campbell
– 9 pages
Originally published in a slightly different form within the February 1985 'Fantasy Review – Issue 76' (1985), fellow horror author Ramsey Campbell goes through each one of Hebert's books in order from '
The Rats
' (1974) to '
Creed
' (1990), providing a brief synopsis on each and telling of the novels' strengths, potential flaws and how they fit in with Hebert's constantly evolving style. Campbell's analysis on each book is often full of praise yet still maintains an honest and critical eye that speaks volumes for his ultimate respect for Herbert and his work.
Chapter Thirty-Six – James Herbert: Afterword – Clive Barker
– 2 pages
For the book's final chapter, author Clive Barker provides a brief but affectionate afterword which tells a little more of the real 'Jim Herbert' and the delightfully good-natured, honest, and paradoxical man that he is. And here Barker brings up the small issue of applying subtext within a tale, and how Herbert generally declares that his work is entertainment and devoid of such depth of layers; that is until his announcement about how the workings of the Catholic Church and the vulnerability of faith appeared in his novel '
Shrine
'(1983).
Following the last chapter the book contains a detailed bibliography of Herbert's work detailing the various editions that had been released at the time of writing.
Finally, the book concludes with James Herbert's short poem 'Waiting' that was originally published in Neil Gaiman's and Stephen Jones' collection of twisted poetry entitled 'Now We Are Sick' (1991). The poem is a masterpiece of black comedy – telling of a victim's whimsical ponderings whilst his body parts are scattered around a crazed axeman's home.
The book runs for a total of 322 pages.

© DLS Reviews