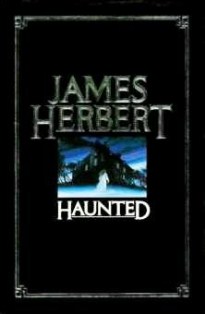 First published back in August of 1988, 'Haunted' was British author James Herbert's fourteenth full length novel to see publication. The novel was originally written as a screenplay for a two-hour long drama that had been commission by BBC producer Evgeny Gridneff. However, when Gridneff left the BBC, the project was sadly scraped. Not wanting to see his story and all the hard work he put into it go to waste, Herbert re-wrote the entire thing into a novel.
DLS Synopsis:
David Ash is a professional investigator of psychic phenomena at the Psychical Research Institute. Along with his slight alcohol dependency, Ash is a thorough and deeply sceptical individual, making him an ideal choice for debunking fabricated supernatural phenomena. And in his experience, ninety-nine times out of a hundred, there's a logical and down-to-earth explanation behind the occurrences.
So, upon receiving a letter addressed to the institute from a Mrs Webb desperately requesting an immediate investigation into supernatural occurrences taking place in her residence at the Edbrook, Ash was the ideal choice for sending out.
When Ash arrives at the remote stately manor house of Edbrook, he is greeted by the Mariell family who consist of Christina Mariell and her two brothers Robert and Simon, as well as their aunt-cum- nanny from when they were children – Mrs Webb (aka Nanny Tess).
It becomes clear to Ash that the aged Mrs Webb is terrified of what she believes to be hauntings that take place within their residence. Ash is instantly cynical of such happenings taking place, but agrees to monitor the situation whilst taking up temporary residency in the house.
The eccentric family certainly intrigue Ash. And soon enough his affections more towards Christina Mariell who quickly clouds his thoughts with lustful pinings. However, whilst Ash's thoughts are elsewhere, so the malevolent presence that is lurking in Edbrook turns towards the psychic investigator.
The evil is very real, and as David Ash soon learns, it is a very powerful presence that puts him and the entire Mariell family into great danger. Ash must push his abilities against the malignant supernatural forces to the very limit, searching beyond the grave for answers to counter this powerful and determined evil.
Death lurks in Edbrook. And an unimaginable horror is clawing its way back through history...
DLS Review:
The character of David Ash is the veritable epitome of a James Herbert anti-hero. He is a classic principal protagonist with a wealth of bad habits and downbeat traits. He's everything you want from a gritty Herbert lead character, all bundled up into one man. And that's probably the reason why he has become one of Herbert's few returning characters. Like a cross between the character of Chris Bishop from 'The Dark' (1980), Kim Kelso from 'The Jonah' (1981) and even Joseph Creed from 'Creed' (1990), Ash is pretty much a paint-by-numbers combination of what makes for a classic Herbert protagonist.
The first thing that needs to be said about 'Haunted' is that it certainly does not read like a fleshed-out screenplay or a re-worked novelisation. Hebert has clearly gone to great lengths to completely re-write the tale – making it every bit as much of a 'proper' novel as any of his other books are. Although slightly shorter in length than the average Herbert tale (no doubt due to its original screenplay format ), 'Haunted' still has enough character depth and added layers to allow it to be read as a full-blown novel in its own right. Indeed, if you weren't to know of its history, it's unlikely that you would think of the tale as anything other than another James Herbert novel.

The tale itself takes on the classic premise of a 'haunted house' scenario, with Ash thrown into the thick of the supernatural action with an instantly cynical frame of mind. However, there's only so much that can be pushed on to the sceptical investigator before he begins to realise that there may well be something evil lurking in Edbrook.
Like with Shirley Jackson's 'The Haunting Of Hill House' (1959) or indeed Richard Matheson's 'Hell House' (1971), the supernatural visitations escalate in their impact, from small odd occurrences to fully-fledged-in-your-face horror. Very much in the same vein as Matheson's 'Hell House' (1971), Herbert goes hell-for-leather to really push the nastiness of the supernatural horror to the very limits, with grotesque scenes of a graphic and menacing nature pushing the boundaries for all they've got.
Interweaving subplots, a blossoming relationship, and the unearthing of a terrible history that is somehow all linked together, helps to broaden the plot of the tale, making for a much more involved and engaging story. Indeed, from the moment we first glimpse that something is not being quite right, the story starts racing along with a constantly snowballing effect that keeps on picking up pace until the magnificently impactful finale.
For sheer nail-biting tension this novel delivers the goods in abundance. Anything could happen next, as Herbert keeps his foot on the accelerator, escalating the terror of the hauntings until there's nothing left but sheer unadulterated all-out mayhem.
For such a reasonably short novel, Herbert really crams in the action and ingenious twists to the plot. The storyline itself only spans a mere three days in the stately manor house, but what transpires in those three days is a veritable lifetime worth of gut-wrenching horror.
The novel was later followed on by the loose sequels 'The Ghosts Of Sleath' (1994) and 'Ash' (2012) which are linked by the character of David Ash.
The tale was later adapted into the film 'Haunted' (1995) by director Lewis Gilbert (him of James Bond fame no less). The film did not stick particularly firmly to the course of Herbert's original tale, but is nevertheless a reasonably enjoyable movie.
The novel runs for a total of 224 pages.

© DLS Reviews

Other 'David Ash' instalments: