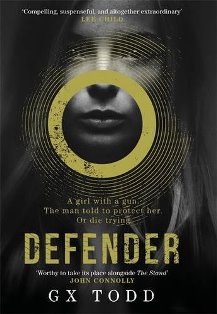 First published back in January of 2017, G.X. Todd's debut novel 'Defender' formed the first instalment in the four-part post-apocalyptic series entitled 'The Voices'.

DLS Synopsis:
It all started around seven years ago. All across America, people started hearing the faintest whispers in their heads. Voices speaking to them. Opening up previously healed wounds. Convincing them to do things that would never have entered their minds before. Changing them.
Sixteen-year-old Lacey was different. No voice had entered her young mind. Ever since that fateful day she'd stayed hidden away in her Grandmother's isolated farmhouse. Protected from the madness that was overwhelming the world around them.
But it could never last. After her Grandmother died, Lacey knew she couldn't hold out on her own forever. She knew her Grandmother wouldn't have been happy about the plan, but Lacey didn't see she had any choice. Not if she wanted to keep hold of her sanity. Not if she ever wanted to see her sister and young niece again. There was only so much hunger and silence a girl could take.
So she'd set up a lemonade stand along the deserted stretch of highway that ran past the farmhouse, hoping to attract a passer-by. Someone who would take her to Vicksburg in exchange for a refreshing glass of her homemade lemonade. Hoping it would be someone who wouldn't hurt her.
Pilgrim preferred to keep moving. He'd rather have the open sky as his roof and the horizon as his borders than the walls of a town stacked up all around him. It was easier to see what lay ahead that way.
Lucky for Lacey it was Pilgrim that came across her small lemonade stand first. Pilgrim had his own Voice, but he wasn't like the majority of them. He wasn't rotten inside. Of course he knew that Voice would always be with him. Voice was a demon and angel and conscience all wrapped up in one, and there was no escaping him.
However from their first meeting Pilgrim could see that Lacey heard no voice. He knew how to spot the signs, and he could see that she exhibited none of them. Nevertheless there was something different about her. She had a gulf hiding within; a space that seemed ready and willing to be filled. It scared him how vulnerable she was.
So he'd taken her with him. Agreed to her joining him on his journey across the dusty roads and deserted towns of Western Texas. And gradually, as the days passed by, as the miles were swallowed up under the motorbikes badly-worn tires, he realised he felt a responsibility to look after her. To protect her. To defend her…

DLS Review:
Oh how I love a good post-apocalyptic tale, especially one that carries a good amount of thought-provoking originality. And that's exactly what Todd's debut has to offer. A hardboiled, gritty-as-fuck post-apocalyptic romp with some of the tightest and most engaging narrative you're likely to come across for a good while.
Okay, so the backdrop to the tale isn't exactly new territory. It's textbook end-of-civilisation stuff, ala a good few thousand or so fellow post-apocalyptic novels. However the real intrigue in the plot is in how the fall in humanity came about and the lingering madness that ensued. Along similar grounds to that of Rhys Thomas' 'On The Third Day' (2010), David Moody's 'Hater' series and the more introspective elements of the 'Crossed' graphic novel series; Todd offers up a stealthful Armageddon – whereby (from seemingly out of the blue) almost the entire population start hearing voices in their heads…voices telling them to hurt themselves and others.
With the premise established pretty darn quickly, and only the finer details to be woven in, Todd gets underway with the real lifeblood of the tale – the developing bond between Pilgrim (an enigmatic hardass loner) and headstrong but previously-sheltered teenager Lacey. The dynamic within the blossoming friendship is incredible. Seeing it forming and the unspoken love and affection within the simplest of actions is as moving as the heart-wrenching displays of utter devotion that come later on. Akin to a proper father-daughter relationship, Pilgrim (or 'Boy Scout' as Lacey knows him) almost subconsciously adopts the role of protector to this young, initially somewhat naïve teenaged girl. Whilst Lacey becomes the caring but nevertheless dependent charge to her quiet guardian.
However it's when the first real bursts of violence hit that you see the true colours of the novel(s) coming out. Hardship, heart-ache, and stubbornly overcoming the trials and traumas of existing in this hellish new world are the steadfast bricks and mortar of the piece. Life here is ugly and hostile and full of fucked-up individuals wanting to mess you up for their own needs and despicable desires. Todd exposes this underbelly with such visceral gusto, pulling absolutely no punches, as time and again she flings the reader into the midst of unrestrained madness and unsuppressed evil.
Scenes turn bloody and gut-churningly violent at the drop of a hat. So often, especially with our principal protagonist being a young teenaged girl, the violence turns sexual. It's hard-hitting, skin-crawlingly difficult to read and definitely not for the squeamish. There's absolutely no ducking or diving through the horror here. It's shoved in your face, beating at your skull and the results are left lying at your feet in a pool of blood.
Of course the novel is built around a central plot. Here we have Lacey determined (perhaps naively so) to locate her sister and niece. However, running alongside this near-hopeless mission we have a darker secondary plot involving a feral gang of rapists and killers led by some messed-up maniac named Charles Dumont (somewhat akin to The Governor from 'The Walking Dead').
But it's ultimately with the 'Voices' and mystery behind their unexplained presence where the novel really pulls the reader in. The Pilgrim has his own voice (simply dubbed 'Voice'). It's a cleverly and lovingly interwoven 'character' (if you can call a bodiless voice such) whose love/hate relationship with its host adds a wonderful layer to the characterisation as a whole.
However, Todd purposefully keeps her cards firmly to her chest throughout the length of this first instalment – with the details and explanations behind the voices and their existence kept a closely guarded secret. Of course there are plenty of hints thrown about the place to keep you guessing. Hints that'll get you pondering the small details long after you've put the book down for the night. Undoubtedly the following books in the series will hold all the answers. Nevertheless, if we're honest, it's often in the pondering and second-guessing where much of the fun lies.
The cover quotes and fellow reviews reference comparisons to Stephen King's 'The Stand' (1978). Personally I don't see that much of a connecting similarity, other than with the simplicity of them both being post-apocalyptic. For me a closer comparison would possibly be somewhere between Luc Besson's 'Leon' (1994), Rhys Thomas' 'On The Third Day' (2010) and aspects of the 'The Walking Dead' series. If you enjoyed any of these then trust me, you're in for a gritty post-apocalyptic treat here.
Ultimately what you get with 'Defender' is a well-executed post-apocalyptic novel that'll beat you black and blue, more often than not whilst you're down in the dirt and bleeding, but amongst the (often seemingly relentless) violence and heartache, comes glimmers of something that'll soften even the coldest of hearts (including this reviewer's). To think that this is Todd's debut offering is incredible. Bring on the next books…
The novel runs for a total of 451 pages.



© DLS Reviews
Other 'The Voices' instalments: