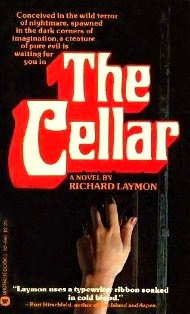 First published back in September of 1980, 'The Cellar' formed US horror author Richard Laymon's debut novel, along with being the first instalment into the four-part 'Beast House Chronicles' series.

DLS Synopsis:
After Donna Hayes receives a phonecall informing her that her ex-husband, Roy, has just been released from prison, her world suddenly comes shattering down around her. She can't believe that they've let him free after what he did. Putting their daughter, Sandy, through absolute hell, year after year, all behind Donna's back. And now he's free once again. Free to rape and kill at will.

And so, without a moment's hesitation, Donna and her young daughter flee their house in their car, hoping to get as many miles ahead of Roy as possible. However, as they head towards Northern California, a thick blanket of fog envelops the car, sending them veering off the road. With their car needing repairs before they can continue on with their journey, Donna and Sandy catch a lift with a local to the nearby town of Malcasa Point.

Upon arriving at the small town, they are informed that it may be some time before the local garage can get the necessary parts in to fix the car, so best get settled in for the duration. And so, Donna and her daughter go exploring the town, to see what it has to offer to pass the time with. And it's not long before they find out about the town's one and only tourist attraction – the notorious 'Beast House'.

Having been the premises for a long line of murders over the past seventy-five years, the Beast House has since become a macabre tourist trap, where the owners put on daytime tours of the grisly house to thrill the many sightseers that come their way. And so, with nothing else to do, Donna and Sandy decide to take the Beast House tour.

On the same tour are Larry Usher and Judgement Rucker. But the two men are far from simple gruesome sightseers. Larry has employed 'Jud' to kill the beast that he believes to this day inhabits the legendary Beast House. For Larry has a personal vendetta against the beast that lurks in the premises, killing anyone who comes to the property after nightfall. In his youth, Larry was one of the victims to the beast. The only victim to date who had escaped with his life.

Meanwhile, Roy is on the trail of Donna and their daughter. After gaining information as to their whereabouts from Donna's sister, Roy is now hot on their trail. But he has something to keep him occupied during the long journey. He has kidnapped a nine-year-old girl, who he is now bringing along with him for the ride. A poor young girl who is now the subject of Roy's vicious sexual desires.

Their paths will all come together in one place. A place where beasts are real, and under the cover of darkness, bloodthirsty atrocities are a way of life. It all leads to the Beast House. And in the depths of the age-old building, real horrors are hiding...

DLS Review:
So this is where Richard Laymon's prolific literary career all began. The first novel that kick-started a lifelong career in horror fiction. And even from the outset, Laymon has produced a novel that goes all-out with its sheer intensity and no-holds-barred approach to strong and utterly taboo subject matters.

Okay, so we've got a pretty colourful comic-book style plot, with a beast in a house that has terrorised each and everyone who has ever lived in the premises. Now a tourist attraction, Laymon has added a slightly more surreal and exaggerated horror effect to the premise. That is until Laymon starts producing the real horror goods.

The subplot involving Donna's ex-husband Roy and his antics on his way to finding Donna and their daughter is perhaps the most disturbing element in the tale. We're talking pretty graphic scenes of sexual child abuse as he rapes, murders and steals his way through the tale until the two main plotlines come to their eventual meeting. He's a nasty nasty man, with plenty of momentum behind him. The end result is a parallel running storyline that is as gripping, if not more so, than the main thread of the tale.

It has to be said that you need a reasonably strong head to read the tale. Laymon does throw in almost every taboo angle that he can. We're talking paedophilia, rape, bestiality, incest and torture here. And Laymon doesn't just brush upon the cruelty of these actions. He throws it in for all it's got.

As always, Laymon's style of storytelling is instantly captivating. From page one the reader is pulled into the tale, with fleshed out characters dragging the reader along through an escalating hell. Not a page goes by that isn't a sheer pleasure to read. It's all in the way Laymon delivers his tales. Quite frankly he could be writing about paint drying and it would probably be an addictively engrossing read.

Pace wise, the tale is (as always) a constantly tense and exciting novel to plunge through. There's barely a page that goes by without something or other happening. And with this, Laymon plays with the mounting suspense at every opportunity, leaving the reader on tenterhooks with regular cliffhangers at the end of each chapter.

And then we have the eventual finale (including the magnificent build up to the final showdown). And what a hard-hitting stonker it is too. Laymon just throws in absolutely everything for the final quarter of the novel. The action and intensity of the bestial threat is breathtaking. The ending as twisted as it is entertaining. And Laymon hammers in the message that things can always get a hell of a lot worse.

Expect sex, murder, violence, and grotesque bestiality all mixed in with Laymon's unique blend of energetic horror and near-misogynistic violence against any woman who happens this way.

The novel was later followed on by the further instalments in the series 'The Beast House' (1986), 'The Midnight Tour' (1998) and finally 'Friday Night In the Beast House' (2001).

The novel runs for a total of 254 pages.

© DLS Reviews