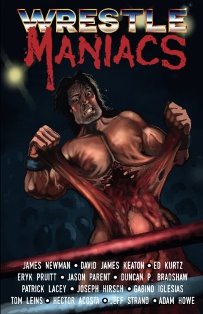 First published back in January of 2018, Adam Howe's steroid-saturated anthology 'Wrestle Maniacs' formed the first offering from the author's brand spanking new publishing outfit Honey Badger Press. Expect nothing short of over-the-top spandex-wearing lunacy upon a blood-splattered canvas.
Foreword by Pulverizing Pat McCrunch – Jeff Strand
– 3 Pages
Pulverizing Pat McCrunch is a wrestling legend. A goliath among men. His career in the ring is way more impressive than any of the stories in this very book. Nevertheless he's being paid top dollar to write some mindless crud for an introduction, so he's gonna find something or other to spend a thousand words rambling on about. His impressive victories in the ring are a good start. Yeah, that'll do…
Author Jeff Strand's wrestling legend parody is a big fat can of ass-kicking genius. Written in the voice of a monstrously clichéd wrestler, the foreword forms the perfect introduction for the anthology, with more steroids and testosterone pumping through the first three pages than a YouTube compilation of the Rocky films' 'Best Bits'. This is pure class my friends!
Real Americans – Tom Leins
– 17 Pages
As a fighter Johnny Tomahawk had been nothing special – a mid-card mauler with a dependency on 'roids and good ole fashioned smack. But the days of the Testament Wrestling Alliance were long gone. Now Johnny worked for the Testament Police Department. He'd gone fucking Tribal on their ass. Not that he took his role as law enforcer all that seriously. Since joining the force, he was now back on the crack pipe and sinking his 'roid shrunken member into all them Testament skanks. But when one of the girls from the Cow Creek Casino ends up dead and her lifeless corpse dumped, Johnny knows it's time to crack some fucker's bones. After all, that's what Johnny Tomahawk does best…
What a way to open up the anthology. Spit and sawdust amateur wrestling meets 80s style cop thrillers, with all the cheese and clichés thrown in for good measure. Expect goliath wrestlers turned badass criminals on pretty much every other page. But the absolute highlight of the short tale is with the morally-corrupt antihero – Testament PD's Johnny Tomahawk. His lack of personal obligations for anything law-abiding is frigging hilarious. He's as dodgy and corrupt as half the criminals in Testament. But that just makes it that much more fun. The story's pretty much as fast-paced as they come, with the plot spiralling out of control within mere minutes of it getting underway. There's absolutely no holding Tom Leins back – from the moment he puts pen to paper we're treated to a veritable onslaught of over-the-top gritty cop thriller action mixed with steroid-pumped washed-up wrestlers. Trust me, it's as good as it sounds.
A Fiend In Need… - James Newman
– 28 Pages
Nick Bullman had been woken by the incessant ringing of his phone. He'd answered it in a fog of drink-induced confusion, only to be greeted by a voice he'd not heard from in a long, long time. It was Paulie Crusoe. He'd been known as the "Holy Terror" – his gimmick was he'd been sent by God to bring salvation unto his fellow grapplers. And by the sounds of it Paulie was in trouble. He kept cursing and saying he'd done something "really bad". He wanted Bullman to go over to his place right now. Two in the morning and this blast from the past was calling in a fucking favour! But it sounded serious. And one thing Nick "the Widowmaker" Bullman did, was live up to his promises…

Man, these stories are good. Here we have an 80's style homicide thriller with that all-important wrestling edge to it. Again we have two washed-up old school ex-wrestlers knee-deep in trouble. Nick "the Widowmaker" Bullman's our main man. Our protagonist. He's had his face sheared off by a psycho, back when he was famous. It had been a career-ending assault. Now, Bullman looks scary as, but of course, he's ultimately got a heart of stone. That's why he's rushing to the aid of his old wrestling buddy. Paulie Crusoe has lost his mind and, after killing his wife, the nutter's now threatening to kill his three young kids. It's down to the Widowmaker to try and talk him out of it. And if that fails, some badass wrestling moves should do the trick. Oh yes indeedy. When the roid rage hits, it hits bad!
Last Of The High-Flying Van Alstynes – Eryk Pruitt
– 16 Pages
Brad Van Alstyne had no idea how he came to be where he was. He'd woken surrounded by six guys and feeling groggy from what he assumed was some sort of heavy drug. He may be thirty odd years past his prime, but he was sure he could still take them given half the chance. In his day he'd been unbeatable. His family had all been the same. Now he was the very last of a talented dynasty of professional wrestlers. His brothers and forefathers all having met their demise in some way or other. It was like they were cursed. Which made the demands of his abductors seem all the more absurd. With his DNA, his bloodline, they planned to create a new generation of fighters – a new race of superhumans. This couldn't possibly be real…
This here's a weird one. It's the sort of story that throws you all over the shop, until the dust finally settles and you're left beaten and bruised and thinking what the fuck just happened? The tale starts in a fairly off-the-wall way, with our aging protagonist getting accosted for his sperm. Next thing you know he's hearing the voice of his dead brother, then he's waking up elsewhere and his worried wife is taking him home. The depressive madness doesn't end there. In fact, the whole damn story is pretty damn downtrodden – with a spiralling sanity that just slips further and further down the drainhole. It's a sombre offering, but it nevertheless sits right at home in this damn fine anthology.
Rassle Hassle – Adam Howe
– 26 Pages
In his heyday, Reggie Levine had been a professional boxer. Now he worked as a strip club bouncer at The Henhouse. It was far from the most glamourous of establishments. Tonight's main act was Marlene. Somewhat robust for a stripper, Marlene was loved by those who enjoyed a tad more meat on their roasts, if you catch my drift. Marlene's eight-year-old son, Hector, was at The Henhouse again tonight. Sweeping the floors for pinball money. But tonight Marlene had a favour to ask Reggie. Hector's all-time favourite wrestler – "Cottonmouth" Clayton Kincaid was headlining the show. Marlene wanted Reggie to take him. An ex-pro boxer taking a stripper's gimp-mask wearing son to see a washed-up wrestler fight a certified lunatic. To say Reggie was apprehensive was an understatement…
Oh yes! What a beauty. Adam Howe's story reads like something straight out of Troma studios, with wacky outlandish characters bombarding the storyline with their all their monstrously outrageous personalities. First up we have ex-pro boxer Reggie Levine, who's as sharp as a tack but just seems to end up with the shit end of the stick time and again. Then there's gimp-mask wearing Hector: the innocent eight-year-old boy with a big fat stripper for a mum. But why stop there? There's also defrocked Sunday school teacher 'Old Lou' who has an encyclopaedic knowledge of smut movies. And of course, the main man himself, the aging, well-past-his best wrestler "Cottonmouth" Clayton Kincaid - with his sagging muscles and thinning hair and a pretty damn series drug habit. Throw the lot together and you've got a fucking riot. And I mean it. This story is a laugh-a-minute, with so much going on it'll make you grin like a lunatic throughout. Absolutely loved this one!
Duluth – Ed Kurtz
– 8 Pages
Copperhead Jake Kowalezyk made up his mind: Saturday's exhibition in Minneapolis was going to be his very last barnstorm. Of course, you never knew what to expect from these carnivals. Sometimes your opponent could be plucked straight from the crowd with some dumbass point to prove. This time they had a man from St Paul filming the shows, and he wanted to capture some footage of Jake doing his thing. All around him Jake could see drunks and freaks, washed-up dreams and hidden identities. How many of them were going to leap at the chance to be immortalised in a moving picture with him? Chances are they wouldn't understand about Kayfabe. That it was fake, but all mixed up so as you never really understood it. That's what wrestling was. That's the showmanship. That's Kayfabe…
Short and sweet and pretty much straight to the heart of the matter. That's what Ed Kurtz's offering's going for. And it certainly achieves that. Our protagonist is looking to have his last fight before taking off into the sunset – or Duluth to be more precise. This isn't pro wrestling. Not by a long shot. Its carnival fun, where the opponent could just as easily be a willing participant plucked from the audience. So Jake has no idea what to expect. How fake it will be. Furthermore, this time it's all being filmed. But the man behind the camera seems to have his own agenda. His own motivation. His own take on Kayfabe. A bit weird, but it works. Short and ever so sweet.
From Parts Unknown – Hector Acosta
– 17 Pages
Jorge hated Mexico City. It had been years since he'd last stepped foot there. But when after a show in Corpus Christi he found a note waiting for him, he knew he had no choice but to return there. He'd immediately recognised the handwriting as Miguel's. The last time Miguel reached out to him, it was to inform him of their father's passing. Of course even then Jorge had refused every offer thrown his way to step back into Mexico. But now Jorge felt he didn't have a choice. He owed the Rocha Boys money and this could well be his only way out of the debt. He just had to keep holding things together until then. The pills helped. Most of the time they kept the world from shaking underneath his feet and they blocked the things at night from reaching him. But it was never enough. Jorge had problems. He just didn't know why…
This is a great one. A protagonist who's clearly got some pretty heavy psychological issues going on, along with being mixed up with the cartel and he's now desperate to get things right again. And 'desperate' really is the word of choice here. The sheer desperation injected into the story seems to bleed out from every word. It's downbeat and troubling. Furthermore there's a real sense of urgency behind it all. And it all comes thundering into one monumentally explosive conclusion that rips open the story magnificently. Wonderfully original and superbly executed.
Three Finger Bolo – Joseph Hirsch
– 14 Pages
Ritchie "Bam-Bam" Abruzzi wasn't at all happy with what was being asked of him. He'd worked hard to be where he was. Each fight had been won on his merits. Because of his skill. His nerve. But now Fat Cat Lloyd Berman wanted him to take a dive. It was all about the money. What the public wanted. But Bam-Bam wasn't about to succumb to greed. He still had his pride. And that was worth a fuck-tonne more than whatever Berman was willing to pay. Although Bam-Bam was really a boxer. But wrestling wasn't all that different. A mere sidestep from slugging to grappling. Tonight he was fighting the Hungry Hun. A flesh-hungry cannibal with a piss-soaked pickelhaube. Furthermore, the fight was in a barbed-wire ring. Nothing was fake here. If Bam-Bam didn't take a dive, he would undoubtedly be faced with the fight of his life…

I seem to recall watching various ropey copies of Japanese Barbed Wire Wrestling back in the early 90s tape-trading era. That and Cactus Jack matches that invariably ended in him been covered from head to toe in his own blood. This story brought all those memories back. In a nutshell you have an ex-boxer pitted against a cannibalistic German, fighting in a barbed-wire ring. That's pretty much all you need to know. The rest is just absolute carnage. Ultra-violence, grisly gore and some 'Karate Kid' style encouragement to bring it to an ass-kicking conclusion. It's another damn entertaining read.
Glassjaw – Duncan P. Bradshaw
– 12 Pages
It was Mickey's first fight. His first time in the ring, pitted against the other fresh-faced newbies. He had a lot to learn. A lot to pick up in his first fight. Even though it was just a warm-up show, the audience still demanded a good performance. Luckily Mickey had Ronny the "Ballbreaker" to coach him. Ronny had been through more than his fair share of rough bouts. He had the scars to prove it. Every time Mickey was tagged out, old Ballbreaker would give him some advice. Tell him what's what. Get him fighting like he should be. That was how you learnt. That was wrestling…
Who doesn't love a bit of Bradshaw?! You always know to expect the unexpected. To prepare yourself for something peculiar and altogether different. Although on one hand, the oddness within this offering is perhaps a tad more (dare I say) normal than you'd usually encounter along the wildly meandering route to Bradshawville. However, it's with the quirky delivery, the way we're dumped into the skin of poor old Mickey, and made to piece together what's happening through the snippets of advice provided by ole' Ballbreaker, that the wonderful strangeness comes into play. Each slice of advice is like piecing together a puzzle. And slowly but surely we witness our main man stop dancing around the ring like a nobody, and start to take the punishment – for better or for worse. Brilliant stuff.
El Kabong – David James Keaton
– 15 Pages
It's never that pleasant to find out your wife had been found dead, with her corpse having been stuffed into a guitar case. But that's exactly the news that the Louisville police department had just delivered. It was a perplexing turn in events. Angie was small, but for her body to fit into a guitar case, quite frankly it seemed unlikely. She'd also been feisty woman. She'd had a power about her, that was for sure. He knew he wouldn't be able to wield anything like that level of power until he put on the horse's head. That's when everything changes. That's when he really comes into his own…
And the award for the weirdest, most disorientating and altogether surreal contribution goes to Mr David James Keaton. Told from the first-person-perspective of a "Mr James" who, let's be honest, is pretty damn screwed in the head, the story bounds about the place like there's no tomorrow; throwing down mere hints at a potentially bigger story, without ever really giving much away. It's so odd, so unbelievably surreal, that you'll never really know for sure what the hell's going on. Although despite the wackiness, it still flows with a strange fluidity that makes it a bizarrely entertaining read. In fact, so much so that the story probably demands a second read.
El Neuvo Santo's Last Fight – Gabino Iglesias
– 15 Pages
Juan had some matches coming up on the weekend. Big matches. The new company in town - Capitol Sports Promotions - wanted top-notch entertainment, and Juan planned to deliver exactly that. Rumour had it they were offering juicy contracts to any talented wrestler who happened to be a crowd favourite – something Juan knew he had going for him. Nevertheless the years were catching up with Juan, but with the right chemicals, he knew he still had a few good years left in his body, and he wanted to make the most of them, especially if it led to some decent money. However, his motivations for the weekend's fight would soon change after Juan finds himself confronted by the owner of Capitol Sports Promotions, Carlos Ramirez, in his own home. With gun in hand, Carlos tells Juan exactly how Saturday's fight is going to go down. Ringo "El Crazy Gringo" Cannon will not only defeat Juan, but the colossal Mexican will pound him so badly that the match will go down in history as one of the most hardcore blood-drenched matches ever. Otherwise Juan's wife and kid will be the ones doing all the bleeding…
Abso-fucking-lutely bruuuutal. This is exactly the sort of story the anthology is all about. This my friends is it. Monstrously, unashamedly over-the-top violence and gut-churning visceral gore, all of which is cheered on by a buzzing crowd of wrestling lovers. It's got everything you need in there. A no-good-dirty-as-they-come sports promoter. Blackmail and gut-twisting inner-turmoil. Pride and stubborn defiance. And then the holy of holies – brutal, unrestrained vengeance. This story is so damn good, so damn entertaining, that it'll make you grin like a blood-hungry nutter from the get go. This is steroid-fuelled Mexican no-holds-barred wrestling madness at its very finest.
Kill To Be You – Patrick Lacey
– 14 Pages
Back in the day Mighty Mick Manson had been a pro wrestler. And a damn good one at that. But a cage match back in '96 saw the end to his lucrative career as a grappler. After that he'd tried to get into acting. In fact 'The Reckoning' was supposed to be his second shot at fame. But the film flopped big time. Now Manson was relegated to making his money from tedious signing sessions at sci-fi conventions. Which is where he encountered the man who could only ever be described as his absolute doppelganger. The resemblance to Mick when he'd played the character of Viper was uncanny. For all intents and purposes, the man standing before Manson was Viper. He even had the very same scar that ran from his forehead, through a milky eye, and down to his lip. But it's when the man spoke that Mighty Mick Mason realised he had a problem on his hands. "I'm you. From another dimension. And I need your help". Holy shit this guys was fucking nuts!...
My god is this one fun. You've got a washed-up ex-pro wrestler who'd gone on to star in a shite sci-fi box office blunder, who's now suddenly confronted by the character he played in the film. And the guy's saying he's come from another dimension where Arachnoids have mankind backed into a corner. Of course they need a second Viper to help them in their war. Think of a sort of Ryan Cawdor ('
Deathlands
') meets Snake Plissken ('Escape From New York') cliché and you've got the right idea of who Viper is. The cheese of it only adds to the novels all-embracing B-movie-esque warmth. Of course Mason doesn't believe a word of it. So we have some good old fashioned back and forth convincing, that ultimately ends in a spectacular twist ending worthy of the very best B-Movies. Classic stuff.
Canadian Donkey Punch – Jason Parent
– 25 Pages
Rip Von Willebrand was refereeing what was undoubtedly the biggest match of his lengthy career with Muscle Power Wrestling. Longtime MPW Heavyweight Champion and fan favourite, Hercules Peril, was fighting the sinister Lian Maim in what was to be Hercules' last match with MPW. After the fight was over, Hercules was going off to bigger and better things. His title as the Heavyweight Champion, intact with the belt to prove it, leaving the hands of the MPW. It was something the MPW bosses were far from happy about. In fact, they'd given Willebrand a significant bonus to ensure that Hercules Peril didn't come out on top in his final fight. The crowd weren't going to be too pleased with the result, but how could Rip refuse that sort of money? After all, aside from an unhappy audience and a pissed of wrestler, what's the worst that could happen?...
Equal parts off-the-wall humour as it is muscle-flexing action and violence – Jason Parent's offering is nothing short of a wild and utterly hilarious slab of wrestling madness. Pretty much every sentence is laced with wacky wit and spring-loaded with either violence, or if not that, then something pretty fucking nauseating instead. Our hapless protagonist is an aging gay referee who's taken a bribe to see the match go the other way. However, before we even get there, we've got a meaty fight on our hands, with the brutish beast that is Hercules Peril giving his notably weaker opponent a damn good beating in vivid blood-splattered technicolour. But the big fight's only the start of it. Once Rip does the dirty and the crowd's favourite is unfairly counted out, things quickly go from bad to a hell of a lot worse. This one's got more adrenaline pumping through its veins than Mr T during a twelve-hour flight with a drunk pilot at the controls. Frigging awesome stuff.
The anthology runs for a total of 213 Pages.

© DLS Reviews