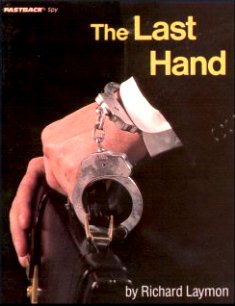 First published back in June of 1985, Richard Laymon's short story 'The Last Hand' was released as a stand-alone story for the 'Fastback' series. The Fastback series was designed to encourage reluctant-readers to take up reading, keeping the stories short, sharp and exciting. 'The Last Hand' fulfilled this criteria perfectly.

DLS Synopsis:
Brad Conroy had bundled his last mission; and in this business, you don't usually get a second chance. But on this occasion he'd been given just that. Another chance to prove himself. Fail and he was out of the game. Out of the undercover spy business for good.

His assignment was relatively straight forward. Take a briefcase to San Francisco and deliver it to an agent identifying himself as Coit. The briefcase would be chained to his arm the whole time so it couldn't go missing.

The contents of the case were unknown to Conroy. However, what was known, was that on a mission like this, there will be those out there who'll want the case. And they'll stop at nothing to get their hands on it…

DLS Review:
Laymon doesn't like to hang around with his Fastback spy thrillers. They're pretty much always guaranteed to be geared towards fast-paced action and utterly over-the-top double-crossing. That's exactly what you have here. Of course, being a Fastback there's no time for setting the scene and laying down much in the way of a plot. It's get in, throw down some high-adrenaline action sequences, squeeze in a twist or two to keep the reader guessing, then exit with a cocky signoff.

However, what makes this particular story is that our protagonist – Brad Conroy – is far from your James Bond type. Yeah, his moral compass is straight and narrow, nevertheless (from the relative snippet we see of him) the character comes across as a bit of a hapless fool who succeeds more by luck than judgement.

It's light-hearted and fun in an action-rich way. Just unplug your brain and enjoy the thrills and spills of a totally unpretentious spy thriller romp for a couple of minutes.

The Fastback runs for a total of 28 pages (which are just 4" x 5.5" with an average word count of around 100 words per page).

© DLS Reviews