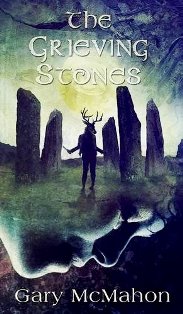 First published back in July of 2016, British author Gary McMahon's novella 'The Grieving Stones' was the second publication from Horrific Tales Publishing's premium novella line (a series of beautifully presented hardback novellas released from the incredibly well respected horror publishers).
The book starts off with an introduction from US Author Nathan Ballingrud, who over the course of five pages, showers (much deserved) praise on McMahon's collective body of work and his skill as a storyteller. Ballingrud homes in on McMahon's ability to express feelings and emotions that are near impossible to describe, the way he sets an atmosphere around his stories so effortlessly, and his flair for the emotionally evocative. If Ballingrud's introduction doesn't whet your appetite for the story to come then I honestly don't know what will.
DLS Synopsis:
Alice had never fully recovered from the loss of her husband, Tony. Since his death her life had been a void of energy and enjoyment. However she'd been seeking help. Attending regular group counselling sessions, where she would sit at the back and listen. Never really participating. Never really connecting with any of the others.

Then, seemingly from out of the blue, their counsellor - Clive Munroe - invites Alice to a special therapy session that he's running over the weekend. The session is invite only, and there's only enough space for five attendees, including him. Alice is told they'll have use of a large house, known as Grief House, in Ullswater in the Lake District. When renovation work had suddenly stopped a couple of years ago, the property had been left in disarray. Along with the usual therapeutic classes and group talks, the plan was to clean the place up. A combination of isolation and hard work being key players in the healing process.

Alice accepts the invite and a few days later the small group are travelling to the picturesque Ullswater in a minibus together. Alongside Alice and Clive the rest of the group consists of Moira Straub – a divorcee whose teenage son had died suddenly three years ago, Steve Kinney – who'd lost his wife to cancer, and Jake Westing – who infuriated Alice with his constant need for attention. She also didn't trust him.

Upon arriving at the isolated house, Clive takes Alice up the nearby grassy hillside where he shows her a circle of standing stones, known locally as the Grieving Stones. There, amongst the ancient stones, Alice feels an energy about the place. A vibration in the stone. And a deep-rooted connection with Clive.

Back at Grief House the mood amongst the other attendees of the therapy group is souring. Clashing personalities and conflicting attentions towards Alice are beginning to cause rifts. And it's not long before the frustrations of their isolated environment starts to amplify the group's bitterness.

However, for Alice, the longer she spends in and around Grief House, the more comfortable she starts to feel, and the better she understands that this place is starting to feel like home. From the moment she first laid eyes on the old building, she knew that she was welcome there. She had no idea why she felt this way; it was just something that happened. Perhaps if she stays here long enough she might even begin to feel at peace.

After all, life, she knew, was filled with obscure little rites and rituals. The trick was to recognise them when they occurred…

DLS Review:
The feeling of total loss is a powerfully destructive emotion. It can crush you. Drive you to utter despair and ultimately lead to terrible and sometimes fatal consequences. We've all suffered from loss at some time or other in our lives. It's an emotion we can therefore all relate to. And by utilising this initial connection with the reader, McMahon is able to pull you in with an almost effortless ease; submersing the reader in the hollowness that Alice is carrying with her, all within a mere handful of pages.
To be fair, from very early on you get a good handle on what McMahon's offering up here. With the invitation to a select few prone adults who are in need of some emotional support, for them to go to an isolated and rundown house named 'Grief House', the tale has pretty much spelt out what the general premise to follow is likely to look like. And sure enough, in the main part 'The Grieving Stones' does deliver a reasonably traditional boned supernatural horror, predominantly based in and around a haunted house and the nearby standing stones. Although with that said, the story's still less '
Hell House
' (1971) or indeed '
Haunted
' (1988), and much more '
Angel Manor
' (2014) mixed with something Adam Nevill might write.
But at its absolute core is something more human, something harboured in grief and loss, and ultimately being truthful to one's inner-self. 'The Grieving Stones' is a very honest story. It bears witness to how lost we can become with who we ultimately are. Our past and the things that have moulded and shaped us, quietly slipping away from us whilst we're choked by modern day life.
However, although embedded in raw emotions and near-palpable grief, McMahon still brings in some damn terrifying images of horror, that are (again) almost Adam Nevill like in their masterfully dark delivery. Cutting through the mist of Alice's emotional turmoil, McMahon lays down a scattering of chilling scenes designed to send icy tendrils creeping down your spine. Okay, so inanimate objects that seem to move and have a creepy-ass life of their own isn't exactly a new offering to the horror table. But it's how McMahon visualises these moments that magnifies the terror so masterfully.
There's a definite sense a malice that seems to bleed out from the novella. It pooling darkness clings to every movement, every conversation, every action told in the story. Although not described in any particular detail, the very essence of Grief House soaks through the pages. Outside, upon the nearby grassy hillside, the circle of ancient standing stones also have their own atmosphere that can be felt by the reader. It's a strange sensation - experiencing a feeling that comes off a particular location, which for all intents and purposes, is purely fictional.
Urging you to press on so you'll find out what's behind it all, McMahon also creates pockets of mild but purposeful confusion. And sure enough, small but entirely necessary revelations follow in their wake, like a trail of breadcrumbs guiding you through the evolving story. However, the course of the story is far from predictable or overtly linear. Instead it flows with a natural progression, almost organically following the course of our protagonist's strangely ethereal-like journey.
The end result is an incredibly intimate and personal story that seeps its way into the reader, anchoring its melancholic coldness into the pit of your gut, whilst slicing into the tips of your nerve endings with well executed stabs of dark supernatural horror.
The novella runs for a total of 137 pages.

© DLS Reviews