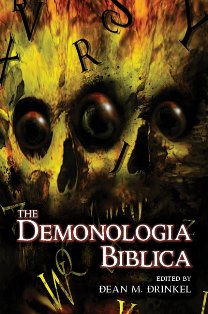 First published back in March of 2013, author and editor Dean M Drinkel's anthology 'The Demonologia Biblica' was set to be the first in a trilogy of anthologies to be published by Western Legends under the banner 'Tres Librorum Prohibitorum'.

Drinkel begins his anthology with a short introduction, explaining the origins of the anthology's name – 'Demonologia' meaning a lexicon of demons, and the 'Demonologia Biblicia' having been the book that was fashioned from human skin which the historical serial killer, Gilles de Montmorency-Laval, had sought out to summon demons. The twenty-six short stories for each letter of the alphabet then follows.

A is for Alpdrucke – Barbie Wilde
For the past few weeks Jim hadn't been sleeping well. In fact, nightmares had been keeping both himself and his girlfriend, Marney, awake almost every night. Now she'd had enough. And after hearing the nightmares involved a silly-hat-wearing-dwarf swinging a tennis racket with cheese-wire for strings just exasperated the situation further. Jim was now seeing Dr Gardner to get to the root of the problem. But, as Marney was finding out from her work colleague, Mr Zeiner, such things are often beyond the reach of science. What Jim was suffering from was a Germanic demon. An Alpdrucke. And it had something more than just torment in mind…

Hellraiser Cenobite actress Barbie Wilde kicks off the anthology with a weirdly nightmarish short that seems to have been born from the same cast as Clive Barker's 'The Yattering And Jack' crossed with the succubus from James Herbert's novel 'Once…' (2001). The short bounces along at an energetic pace, only stumbling for a page or two whilst detailing the intricacies of sleep. Nevertheless, an excellent start to get the anthology's cogs greased with, and begin upon the demonic journey southwards…

B is for Berith – William Meikle
They had just finished watching a horror film involving killer puppets and Kath was far from impressed. But then that was the sort of stupid film that John enjoyed. But it was all leading up to his gift to her. Although it was early, John couldn't wait any longer to give Kath her birthday gift. A wooden puppet named 'The Red McGregor' that was meant to inhabit great Scottish traditions. Kath loved it. And that night when she heard someone singing old Scottish songs in the dead of night, she thought nothing of it. Then with the phonecall in work the next day, she presumed it was just John playing around. But it wasn't. When John had playfully re-enacted a spell from the film on Kath's puppet, he had woken a spirit. And now that Scottish spirit wanted to play. And it wanted to play hard…

William Meikle's tongue-in-cheek short is a comical homage to the likes of Tom Holland's 'Child's Play' (1988) with a close-to-home Scottish take on the menacing puppet. Along with plenty of schoolboy innuendos about having 'wood', the 80's B-movie style storyline injects plenty of colourful bloodshed and just the right amount of campness to pull off a delightfully entertaining puppet-slasher-romp.

C is for Chordewa – Jan Edwards
Molly had been a resident at the eight-bed Honeywood Hospice for a while now. She'd gotten to know the other residents and the various members of staff. And she'd taken to Robbie - the foul-mouthed Macaw that the hospice had taken in as part of their 'Pet Therapy'. But she'd never been fond of the strange looking black cat that was sometimes seen in the home. The cat that named Chomi who she now believed was a Chordewa. A devil cat. A demon who seeks out the sick and dying – licking their lips and inhaling their soul. It was time they did something about this demon. It was time they finally got rid of the cat once and for all…

Almost a reworking of Argento's 'The Black Cat' from the film 'Two Evil Eyes' (1990), Edwards' short certainly misses the mark as far as originality goes. However, mostly due to a flair for storytelling, the short nevertheless manages to maintain a good amount of interest in an otherwise quite mediocre story.

D is for Djunga – John Palisano
He can hear the voice speaking to him. Taunting him. Enquiring about Monica. And it knows what happened to her. It knows that she's gone now. Gone for good. But today's his lucky day. Because he got his wish. And now she's back. And she's here with him...

Palisano's contribution is a dark and altogether sinister piece of poetry telling of a man who killed who we presume is his wife, and is now full of remorse for his actions. He wants her back. And that's exactly what the demonic voice does. However simplistic the poem's story is, Palisano's delivery is somewhat hard to follow at the best of times (perhaps purposefully). As such, following the course of the poem becomes a slight challenge – although this may just be my lack of culture glaring through!

E is for Eisheth – Tracie McBride
Adam Peterson had originally become a psychotherapist so he could hear other people's grubby secrets. However, over the years the sheer repetitiveness had worn him down. But when his next appointment arrives in the form of Joe and Glenda Henry, things start to perk up. Apparently Joe had been frequenting a prostitute named Eisheth, even though he had been diagnosed with prostate cancer some time ago. The couple's marriage was understandably on the rocks – and Glenda wanted her husband institutionalised. She'd seen who Joe had been visiting. She'd seen the men that these demonic women had been seductively torturing night after night. And it was gradually killing them all...

McBride certainly has a way of drawing the reader in. Like an Edward Lee tale, the short is in the camp of erotic horror, with plenty of sleaze shovelled into the unravelling story. With the main body detailed to Peterson by the husband and wife, McBride slowly divulges the increasingly strange plot, until the actual horror is made evident and then it's time to bring Peterson's character into the equation; wrapping up the story in a delightfully sombre tone.

F is for Furcas – D.T. Griffith
Robert Stockdale knew he'd hit something. But that wasn't the problem. The problem was with the bearded old man who wanted redemption. And now, sitting in his silver Toyota in the middle of nowhere, having called 911, he lit a fire in the passenger seat and waited for the flames to consume him. After all, it's what he deserved. He'd hardly been a saint all his life. The late Brian Jefferson Stanton the Third would certainly agree to that. And so, after twenty years, it was finally time for his comeuppance. His redemption...

From the outset the short is awash with intrigue as to why this family man is out in the middle of nowhere, why he is seemingly giving up on life, and who the hell he is talking to. Griffith keeps up the surreal mystery, only gradually edging the reader closer to the truth and exposing the life that this supposed family man had led. And in looking back at events from the past, comes a series of brutal admissions that sends the story spiralling backwards to where it first kicked-off and then on to the Stockdale's just desserts.

G is for Gaap – Kate Jonez
It was hotter than hell in Midway. The lawns had all pretty much gone, and everyone was feeling the heat. That is, apart from the new resident in the area, who only three weeks ago, had moved into Miz Granger's old house. A professor in philosophy named Mr Gaap who, since moving in, had constantly had water spraying his new lawn. And now he'd employed the services of young Hank Jr to dig him a swimming pool. His water bill alone would be enough to chill the blood of the local residents. But Gaap seemed to have a way of getting what he wanted. And Hank Jr's mother, Marla Ann, was also beginning to see the charm in this eligible new arrival to their tired old town…

A scorching hot setting combined with South American charm and a holier-than-thou preacher is a sure-fire cocktail for fun. And Jonez has set down a near perfect backdrop for delivering a story that will totally ensnare the reader in its horror. However, whereupon an announcement for the true menace behind the story should have entered, Jonez sadly misses the opportunity to keep a tight leash on the events, and instead a somewhat haphazard sequence of events plays out in too quick a succession to close off the finale satisfyingly. However, the pig-headed-ignorance of our preacher pal is a nice touch!

H is for Hrace – Simon Kurt Unsworth
Norrish was a walker who enjoyed his own company. He was happiest when he was out on a walk, with the countryside around him, and not a soul in sight. He'd been enjoying these walks for years. It was his life. And that's why, on this bitterly wet day, he was out in the elements at Hrace-Tunge (or 'The Swallows' as it was known to the locals). But ruining his walk up the hill leading to the Lyfthelm Circle was a tourist, standing alone in the middle of the pathway, seemingly oblivious to the pouring rain. Upon reaching the solitary man, Norrish finds him in a near catatonic state – unresponsive to Norrish's presence. And things go from bad to worse when Norrish finds an abandoned rucksack by the Lyfthelm Circle. Something certainly isn't right with here…
Okay, this is a weird one. But weird in such a good way. It's like an Algernon Blackwood plot, dragged through the British countryside (and weather) and given a slightly more modern voice. It's that unpredictability of a mounting horror that creeps up on you ever-so-slowly….until BAM!!! Hats off to you sir – didn't see that one coming!

I is for Ipos – Raven Dane
Simon Tunney was in a foul mood. He'd just lost at a pub quiz on Science-Fiction at The Red Lion and had duly stormed out in a rage. Now he was back at his grotty home. And he knew how he would rectify his mood. He had some viscous bile to spew across the internet – cutting down whoever he could and causing as much hurt and distress as possible from behind his many computer screens. And that's when he saw the advert. A new sci-fi convention was taking place in London. And the flaming-haired goddess - Serena Brent - would be there. But how could he finally meet her with his social inadequacies? He needed to conquer his inability to cope in social environments. He needed to change himself. And with a little research he found just the thing – the ancient demon Ipos…

If you've ever been at the receiving end of an obnoxious internet troll with nothing better to do with their life than try to cause others misery, then this story's for you. Clearly author Raven Dane has an axe to grind – and the story is all the richer for it. Expect cut-down after take-down after bittersweet vengeance. All within quite a 'Tales From The Crypt' comeuppance storyline. But it works well. And includes one of the most satisfying sign-offs written. If you're to learn one thing from this anthology, it's not to mess with a Raven.

J is for Jerobaal – Jonathan Green
The old man claimed he knew more about Michelangelo's painting of 'The Torment Of Saint Anthony' than others did. He had a story to tell. One that had once been documented by Brother Athanasius, as told by Father Abbot. A story of how Anthony of Cooma had entered the desert cave and met with unimaginable demons. Where the haunting name of Jerobaal echoed through the darkness of this unholiest of places. And where Anthony the Great faced a beast that threatened to take his very soul…

Told through the bookended framework of a story-within-a-story-within-a-story, Green's somewhat ambitious short is one that actually tells very little, other than the placement of the events that were later documented and then retold by this old man. It's a curious story that lends much of its faux-history to the likes of Stant Litore's rewriting of biblical events. The short reads well, however it fails to justify the elaborate framework employed . As such the reader is left feeling a little cheated by its short length in comparison to the well-developed framework. A missed opportunity.
K is for Kilcrops – Lily Childs
When Elizabeth Bailey received a letter from her sister, Carolyn Duval, she knew that their past grievances and lack of contact would be forgotten. What she needed to do now was go to the small French village of Noirchapel at once; leaving behind her no-good husband to his gambling and adultery. For the note was as worrying as it was cryptic. It spoke of how the locals had sided against Carolyn, saying that she had been coupling with Le Chênard – an incubus from folklore known as the 'Oak Man' or the 'Twistweaver'. Furthermore her sister wrote how her husband, Maurice, had taken to sleeping outside with the pigs. The letter then finished pleading for Elizabeth to come to France and take her and her five-year-old son Jacques, back to England with her. However, what Elizabeth is confronted with in the tumbledown village is far more distressing than the letter had originally implied. What she finds of her sister, her husband, and their son, will cause her to doubt their very sanity. And the horror that awaits will change her life forever...

Lily Childs' short begins on a confusing and almost surreal footing, providing a brief explanation about Le Chênard (an entity that roams the heathen woods seeking human souls) and hinting towards this incubus's involvement with Carolyn. With the arrival of Carolyn's letter comes a little more explanation; however it's not until Elizabeth has arrived at Noirchapel and is talking to Maurice Duval that the unnerving horror begins to creep in. And here you expect the short to continue gradually building upon this nerve-chilling suspense – and certainly not the absolute onslaught of twisted horror that suddenly confronts the reader. In the space of just one paragraph the tale has been flung into a brain-jarring pit of absolute horror. Childs maintains a tight hold of the story's direction, whilst simultaneously beating the reader over the head with the horrific corruption that it has spiralled into. An absolute triumph of twisted horror.

L is for Lempo – Daniel I. Russell
The media had been referring to it as 'The Love Revolution'. Society had suddenly embraced sex like never before. There was no longer any embarrassment for watching or partaking in even the most sordid of activities. But for Ren, he was looking for something a bit more personal. He was looking for a woman who would not only bare all, but allow him to know her intimately too. And that's how he found Lydia. A beautiful young woman, who for just a small amount of money, would perform whatever Ren wanted in a private online show. But best of all, with just a little investigating and the casual drop of a name, Ren was able to find out exactly where to find Lydia. And from there, it was just a matter of waiting for the right moment to finally introduce himself to the woman of his dreams. However, not everything about Lydia and the online sex-shows are as they seem. And in a world where sex is suddenly everything, there's always something lurking behind it all…

Edward Lee would be proud. For his contribution to this demonic anthology, Russell has produced a deliriously sex-devoted short that reads like a weird cross between David Cronenberg's 'Videodrome' (1983) and Jack Sholder's 'The Hidden' (1987). Flicking between events from the recent past and the supposed present, Russell gradually edges our shallowly-defined protagonist (if indeed you can call him that) into obsessive stalker mode – only to find that what lies behind the closed doors is a lot more perverted than he dreamed possible. The short is deliciously compelling in an almost voyeuristic manner. And its surreal final few pages are what really make it such a monstrously sordid success.

M is for Moloch – Christine Dougherty
It's not that Caroline was unhappy with the nanny they had been using for the past three months – but she still wanted her friend Christine to take her off their hands. Molly Och just wasn't the right nanny for them. And she thought Elizabeth and her twins would get on better with her. But when Rebecca reads in the local paper that her dear friend's house burnt to the ground shortly after the departure of the nanny – an air of worry begins to creep into Elizabeth's mind in who they have let into their family home…

From the very outset Christine Dougherty's short employees a thick helping of colourful characterisation surrounding the snobbish lead characters and their offhanded attitude towards those they deem underneath them. And it's from this nutshell of an idea that the short breeds into a gradual horror, with definite elements of Guy N Smith's 'The Ghoul' (1976) and David Seltzer's 'The Omen' (1976). Although somewhat slow to kick-in, Dougherty wraps the short up with a delightfully savage finale that strikes the right notes for the anthology.

N is for Nickar – Mark West
Jeremy Watson couldn't say that he was too displeased to be staying at the Novotel in the little town of Ungeheuerdorf. It wasn't the hotel, or the conference that he would be attending that had his morale up so high. It was the fact Klara Shafer would also be at the Brooks Pageant conference. And as such, he would finally meet the thirty-five-year-old in the flesh. Something that both parties were relishing the prospect of. And now that they were finally together, the secretive relationship couldn't be going better. That is, until they decide to park-up by a secluded lake to spend their last night together. And it's then, under the chill of the moonlight, that they hear the sound of a harp playing; announcing the Nickar's arrival…

Mark West's contribution is another slow-burner that gradually lays down the premise for the two principal characters arriving at the lakeside together. Following a much more elaborate backstory than is really necessary, the tale suddenly takes off with a tense and action-rich final half, reading like something Richard Laymon might write if he was trying to pen a homage to both Lovecraft and Algernon Blackwood. Furthermore, the inclusion of an Author's Note detailing the Dictionnaire Infernal's description of the Nickar, wraps the short up particularly well.

O is for Onoskelis – Magen Cubed
When Harvey McHale received a strange invitation addressed to him from the 'Black Heaven Social Club' he was utterly intrigued. So much so that the mysterious invite continued to niggle at his mind throughout the day. Soy when the time stated on the invitation arrived, Harvey went to find out what it was all about. After all, it was a good way to get his sister off his mind. A task that was proving harder and harder ever since he fell in love with her. A secret that had been eating away at him for years. And the Black Haven knew all about it…

Okay, so the concept behind the short isn't exactly the most original of ideas. However, Magen has taken this mysterious plotline and created a strangely alluring Poppy Z Brite-esque tale, bravely mixing in elements of incest (which is tackled extremely well) with scenes of perversion and demonic persuasion. And to be fair, it all works very well.

P is for Phartouche – Colleen Anderson
With its owner dead, the blade lay discarded in the dirt. That is, until a young child by the name of Jezaleen happened upon the sword and took it for her own. Since that day, Phartouche became a part of her. And as she grew, so her skills with the blade were honed. And with Pharatouche now back to performing the function it was designed to do – so the conscious-will that was forged within its steel urges its owner on to more bloodshed, until the ruler begins to become the ruled...

Written in a faintly Tolkein-esque manner, Anderson's historical-fantasy contains very little in the way of horror or demonology per se. Indeed, the short edges onwards with a somewhat disconnected perspective – telling the story as if standing back from it all. As the tale creeps towards it final conclusion, the energy behind the story seems to gradually dissipate – leaving behind an almost hollow remainder to play out the story's final life. Nevertheless, the short remains rather enchanting and well worth a read.

Q is for Qangiel – Emile-Louis Tomas Jouvet
M. Barclay seemed like the perfect gentlemen to assist with the journey to the Châteaubriant. After all, with her sight gone, she could hardly rely on Eloise for her every wish. However, soon after leaving, Eloise blurts out the rumours she heard regarding their charming new companion. Talk of his farther being the infamous diplomat who murdered all his servants – hacking their corpses up into pieces. A rumour that Barclay doesn't refute – but declares is not the whole story. For, as Sir Thomas Barclay awaited his appointment with the guillotine, he confided that he was not alone in the room when the servants were murdered. The Qanguel Yah was present. And with the mention of the demon, chilling shivers of something more than mere coincidence creep down the spines of M Barclay's audience…

This strangely dislocated and quite hard to determine short spends much of its time laying down late 19th century French custom rather than working itself into the more engaging depths of the actual plot. Indeed, when the beastly presence finally makes an appearance (of sorts) the entire charade feels weak and unconvincing. Furthermore, written from a weakly delivered first-person-perspective, the narrative is lacks any personal ownership or convincing feel for the narrator.

R is for Ronove – Dave Jeffery
Nurse Amanda had to admit that she was surprised by how quickly the end of her night-shift at Meadowsweet Care Home had come about. But when her strangely familiar replacement, Dan Murphy, suddenly appeared, she presumed that he was there to take over sitting with Arthur Conlon. However, with the nurse gone, Dan was able to show his true self to the old man with Alzheimer's disease. And it was time Arthur was made to understand his failings towards his son. And who better to do this than a demon from Hell…

Dave Jeffrey is one of those authors that can write in an instantly engaging way. From the very outset, the darkly comical tale plays out an amusingly entertaining narrative between our very own Demon Dan and this old man who's paralysed, save for his vocal chords. The short reads like a cross between Clive Barker's 'Mister B. Gone' (2007) and a story that would appear in an episode of 'Tales From The Crypt' (1989-1996). And to be fair – it's a darn good read.

S is for Sitakh – Nerine Dorman
James Guillaume hadn't been sleeping well of late. A combination of vivid nightmares and the incessant wailing of Maureen's old black tom cat – Nero, made for a painful lack of sleep. So when Detective Batha's call came in at some ungodly hour, Jamie was awake and with Batha in his car within minutes of receiving the call. For someone who deals with the occult, there are really not that many actual emergencies. But this was one of them. A young child named Roddy Carolus had been taken over by a demonic entity, and no amount of exorcising the demon out had helped. Something that Jamie could no doubt help with thanks to his inner demon – The Burning One...

This utterly entertaining short reads like something from Guy N Smith's 'Sabat' series and William Blatty's 'The Exorcist' (1973). Indeed, our principal character – Guillaume – is a witty (and utterly rundown) Mark Sabat style of character who has to pit his wits against a demon from the alter world. A truly entertaining read from start to finish.

T is for Titivillus – Adrian Chamberlin
Brother Jacob was a scribe with a gift from god. He made no mistakes. Not one. And that is why Abbot Hugo treasured the monk so greatly. Ever since the Tribulation they had been writing the great book. The continuation of the book of god. And in doing so, the Questioner had been drawing out confessions from the guilty, through the endless pain of torture. But there is much to be gained from remembering the past. A past that the demon Tritivillus has done everything it can to keep hidden.

Demons, demons, demons. The anthology is certainly full of them. And here, like with Dave Jefferey's contribution, we see Chamberlin utilising a more light-hearted approach in a very similar way to Barker's 'Mister B. Gone' (2007). And it works. The story is as intriguing as it is entertaining. Furthermore, within the short Chamberlin manages to slip in a couple of surprise twists to the plot, along with a devilishly smug ending that fits perfectly with the overall tone. Nice!

U is for Uphir – Sean Sweeney
Uphir was the head of Hell's HMO and had always administered his department with an ironfist. However, the day-to-day administration had become too tiresome for the demon. A never-ending line of insurance claims that needed stamping and rejecting day-in-day-out was far from what a demon of his calibre should be doing. And so, when the upheaval of hell finally came, Uphir could be found in the thick of the violence – fighting against Lucifer's chosen protectors as he edged towards Cerberus and the gateway to Lucifer himself...

Sweeney's contribution is perhaps the most peculiar of all the stories within the anthology. The tale feels almost directionless, without ever really reaching a satisfying conclusion. Perhaps it's just me, but, aside from the tongue-in-cheek wit of the tale, there really is little else in it. And as such, the reader undoubtedly comes away feeling somewhat unsatisfied and puzzled.

V is for Vicua – Andy Taylor
After eight long years of warfare between the two rivalling criminal gangs, the O'Shan family and the Tortega Cartel were meeting for one last deal before going their separate ways. Or so was the plan. However, Rory O'Shan was a man who held a grudge. And he would never let Estoban Pablo get away with killing his five-year-old son and sending him his head in a box. And so, with this final shipment of cocaine coming in, Rory had the prime opportunity to get his revenge on the South American drug family. But Rory wasn't the only one planning to wreak revenge that night. But the Tortega's had gone to great lengths to secure their vengeance…

What starts out as a tale depicting a history of organised gang warfare, quite soon turns into an all-out-splatterpunk-gorefest, in a similar vein to early Shaun Hutson work. Indeed, when the 'final deal' goes sour, author Andy Taylor seems to flip a switch and suddenly its bloodspill, mayhem and an almost non-stop bloodbath of 80's style monster-pulp horror. It's entertaining, it doesn't take itself too seriously, and it's just some good honest Creature Feature fun. Andy Taylor – the hounds of pulp hell salute you!

W is for Wolf – Sam Stone
Ever since Jake had taken on the job of advertising assistant, he found that he was having more of a rough ride than most. It's not that he wasn't good at the job. In fact his ideas were more often than not the ones that would eventually be used. But it was his boss, Lorna, who made his life hell at work, and then when the day was over, used and abused him, intimately. But when Jake came up with the marketing gimmick for a new deodorant named 'Urban Wolf' everything started to change. At night he was plagued with vivid dreams of turning into a wolf and stalking the streets. And during the day his senses went berserk. Something very odd was happening to Jake…

What might at first appear to be a very run-of-the-mill (although mightily tongue-in-cheek) werewolf tale gradually turns into something much more strange and original. Indeed, the vast majority of the story is pretty textbook werewolf stuff – however, hang on in there, because author Sam Stone has a heck of a surprise up her sleeve. Moving from tame to outlandishly pulpish – the final section of the short completely turns the story around, leaving the reader somewhat perplexed – and not necessarily in a bad way!

X is for Xezbeth – Dean M. Drinkel
He'd never seen anything like it before. The sheer unadulterated sickening madness of it all. A supposed priest, performing such a despicable ritual on a mutilated corpse in front of forty-four decaying corpses. And the boy – crucified with a barbed-wire crown of thorns. Sick stuff alright! Detective Doret had to stop this blasphemous act before it got any worse. But when he tried, the priest chose the path of self-immolation. But still the flames couldn't end the man's life. Not that having the priest alive in this state would help Doret or Inspector Delacroix with getting to the bottom of this gruesome mess. And whisperings of the Sixteenth Chapel and the demon Xezbeth just clouded the already murky waters more…

Okay, so those that have read some of Drinkel's work before will undoubtedly have recognised the early Clive Barker influences. And it's here again. However, mix in some of the nastier aspects of John Shirley's 'Wetbones' (1992), along with some good-old-fashioned-demonic-blasphemy, and you've got yourself an absolute corker of a grimy horror tale. Drinkel knows how to deliver the goods with a hefty side-helping of the perverse. It's time to take the latex gloves off and plunge your hands into the putrefying guts of horror in all its visceral glory. Aside from the suddenness of the ending (the short really should have gone on longer) this tale is very possibly the highlight of the whole anthology.

Y is for Yester – Sandra Norval
It was as George lay in the hospital bed with his eyes closed, pretending to be asleep, that his wife, Sarah, threw the divorce papers at him, wanting to rid her life of the man that had brought so much misery to their family. And for George, as the cancer within him was gradually drawing his life to an end, he began to feel the regret deep within him. A regret that was felt by all of those he had been close to over the years. A regret that had bred. And a regret that could be fed off…

Sandra Noval's short is more a darkly-comical play around with morality than it is horror. That's not to say there aren't elements of horror in there. But the main thrust of the tale is utterly zeroed-in on comeuppance. Norval utilises a good depth of character in George, bringing in a capricious change in his overriding bitterness. And on this level, the story works. However, as the story comes to a (quite predicable) end, it's hard not to feel a little disappointed with the lack of 'meat' in Noval's offering.

Z is for Zizuph – Nicholas Vince
The murder of Mesmerath had drawn quite a crowd outside of his mansion. A murder in hell wasn't exactly uncommon. And with the victim returning shortly afterwards; it wasn't that much of a big deal. But with Beelzebub himself now at the scene of the crime, Zizuph – the Genius of Mysteries – knew that something was going on. Something of much greater importance. A mystery that would shake up hell once and for all. And it was a mystery that he was on his way to solving…

For the final story in the anthology, Nicholas Vince (aka the 'Chatterer' from the 'Hellraiser' (1987) films), offers up a fiendishly fitting finale, set in hell and utilising a delightfully tongue-in-cheek mystery element. And it certainly works. Like with Barker's 'The History Of The Devil' (1995), the short has a humorously camp element which helps with the entertaining delivery of this light-hearted vision of hell. And yet Vince manages to play out a clever and interesting angle that finishes the tale (and indeed the whole anthology) on a perfectly demonic note.

The anthology runs for a total of 326 pages.

© DLS Reviews

A B C D E F G H I J K L M N O P Q R S T U V W XYZ VARIOUS NON-FICTION