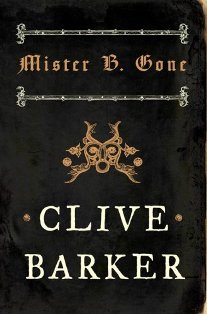 First published back in October of 2007, Clive Barker's novel 'Mister B. Gone' saw the author return to the horror genre, unleashing another dark and devious piece of fiction. The novel took Barker just five months to write, taking time-out of the writing of the 'The Scarlet Gospels' (2015). The UK saw the initial release of the novel in either standard hardback or a very limited edition slip-cased release that came signed by Barker and individually numbered from just one thousand copies.
DLS Synopsis:
Jakabok Botch (or Mister B. to his friends) is a lesser demon from the Ninth Circle of Hell. And this is his book. This is his story. But he doesn't want you to read it. Instead he demands you stop reading right now. Stop reading, and burn this book immediately.

Should you choose to continue with the book, the Botch has a story to begrudgingly tell. One that started with his childhood in hell and the torments he suffered there, particularly at the hands of his father. However, Botch's world is pulled from under his feet when he is unwittingly ensnared by a crafty net and thrust up through the other eight circles of hell to find himself a captive to a corrupt priest from the 14th century.
Of course, Botch's entrapment doesn't last long and soon enough Botch has escaped from his captives and is revelling in the memories of his various escapades as he explores this new landscape. Botch narrowly escapes the cruel hands of a mob of locals who recognise him for the demon he is; slaughtering his would be captives with the help of the far more powerful demon, Quitoon, who he happens upon in his moment of need.
But friendships between demons are never an easy thing to keep together, and following a pitiful disagreement, the two take to their separate ways. But emotions come and pass with the faintest breeze of the day, and it's not long before Botch is looking to relocate his old travelling companion.
But then, from out of nowhere there is an announcement declaring the arrival of an invention that is set to change the world forever. Something that is being talked about across the land. Now that certainly is an opportunity for mischief and destruction that no demon in his right mind can pass up on...
DLS Review:
As soon as the first page has been turned, the reader is immediately thrust into the unique reader/narrator interaction of the novel, with Botch addressing the you directly; demanding that you stops reading this very instant and that the book be burnt immediately. And from here on in, Barker nurtures this close and intertwined relationship between the reader and the character of Botch (our begrudging narrator), with this entirely unique and devilishly-original approach to engaging with the reader.

Indeed, Barker has managed to go one step further than the first-person-narrative approach and actively engaged the principal character / narrator with the reader. And this one-to-one narrative continues throughout the length of the book. On regular occurrences (often after a dramatic development has occurred), Botch will once again demand that the reader burns this very book right this instant...or so suffer the consequences. This cunning play with the reader drags them into the faux-reality of the storyline again and again, forcing the reader to feel involved in the tale and engaged with what is gradually transpiring.
Unlike Barker's previous novels, 'Mister B. Gone' follows a very singular storyline, with no elaborate inter-weaving subplots that eventually draw together to form one tremendous finale. However, this singularly focused and standalone approach which has been adopted for 'Mister B. Gone' does not subtract from the actual impact or overall depth of the novel one bit, and is quite frankly almost unnoticeable - only really becoming apparent on later reflection. This clearly shows how captivating and forcefully engaging the story is; allowing Barker to keep the reader fully submerged in the tale throughout with only a handful of characters at his disposal.
Speaking of which, the characterisation is absolutely superb, which is an essential requirement for such a direct character-to-reader approach. Indeed, each new encounter with an individual is brought to life by the undeniable wordsmanship of the author.

The novel is nothing short of cunning in its delivery, which adds so much more to its overall impact. The character of Botch feels like he is almost a true life anti-hero and not just a character within a tale. Barker has brought Botch to life, making him a living breathing demon that is just waiting to tell his story once again.
Violence and the horrific are portrayed in a nonchalant fashion, with their cruelty exposed more so by the fiendishly offhanded nature of these occurrences having little to no real impact on our demonic narrator. Yes it's a tale that still catches the sinister malevolence that Barker had previously explored so thoroughly in his earlier work - especially within the likes of the 'Books Of Blood' volumes (1984 - 1985) and 'The Hellbound Heart' (1986). However, what Barker does instead is offer up the violence and then shrugs it off in Botch's uncaring and unperturbed way.
All in all, Barker has managed to deliver a fresh, exciting and truly unique tale that once again delves into the dark depths of his wildly elaborate imagination. The tale is comical and uncaring; with pace and purpose throwing the novel along at an exciting and riveting speed. It's difficult to put down without desperately wanting to see where the next light-hearted pocket of misery will lead. From start to finish, the tale commits to a mission of demonically dark humour which claws away at your insides.
The novel runs for a total of 249 pages of darkly humorous entertainment.

© DLS Reviews