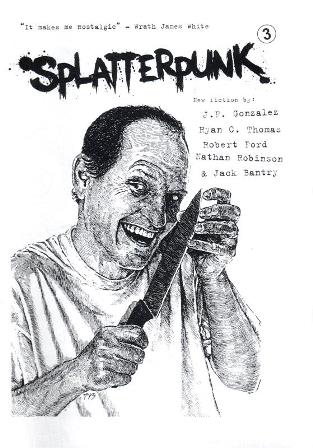 Issue 3 (June 2013)
44 Pages (A5)
First published back in June of 2013, issue three of Jack Bantry's 'Splatterpunk Zine' offered up another load of A5 black & white pages packed with more stories, articles, reviews and interviews of uncompromisingly violent horror and gore. Like with the previous issues, the zine was made available for purchase via Bantry's 'Splatterpunk Zine' website.
Following a brief editorial, Jack Bantry starts off issue three with an incredibly nostalgic look back to the bygone days of DIY zines along with reminiscing about searching out horror paperbacks at carboot sales. From here, author Tim Lebbon tells us how James Herbert's novel '
The Rats
' (1974) got him into horror fiction and what it meant to finally meet Herbert at the World Horror Convention in Brighton back in 2010.
Jeani Rector, Editor of 'The Horror Zine' follows on with her article on what it takes to be a successful short story writer. Full of straight-from-the-horses-mouth pointers, tips and warnings, it's an article that would undoubtedly be of interest to anyone who has the compulsion to write. Interestingly, in the article she states that The Horror Zine "does not accept themes that include abuse of women or children, gore for gore's sake, splatterpunk, erotica or spree or serial killers". Fair do's, but then you can't help but wonder why she's chosen to include an article in 'Splatterpunk Zine'. Nevertheless, quite an interesting read – even for a 'non-writer' such as myself.
Balance – J.F. Gonzalez
– 7.5 Pages
The last thing Doug Thompson remembered was going to sleep whilst his wife, Andrea, continued to work in their home office. However, when he woke up he found that he was no longer in his house with his wife and kids. Instead he'd woken up in bed with his ex-girlfriend, Lucy Murphy, who he'd broken up with some fifteen years ago and he hadn't seen since. Doug remembered that Lucy hadn't taken their break-up very well. But what the hell was he doing here with her now? What the hell was going on? How could this have happened? And more importantly, how was he going to get his old life back?...
I'm an absolute sucker for a tale that's bursting with originality. And J.F. Gonzalez's contribution has got that in bucket loads. The story starts off in a thick fog of confusion as our protagonist gradually piece-by-piece works out what's going on. It's a wacky 'Twilight Zone' meets 'Tales From The Crypt' type of premise. And Gonzalez has nailed its delivery perfectly. Of course there's a reason for what's happened. But what's most effective about the short tale, what really lingers on afterwards, is the way Gonzalez eventually finishes the tale. It's grim but ingeniously thought-provoking. Superb stuff.
The story includes a full page illustration by Keith Minnion.

Ginsu Gary – Ryan C Thomas
– 5.5 Pages
He'd called in a cleaner to sort out the disposal of a corpse. He didn't have time to get rid of the body himself. His boss was waiting, and no one left the boss waiting. However, the guy that had arrived to get the job done was far from what he expected. This guy would be more at home on an infomercial. He clearly loved his knife. He had to admit the Carving Cobra C-100 was a damn good knife. The cleaner had carved up Georgie's body in seconds. But he'd made such a mess doing it. There was blood everywhere. Luckily Ginsu Gary had just the thing for the job - the Kurbee K-10…
Hahahaha…this story is hilarious. I loved every second of it. It reminded me of Edward Lee's short 'The McCrath Model SS40-C, Series S' from the '
Excitable Boys
' (2002) anthology. In a nutshell the story crosses a Winston Wolfe-style 'cleaner' character with a QVC salesman. The humour is a black as it comes; sandwiched between the blood and guts of a chop 'em up splatterpunk storyline. This really is what it's all about. Wonderfully gory, completely over-the-top, and laced with dark humour throughout. Oh yes, this is some damn fine splattterpunk boys and girls.
The story includes a full page illustration by Glenn Chadbourne.


Squash – Nathan Robinson & Jack Bantry
– 5 Pages
Whilst his best bud, Jesse, went to pick up their girlfriends ahead of the party, Clark had to drive out into the boonies to do a quick drug run. It was a long way to go for some weed, but he didn't know any dealers in town. And the drive wasn't too bad. Although the sheer volume of toads along the quiet country road was freaking him out a bit. Their bodies popping under his tyres as he drove out to Gravy's rundown farmhouse. However, upon arriving he found that it wasn't just weed that Gravy had to offer Clark. When the transaction was complete, the dealer offered Clark a free trip. All he had to do was lick the back of a toad and then sit back and let the hallucinations take effect. How could he say no to that? Free drugs! What's the worst that could happen?...

Knowing that Bantry was on board with the writing of this story, I have to confess that I was somewhat surprised by the lack of 'splatter' it had to offer. That's not to say it's not entertaining. The colourful characterisation and jovial momentum keeps the reader sucked into the short tale. Laced with black comedy from head to toe, it's an entertaining read, even before anything much has happened. However, it's one of the tale's that's all about the ending. That inevitable last second thump in the chest that it's been building up to. You know it's coming – and the anticipation, along with that cheeky grin you have on your face as you draw closer and closer to the end, is as good (if not better) than the final blow that the story eventually delivers.
The story includes a full page illustration by Dan Henk.

Maggie Blue – Robert Ford
– 7 Pages
All through the twenty-three years of her life thus far, Maggie Blue had had a pretty rough ride. Men just saw her as something that could be used and then discarded. A piece of meat to satisfy their lust for a short while. It was almost inevitable that she'd end up where she was now. A hooker with a violent thug for a pimp. But, as she knelt down before Rupert, taking his flaccid member in her mouth, with her eye slowly swelling from the punch he'd just delivered, Maggie decided she'd had enough. With a simple clamping tight of her jaw, Maggie Blue started the ball rolling for a new life. One away from Rupert. One away from the violence and the hell she'd endured so far. Today was the day she'd finally move on…
The stories just keep getting better. Where the last offering was somewhat tame on the 'splatter' front, Robert Ford's contribution puts the ball well-and-truly back into the court of vulgar over-the-top gore. Here we have a short tales that's awash with violence, misery and gritty streetlife. It starts off setting down the tragic all-too-real-to-life backstory of Maggie Blue; taking the reader to the moment when she suddenly fights back against it all. But that's not all Ford has to offer with his tale. Far far from it. I'm not going to ruin the vile treats that are in store for you here, but needless to say, Ford's out to unsettle a few stomachs. Grim, graphic, and utterly revolting. A near-perfect serving of gore-soaked splatterpunk.
The story includes a full page illustration by Daniele Serra.

Paul Fry (SST Publications) – Interview
– 3 Pages
Jack Bantry interviews the man behind Short Scary Tales Publications – Paul Fry – on his 'Peep Show' Magazines, the short life of his 'Tales Of Obscenity' magazine, and the birth of 'Beware The Dark' magazine. In the interview Paul talks about the costs and difficulties involved with publishing a printed magazine, what he looks for in the publications content, and what's next for SST Publications.
Book Reviews
- 1.5 Pages
Muerte Con Carne – Shane McKenzie
The Wicked – James Newman
They – J. F. Gonzalez
Upgunned – David J. Schow
Starers – Nathan Robinson
Tales Of Obscenity – Issue 1 – Paul Fry