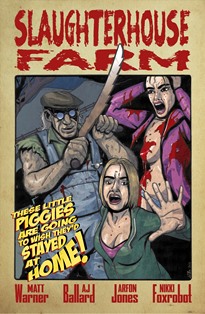 First published back in April of 2013 'Slaughterhouse Farm: Issue 1' was written by Matt Warner and AJ Ballard, with artwork by Arfon Jones. This first issue was given the subtitle 'Dawn Of Pigfucker'.

DLS Synopsis:
Frankie and Julian were driving through the hammering rain in a minibus full of troublesome teenagers, heading off to Snowdonia National Park to help instil a sense of confidence, responsibility and team spirit within the small group of delinquent youths.

However, as the minibus pulls into Pentre Mochyn, they are greeted by a huge yokel raping a squealing pig by the roadside. To their dismay the minibus doesn't make it very far past the scene of pig-loving before one of its tyres bursts.

After inspecting the damage, Julian starts to change the shredded tyre whilst Frankie takes the five anti-social teens down the road to where they hope the campsite is located.

But Julian isn't alone along this particular stretch of Welsh backroad. Before he has time to react, Pigfucker's upon him. His death isn't quick and it certainly isn't clean.

As Frankie and her group are soon to discover, the backroads of North Wales have been hiding one hell of an inbred secret. And now it's time for Pigfucker to some fun…

DLS Review:
Hellbound Media's 'Slaughterhouse Farm' is a gloriously unashamed return to the video nasty days of the 70's and 80's – offering up a very closely plotted storyline to the movie that really summed up the grindhouse era – Tobe Hooper's classic 'The Texas Chainsaw Massacre' (1974). Furthermore, sporting a name like 'Slaughterhouse Farm', you can't help but pull further grin-inducing comparisons to the cheesy TCM rip-off – 'Slaughterhouse' aka 'Pig Farm Massacre' (1987). Indeed – with their 'Slaughterhouse Farm' comics the Hellbound Media boys are clearly going for a full blooded homage to that much-loved grindhouse era. And for that alone I salute them.

So as you've no doubt gathered, starkly original this tightly-condensed comic is not. Indeed, as the reader goes through the comic, it's hard not to predict what's going to happen pretty much frame by frame. But who cares? The entertainment of the comic is in the blood-and-guts gruesomeness on offer and not with any clever plot-twisting tomfoolery.

Of course this lowbrow splatter fest delivers gore and over-the-top violence in absolute abundance. With the paint-by-numbers premise set within a matter of pages, it's straight into the hardcore violent carnage that we've been promised – with our hapless chavie teens meeting the brutal steel and muscle of Pigfucker one by one. And let's be honest, Pigfucker is just the sort of mean bastard we've been crying out for since the blood-drenched splatter days of the 70's and 80's. Leatherface, meet Pigfucker – your inbred Welsh counterpart. And the fact that he looks like a grotesquely bulked-up Pat Sharp in dungarees only adds to the fun of it all.

Okay, so the artwork of the comic isn't exactly top notch pen and ink work. The line work is a tad sloppy, often far too heavy with its constant boldness. Furthermore the features on the characters are somewhat crude for a modern adult comic. Alongside this the dialogue is pretty laughable (not necessarily in a purposefully cheesy way). To be honest, overall it does feel rather amateurish – but then this (no doubt wholly unintentionally) just brings the look and feel of the production back to that sorely-missed era of self-published zines that used to inhabit a dark and dank corner of your local comic shop. And if I'm honest, for that I just love it that little bit more.

That said, Nikki Foxrobot's lettering is absolutely top notch, and definitely deserves a mention. The cover design is also absolutely superb – perfectly in keeping with the gorehound audience the comic has in mind.

All in all this is a fast-firing splatter fest with a no-holds-bared approach to delivering brutal violence and gore. There's not much of a plot in it – but of course it's only setting the scene as the first instalment in a four part series – but it certainly sets the gore-encrusted ball rolling for plenty more slaughter to come. And for the sheer unashamed violent fun of it all – I once again salute the writers.

The comic runs for a total of 24 pages.


© DLS Reviews
Other 'Slaughterhouse Farm' instalments:

A B C D E F G H I J K L M N O P Q R S T U V W XYZ VARIOUS NON-FICTION