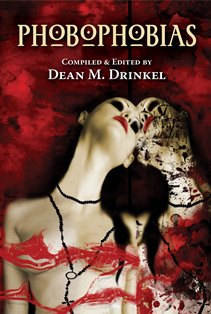 First published in October of 2014, Dean M Drinkel's anthology 'Phobophobias' was the much-anticipated follow-up to his earlier phobia-inspired collection '
Phobophobia
' (2011).
A is for Achluophobia – 'The Promise' – Sam Stone
- 11 Pages
Tom couldn't remember what had happened to put him in hospital. His cousin, Patty, told him that the doctors thought he was a danger to himself, so they had him committed. Luckily Patty was there now, and she'd convinced them that she could look after Tom. So they'd let him go. But when they got back to Tom's empty cottage, it all felt different for Tom. Ever since his wife, Stacie, had died from cancer his life had begun to slip. He'd started suffering from night blindness. The darkness becoming overwhelming. And in that darkness, he started to feel a presence. She was there…
Kick-starting the anthology we have a dark and ever-so-eerie short that spins a web of chilling intrigue, as slowly page-by-page the pieces surrounding Tom's phobia begin to fall into place. Achluophobia, or fear of the dark, is one of those inherently ingrained phobias that masters so much potential. And in her few scenes of complete darkness, author Sam Stone uses the scare factor of the unknown to full effect. There's a twist. By Lucifer's beard is there a twist. You'll not see it coming. However, unfortunately it does feel a tad too contrived to really sign the story off with anything other than a slight smirk.
B is for Botophobia – Barbie Wilde
– 10 Pages
Following the tragic death of her parents and then the break-up of her marriage, Lorraine had little choice but to move back to her childhood home in Opportunity in Washington. The ranch-style property had hardly changed since she'd moved away. Even her old room looked much the same. And the basement was just as terrifying. Especially that long-locked room that was hidden away in the dark alcove. As a child she'd always wondered what lay behind that door. The mysteries it held. But something's really are best left unknown…
What's possibly an even bigger mystery than what lies behind the basement room door is what the hell Botophobia is?! It's a puzzle unto itself. Nevertheless, if we sweep this head-scratching aspect aside for a minute, what we have left is a pretty weird and downright entertaining little tale. Have yourself a messed-up trip on the most disagreeable hallucinogenic you can get your grubby hands on, then sling on an episode of 'The X-Files' (1993 – 2002), and you'll be in reasonably similar territory to what Barbie Wilde's got in store for you here. From a somewhat reserved start, once the strange door in the basement is unlocked the whole story is suddenly thrown into a completely unexpected and outrageously over-the-top new direction. This is just dark, twisted, sci-fi pulp horror fun. Plain and simple. Now, let's just take a second to ponder what on earth goes on inside Barbie Wilde's mind.
C is for Catoptrophobia – Rakie Keig
– 12 Pages
Layne had always been like a big sister to Jodie. In fact, over recent years she'd become more like a mother figure to her. That was why she found herself at the police station again, bailing Jodie out for her involvement in a protest that had gotten out of hand. But it couldn't go on like this. Jodie was supposed to be the project manager for their restoration and development company. But recently her ethical values had become too much of a hindrance to the company. It was time for Layne to move on. To leave Jodie behind. And the first step in doing this was to accept the new project that had come in. Developing the site of the old Summerland Community Centre was a job that Layne knew would firmly go against Jodie's ethical stance. It was time to let Jodie go. But Layne knew Jodie wouldn't take the news at all well…
You've just gotta love the way in which Rake Keig tells her stories. There's just something about her prose, her delivery, her simple choice of word that just draws the reader in to her story. And that's very much the case here. Although very little happens during the first half of the short story (other than laying down the roots for some first class characterisation), Rakie still manages to keep the reader completely engrossed in where the story's going. And when the finale rears its head, the impact is outstanding. Catoptrophobia – the fear of mirrors. Thanks to Rakie I'm frigging scared of them now.
D is for Demophobia – 'Crowd Fear' – Andrew Taylor
– 11 Pages
He'd first seen the three-foot tall imp about a year and a half ago at the town fair in Oakdale, Mississippi. It was only a fleeting glance out of the corner of his eye, but enough to be sure of what he had seen. How could he forget it? He had seen the grotesque imp snatch away their two young daughters in the chaotic crush of the carnival crowd. Since then his wife had left him. Now finding the imp had become the all-consuming purpose of his life. An obsession driven by a loss so terrible it smothered everything. But he was beginning to see a pattern. Now he was finally homing in on the thing that had destroyed his life…
What starts out as a seemingly cheeky little 'imp-on-the-rampage' story soon develops into a pretty darn bleak tale wrapped in misery, anguish, obsession and despair-fuelled vengeance. Oh yes indeedy, this is one grim and downbeat little tale, with the three-foot-tall imp far from a mischievous scoundrel and instead the instigator for utter torment and the destruction of its victims lives. Author Andrew Taylor tells his harsh tale with a flair for the misery he's homed in on. He captures our narrator's obsession for vengeance to an absolute tee. The end result is a story that drags you down into its unforgiving despair only to spit you out with a final realisation that leaves you cold.
E is for Ecophobia – Mike Chinn
– 9 Pages
Beth Jones had packed her few things together and moved on with what little she could carry and what was left of her money. Upon finding the shabby 'Mon Repos' B&B, she took the attic room as soon as she saw it. The rent was rock-bottom and the cash-in-hand payment each month suited her needs. Next she accepted bar work at the Dog & Partridge pub. Far from the most glamorous of jobs. But it paid. And that was all she needed for now. But the sacrifices weren't enough. The dismal room in the decaying B&B, the soul-shrivelling job in the roughest pub around – she was far from comfortable, but still her nights were plagued. How much more could she give up? How much further could she fall?...
This is a pretty horrible one. Ecophobia – the fear of one's home. It conjures up some pretty grim thoughts and scenarios in your mind. Imagine being terrified of your own home. Of anywhere that starts to feel like home. Anywhere that starts to feel comfortable. Author Mike Chinn has well-and-truly hit the nail square on the head with his short. The irrational fear is overwhelming. Its destruction of our narrator's life is immense. It makes for some damn gritty reading. Don't expect to come out of this short with a smile of your face. It's harsh. And it's exactly what the anthology is all about. Hats off to the author for completely nailing it.
F is for Felinophobia – D.M. Youngquist
– 9 Pages
Ever since they had separated, Will had been afraid of his ex-wife stealing his soul. After all, she had promised to do just that when he left. And he knew she had the power to do so. When they had been together he'd witnessed her abilities first hand. Like when she turned them both into rutting cats. But that was all in the past. Now he lived on the family farm. And Andrea was becoming more and more a part of his life. However, as much as Andrea loved Will, she was getting tired of his phobias. She knew that his ex-wife was the reason behind these fears, but surely enough water had gone under the bridge between the two of them. Surely he could finally put down the shotgun and leave the stray cats alone…
Youngquist uses a somewhat run-of-the-mill horror idea for his 'fear of cats' short. Indeed, from early on the story feels like it would be perfectly at home within the likes of 'Tales From The Crypt' (1989 – 1996) or Boris Karloff's 'Thriller' (1960 – 1962). From the word go you pretty much know what's going to happen. Youngquist throws in a few curve balls, which keeps the reader's interest, but ultimately the story feels unambitious and following far too predictable a course. However, it's written well, with the principal protagonist of Will capturing the reader's sympathies as the tale progresses. Not bad, but nevertheless one of the weaker of the offerings thus far.
G is for Geumophobia – 'Bad Taste' – Christine Morgan
– 11 Pages
When he was little, his parents thought he was just an incredibly fussy eater. He remembers that they tried their best to get him to eat, but over and over again he'd refuse. As time went by, his parents became increasingly frustrated with how difficult he made it for them. His repeated refusal to try food. His defiance to taste anything. It drove his parents away. And so he was sent to Nana who made sure he ate whatever she put in front of him or he'd starve. Well almost. When all else failed she'd get the doctor to run this tube through his nose and funnel in a gallon or so of pureed whatever. A situation that he was more than happy with. But alas, it never lasted. However, as he grew older, more options to rid himself of his curse gradually presented themselves. He'd do anything to rid himself of his infliction…

Christine Morgan's offering is as messed-up as it is utterly compelling. Written entirely from the perspective of our nameless narrator, the story is one that's laced with some of the darkest humour out there, alongside a gradually snowballing retrospective storyline that escalates to a horrific and truly breath-taking finale. Morgan has completely embraced the anthology's subject matter, creating a story that channels the concept of an irrational phobia to the absolute nth degree. It reads like its coming from a real person. Its inner-perspective is as intriguing as it is utterly chilling. And my god does the end hit you in the face like a ten-tonne-sledgehammer. Utterly superb.
H is for Hadephobia – 'Le Cauchemar' – Dean M. Drinkel
– 16 Pages
In a cramped doctor's office in the west side of Paris, twenty-eight-year-old Francois Duvall sits with Doctor Emile Barlon talking over his fears. Duvall had been a solider once. He'd seen a lot. But on Operation Serval in Northern Mali he had witnessed hell. In Konna, a town overrun by the separatists, he had seen the real horror of this world. And it haunted him to this day. When he closes his eyes it is hell that he sees. And when he tries to shake himself awake, he's stuck between this world and the next. And he's sure he brings hell back with him. For he has seen Hawiyah…
Anthology editor and compiler Dean M. Drinkel offers up a nightmarish story of his own in the form of a man tormented by a hell that waits for him in his subconscious. To have Hadephobia is to fear Hell. And by Lucifer's dangly bits do I fear Drinkel's vision of hell. Terrifying images of beasts that are loosely-sketched-out for the reader to build upon with their own self-tormenting imaginations. It's quite a messed-up story, with the various sections very haphazardly glued together. But through its abrasive construction, and in its bold and straight-to-the-guts-of-the-matter style of delivery, we are pretty much shoved into the face of some damn horrible visions of hellish creations, with ex-solider-turned-pizza-delivery-guy Franc Duvall as our deeply-troubled guide to it all. The story just screams of a Dean M. Drinkel creation. Imagine the nightmares he must have each night.
I is for Ipovlopsychophobia – 'Bad Exposure' – Lily Childs
– 13 Pages
Alexis had lain in hospital, unconscious, but not quite in a coma. She'd been brought in after people witnessed her collapsing in the street outside. Her body going ridged. Her mind seemingly shutting down. The scans they ran after she woke up hadn't found any neurological damage, but Alexis was changed somehow. She couldn't remember what had happened and she seemed to be making a good recovery. That is until her partner, Joey, had mentioned returning to work. She couldn't do it. She couldn't go back there and let them take pictures of her. But for a model, having your picture taken is everything…
What starts out as a grim and mind-curdling collection of sequences on a par with Cronenberg's 'Videodrome' (1983), gradually settles down into a more run-of-the-mill 'phobia' story, with a vague supernatural-cum-demonic undertone. That is until it once again reverts back to a hard-hitting beast with the scent of something hellish on its breath. Childs ensures that nothing sits very well with the reader throughout the length of the short tale. Everything in her story has a messed-up feel to it. Thirty-two-year-old Joey and his therapist friend are our only connections to a solid and sane state. But of course, Childs ensures that this too is eroded away, until it's just a nightmare left in which the reader is unsure if it's just insanity at play here or if there's really something more sinister lurking behind it all. And what a brutal final sequence to end the story on. You may need to scrub yourself clean after this one.
J is for Judeophobia – 'Following Orders' – Daniel I. Russell
– 12 Pages
With a bottle of red wine open and his pistol lying before him, Commander Rudolph Hoffman contemplated his life and the actions that would undoubtedly define him. Outside bombed towns lay before him. Nothing but smouldering rubble now. Hoffman thought of the camp he controlled. The power he hailed. To Hoffman a gun meant power. It disgusted him. And then his thoughts were broken by the arrival of another train. The trains were the worst part of Hoffman's duty. His superiors ordered him to oversee every delivery to the camp and report back the numbers. So many weary souls entering the camp. So much work to do. The lingering chemical taste of the hydrogen cyanide clung to him. And as he left for the next train load he wondered how much horror can a man witness in the line of duty?...
Anyone who's read Dr Miklós Nyiszli's memoir '
Auschwitz: A Doctor
's Eyewitness Account
' (1960) will know how soul-destroying and utterly horrific the Nazi concentration camps were. Hell on earth is an understatement. It's a delicate subject matter, but one if treated with respect and dealt with well, can produce some hellishly haunting material. And Daniel I. Russell has done just that. Here we have a cold, bitter and brutal vision from behind the eyes of one of these camps' commanders. His phobia has complemented the Nazi frame of mind. It's harsh and equally thought-provoking. And it spirals towards a truly outstanding and utterly breath-taking ending. A story you're not likely to forget any time soon.
K is for Keraunophobia – 'Crawling Chaos In Climping' – Jan Edwards
– 11 Pages
Georgi was looking out over the deserted beach when the airship arrived. On the flood tide she notices a pool of pale-blue gelatinous goop. A waft of rotting fish and putrefaction and age follows. Georgi fears that it will be a repeat of Luxor. Meanwhile, in the deep trenches Professor Archie Ham has been unearthing a breath-taking arcane artefact. But Georgi fears there is more at work here. She fears that her once husband is returning. She fears the Nyarlathotep…
For her contribution to the anthology, author Jan Edwards offers up a short based upon Lovecraft's Cthulhu Mythos that fully embraces the style and sentiment of Lovecraft's original visions. In fact Edwards has done incredibly well in establishing a prose that feels of the Lovercratian era. The story, although including all the chaotic madness of Lovercraft's Great Old God Nyarlathotep, nevertheless feels somewhat reserved. Indeed, Edwards spends much of the story's length skirting around the real meat of the tale, instead choosing to spend time weaving together a handful of character-driven threads in order to come to a neat and somewhat well-defined conclusion. However neat and tightly constructed the story is it still lacks the energy and horror-fuelled punch needed in an anthology like this. Furthermore, the connection between the story and the phobia Keraunophobia (a fear of thunder and lightning) is pretty much non-existent. Perhaps a story better suited for a Lovecraft anthology than one based around phobias?
L is for Lockiophobia – 'One For Joy, Two For Sorrow' – Peter Mark May
– 11 Pages
The Wong family lived on a little dairy farm on the eastern slope of the mountain. There, eleven-year-old Wong Miao tended to the family farm whilst her brutish father spent his days getting drunk and taking out his rage on her and her mother. Twice a week Wong Miao would make her way down the mountain side to the nearby village where she would attend school. However, upon returning back from a particularly gruelling day in school, Wong Miao overhears an argument between her parents. In the Democratic Republic, families are only permitted one child each. Wong Miao was their child. Not what her father, Wong Gan, wanted. However, from what Wong Miao could gather, her mother was now pregnant again. And her rage-filled father was far from happy about the matter. But it was her mother's suggestion that really hurt the most…
This is a brutal story. It starts off like any other 'locale set' short - establishing the family, their history and their lifestyle in this somewhat remote location. Indeed, for the first half or so of the tale author Peter Mark May quietly lays down the intricacies of his story. And then the harsh horror of the plot reveals itself to the reader. But May doesn't stop there. There's still plenty more plummeting into an abyss of nastiness to come. In fact, as the story squirms towards its ending, a quite unexpected splatterpunk style twist is brought in. Gloriously over-the-top and as medically unsound as 'The Human Centipede' (2009) films, the tale concludes in one of the most outrageously contrasting fashions to how it started out. However, sadly the story suffers from a litany of frustrating typos that fight to derail the reader time and time again.
M is for Mottephobia - 'The Coldest Night Of The Year' – Amelia Mangan
– 10 Pages
Karen's parents had left some two months ago. Since then she'd been on her own. They'd not said where they were going, only that they would be back before Christmas. So there was still time. But she'd been feeling ill of late. The thermometer reported a temperature of one-hundred-and-two. Doctor Morgan gave her some antibiotics to help shake off the sickness. But that wasn't what was really troubling Karen. It was the boys in black that worried her. They were out there. They'd followed her back. Like moths to a flame…
Fancy an eerie short that's more akin to a troubling nightmare than a story? Well, Amelia Mangan's got one strange and quite puzzling offering – with barely a decipherable plot and only a murky storyline to go by. Okay, so it does flow with a well-delivered ease, and it's certainly an intriguing piece of work, but you can't help but come away feeling a tad too mystified by it all. That said, at times the essence behind the story does poke its head out from the veritable quagmire of oddness, especially as the short draws to its end. And there's always that question of reality or fever induced hallucinations at the back of your mind. But without anything to help answer these questions, it's left as an open but equally empty offering.
N is for Nostophobia – Tim Dry
– 11 Pages
It was late June and twenty-year-old Matthew Grosvenor was doing what he did best. He was at a rock festival in Somerset. The weather had been grim for pretty much the entirety of the festival, but that hadn't dampened his spirits. After all, he'd just had his way with a young and impressionable fifteen-year-old girl and now he was at the front of the crowd watching the headliners blowing the crowd away. And that's when he had his epiphany. He was wasted being a lead guitarist in a local band. He had to get out of Heddington and start up a new band where he was the focal point. And so, after returning from the festival he left for London first thing and within weeks had formed Warhawk. But not everything that he left behind would pale away into his past. As his musical career explodes, he may have forgotten her, but fifteen-year-old Lucy hasn't forgotten him…
You've just got to love the sordid nature of Tim Dry's work. Within mere seconds of his short commencing, Dry's throwing down a grim scene depicting Grosvenor's degrading post-sex shenanigans. And to be fair, Dry paints a magnificent picture of an absolute arsehole of a guy. Arrogant, obnoxious, egotistical - Matthew Grosvenor is the absolute epitome of a 70's rockstar. Dry's exaggerated and energetic writing style completely ensnares the reader. Dry could probably write a story about paint drying and it would keep you entertained by the sleazy depictions of the wet and dripping emulsion. And for the first two-thirds of this short tale, Dry unabashedly delivers a textbook seedy romp awash with pulsating vigour. It's like reading a trashy Peter Cave paperback – only with an added element of diluted horror creeping in near the end. However, although it wraps up neatly, you can't help but feel that the ending in no way stands up to the sheer pulpy entertainment of the first two-thirds of the short. Nevertheless – a thoroughly enjoyable (and oh so delightfully sleazy) story.
O is for Ombrophobia – 'Rain' – Raven Dane
– 11 Pages
England 1316. The time of the Great Famine. With the land around him becoming increasingly flooded, the blacksmith, Ceradic, decided it was time to get out and away. He knew that if he stayed he'd end up dead before long. The rains showed no sign of stopping. So he upped and left, leaving behind a wife and child to whatever fate lay in store for them. But he had a plan. He was heading for the sunshine of Kernow. Not a short trek by any stretch of the imagination, but one that could save his life. However as the days passed by, he became fearful of his constant exposure to the relentless downpour. He had to get out of the rain. And at the very pinnacle of his torment he sees something in the rain. A fleeting glimpse of a demon in the downpour. It's at this point that he knows he'd die if he doesn't find shelter soon. The heavens have opened, and for Ceradic, they brought with them an unrelenting hell…
This is a great little story. I'm quickly becoming somewhat of a fan of Raven Dane's work. Here we have a short set at the time of the Great Famine. And to be honest, somehow through her prose, or perhaps merely through her careful selection of words, Raven has managed to encapsulate the feel and atmosphere of such a time from the absolute outset. There's no thick-padding as the author tries hard to set the scene. The backdrop for this grisly story is set without you noticing it being done. You believe. And you quickly become swallowed up by our protagonist's plight. Again we have the time old question of the character's sanity at play here. But Raven does it with such an unparalleled grace. You don't so much as ponder the character's sanity as actually live the phobia yourself. And thank god it's only for a short time, because otherwise you might never set foot outside in the rain again.
P is for Pathophobia – Phil Sloman
- 11 Pages
John Hinklow had been enjoying his retirement for a good ten years or so now. He still had plenty to fill his days. He had his rituals. He liked to stick to routines. Stay healthy. Keep active. Keep away from illnesses. But then whilst he was on his way to collect his morning paper, it happened. He swallowed a fly. And from that moment on he couldn't get the thought of that fly out of his mind. After all, it was inside of him. It was there in his gut. No doubt harbouring all sorts of diseases. He had to do something. He just had to get the fly out…
Take that age old nursery rhyme, "There was an old lady who swallowed a fly, perhaps she'll die…", and then make it into a story drenched in a phobia induced torment. From that, what you'll have conjured up is possibly something akin to Phil Sloman's nerve-jangling short. In essence the plot itself isn't exactly brimming with all that much originality per se. But that doesn't matter one iota here. Sloman delivers a story of spiralling anguish and mental instability. Slowly but surely our protagonist's actions and sheer desperation escalate, until that pretty-much-unavoidable finale rears its ugly head. Even with its black comedy undertones, this is still a damn grim read. But oh is it addictive. This is undoubtedly what 'Phobophobias' is all about. Undeniably one of the best offerings in the anthology.
Q is for Quietus – Nerine Dorman
– 10 Pages
Ever since Mia and her Ibr, Firth, had been officially Recognised by the Lords of Silence, their lives had taken to a new course. Firth, like all Ibrs, was a dream-horse that carried its Rider between the worlds of waking, and on into the Weaving. The summation of all the shared hopes of mankind and other, stranger beings that could dwell in the past and dream of possible futures. However, when a new Assignment comes in, Mia barely looks at it before accepting. She has her issues. But she has a job to do nonetheless. And it appears from the Assignment write-up that a rogue bane has been leeching off its human host. Time for Mia and her Ibr to step in…
Sounds pretty crazy huh? An off-the-wall fantasy overload? Well, it's certainly all of that. However not necessarily in a good way. For her story, author Nerine Dorman literally crams in as many elaborate fantasy elements as she can muster up. It's a veritable tsunami of fantasy complexities, without barely a thought given to the reader comprehension of it all as they try the gets to grips with what's happening. To be honest, my interest in the story quickly began to wane, and before long my mind was wandering. To get something out of the short undoubtedly requires quite some investment. For me, for a story placed in an anthology alongside twenty-five others, I'm not sure I care enough to attempt to decipher the story from the literary carnage. Sorry.
R is for Rhytiphopia – Mark West
– 13 Pages
It was the first week of the summer holiday and sixteen-year-old Cameron Davis and his friends had decided on a game of football on the green. However, when the ball went into the garden of the aged Mrs Taylor, Cameron was put to the task of retrieving it. As he was doing so, he was confronted by the crazy old woman throwing wild accusations about what he was up to in her garden. But it was when she suddenly started licking his face that he got the hell out of there. From that moment on he couldn't get the image of her face, with her ghastly deep wrinkles, out of his mind. And as he got older, Cameron realised he'd developed an uncomfortable phobia. It wasn't old people he hated, it was the lines. But the problem was taking over his life. Every day that passed, he was getting older, and so was his skin…
Another perfect example of thoroughly embracing the phobia theme. And Mark West's offering is an absolute corker to boot. From the uneasy first few pages from when our protagonist was a young sixteen-year-old lad, to the impact that such an incident could have on his life in later years, and the finally to the dramatic and pretty darn intense finale; West doesn't pull any punches whatsoever. It's as harsh as it is compelling. In so many places the story will make you squirm on your seat. But in such a good way. This is proper phobia-horror-entertainment. And damn if it doesn't end with one hell of a nasty suckerpunch.
S is for Samhainophobia – John Palisano
– 10 Pages
They weren't exactly the coolest college students on campus. In fact, their existence went pretty much unnoticed by the majority of students. They knew they were nerds. But nevertheless they wanted to enjoy their college years. So they tried going to where girls would be. In fact, they'd met at a feminist gathering, thinking that would be a great place to meet the opposite sex. It was this drive to find a girl, one who might be interested in them, that put them on a train heading to Somerville where a Halloween party was supposed to be held. But tonight is the night when not just party goers are lurking in the shadows. In the eerie quiet of the Boston suburbs, those that are somewhere between the living and the dead can be seen on this one night…
This is a strangely constructed story. The vast majority (and I really mean vast majority) of the story is akin to a teenage college campus story involving a group of nerds at a party. Throw in the love interest of 'Susan' and everything's looking like it's going to be a pretty run-of-the-mill nerdy-boy-meets-nerdy-girl story. Then, for literally the last few pages, we're back on the Somerville streets and it all goes shadowy and starts leaning towards a M. Night Shyamalan type of vibe. And then it ends! Sorry, but am I missing something here? It's almost like the story's missing a bunch of pages. I've got to say that the first two-thirds of the tale were at least engaging. Just a shame Palisano didn't take the story to a more satisfying conclusion by capitalising on the characterisation he'd established so finely. Oh well.
T is for Trichinophobia – 'A Trick Of The Flesh' – John Gilbert
– 10 Pages
They'd been trying for a while, even attempting IVF, until it had happened of its own accord. Emma was finally pregnant. With the birth looming, her and Ross had decided to leave behind the hustle and bustle of London and take up accommodation in a large manor house located in the centre of a two-hundred acre Cornish estate that they were temporarily renting from friends. The location was perfect for them to get away from it all. Ross, being a GP, would cover the doctor's surgery in nearby Truro. However for Emma the temporary departure from London was more important. Now that she was pregnant she needed to make it clear to Chris Maitland that their affair was well-and-truly over. For Emma, being in Cornwall was an escape from a past she wanted to forget. A past she needed to stay buried. For the baby's sake if nothing else. But her ex-lover had other ideas…
Okay, so first off I think it's only right that I mention that I'm a huge fan of John Gilbert's. Not necessarily his writing, but because of the publication he was responsible for during my early years of getting into horror books and films. I am of course talking about the legendary
FEAR magazine
. And so it was with a sense of apprehensive nervousness that I embarked upon this short. Luckily, the man behind one of the most seminal horror magazines is also a damn good horror writer. The story is bold and instantly engaging. It starts off with a confident establishing of the characters, and then gradually incorporates a mounting sense of tension as the affair is unveiled. However, it's the spaltterpunk-esque ending that ultimately wins over your rotten heart. Imaginative, unexpected, and downright nasty. Mr Gilbert – you have not disappointed.
U is for UFOphobia – 'Streaks Of Green' – D.T. Griffith
– 13 Pages
No one seemed to know what the green ethereal lights were. They appeared in the sky when the storm broke out and disappeared soon afterwards. Joanne was convinced it was ball lightning. But when people start disappearing, a growing sense of unease can be felt across the entire town. A curfew is put in place, but despite her sister's warnings, Joanne nevertheless decides to go out into the night to see what the night sky holds. And what she finds is far more than just a natural phenomenon created by the weather…
Another strange one here. Very little is actually explained other than the sudden appearance of these strange green orbs in the stormy sky. Similar to the early chapters of James Herbert's '
Portent
' (1992); the weird phenomenon that is being witnessed sparks fear as much as it does a perplexed interest. Unfortunately, Griffith doesn't really push the short much further along other than with a slightly sci-fi couple of final pages that leaves more aspects unexplained than it does wrapping things up. It's an odd story to say the least. And because of all the loose ends that are left hanging – not necessarily the most satisfying of reads.
V is for Vehiphobia – 'Graveland (Topsoil)' – Adrian Chamberlin
– 13 Pages
Andre and Steve Perry were Bodymen. Men who were hired to pick up the dead bodies of animals and bring them back to the Pet Crematorium for cremation. Steve was an experienced collection driver. He'd been in the job for long enough to build up a hard skin to it all. His gallows humour. Andre was different. He was reasonably new to the work. Just a temporary worker, but nevertheless he seemed to be able to take the work in his stride. But there was something about Andre that Steve didn't like. He was odd, even by Bodyman standards. And it made Steve uneasy. But it was when they were called out to collect a dead horse that Andre really starts messing with Steve's mind. The dead horse was bad enough. But the way Andre looked at it, and then stuck those candles in its eyes, was a step too far. This was turning out to be one hell of a night…
If you've read Chamberlin's earlier short story 'Bodymen' from the '
The Spectrum Collection
' (2010) anthology then you'll recognise the theme here. Indeed, Chamberlin himself used to work as one of these 'Bodymen'. The job no doubt offering up many grim sights that would later become fertile ground for his literary work. With this story, Chamberlin offers up an intriguing tale that bounces between the conflicting perspectives of the two bodymen – Steve and Andre. Laced with a thick layer of black comedy, the story is reasonably light-hearted considering its grim premise. However, it's the simple way that Chamberlin completely ensnares the reader with his Laymon-esque prose that makes the short such a triumph. And with a deliciously dark twist ending, the only question left on the reader's lips being what the hell Vehiphobia is?!!
W is for Walloonphobia – 'Le Sauveur' – Lisa Jenkins
– 10 Pages
They'd been hit whilst flying over France. Whilst Captain Parsons held the plane, Flight Lieutenant Frank Roberts went to the cargo area to retrieve the parachutes. But Parsons wasn't going anywhere. His leg was crushed. There was no way he'd survive the jump. He was going down with the plane. So Roberts went alone. A desperate jump and with a prayer and some luck he survives. But the tree he crashed into as he parachuted down really did a number on him. The last thing he remembers before the oblivion of unconsciousness takes him is a French woman looking down upon his crushed body. And when he awakens, he is in a small cottage, being nursed back to health by the very same woman. But Roberts knows not all is as it seems with these people…
This is a grower. Lisa Jenkins weaves an interesting and utterly intriguing introductory first few pages to her story. In fact, you really can't see where she's going with the tale. But it's got enough of the unknown in it, and the writing itself is strong enough, for it to keep the reader suitably ensnared. And then the 'phobia' element starts to rear its head. And oh-honey-oh-god does it flip the story on its head and make the reader squirm. An excellent twist delivering the whole phobia concept. This is horror in its rawest, most human form. And god what an ending.
X is for Xenophobia – Christopher Beck
– 12 Pages
They were on their way to drop off supplies, mainly watches and wind-up radios, to a small village twenty miles northwest of the camp. It was a trip that would take around four hours each way due to the rough, uneven road. But as they get close to their destination, the underside of the vehicle explodes. As the smoke clears, Private Christopher Daniels wakens to see his comrades being dragged from the wreckage. He sees them all over his friends. The ones that had driven him to fight. He fears them as much as he hates them. The monsters…
Another quite unsettling and worryingly too-close-for-comfort stories here. Author Christopher Beck plays with one man's perception to create his tale of distress, torment and vengeance. It's harsh and realistic. However, it pretty much hinges on one critical twist which is given away in big black bold letters at the beginning of the tale. Being possibly the only named phobia anyone's going to recognise in the entire collection, from the outset you're expecting some element of xenophobia to play quite heavily in the tale. As such, the critical twist is as expected as a sinking ship would be in a film about the Titanic. Nevertheless, outside of the ruined twist, the rest of the short is nothing short of superb. Gritty, frightening and utterly engaging. Just a shame the title gave it away so badly.
Y is for Ygrophobia – 'Slick' – Christine Dougherty
– 12 Pages
At twenty-six, Lilly was slim and attractive if a little plain. However, she had gotten the attention of Doctor Greg, much to the jealous annoyance of the other clerical staff in the hospital where she worked. But his obvious attentions caused issues for her. She just couldn't stand any form of moisture. She couldn't tolerate anything wet, damp or slick. The idea repulsed her. It sickened her. She had dedicated her life to combating moisture. But she still had so much more work to do…
Wow, this is one mother of a chilling tale. Christine Dougherty doesn't beat around the bush in getting to the absolute grittiness of the phobia. The horrendous lengths that someone can go to because of their mental compulsion. This one will shock and repulse you. It's written so damn well that it pulls you in within seconds, makes you squirm at Lilly's obsessiveness, and then crushes you with one of the nastiest finales in the whole anthology. Superb.
Z is for Zelophobia – 'We Have A Guest' – Emile-Louis Tomas Jouvet
– 13 Pages
She had arrived. The setting was perfect. The isolated house would allow them to perform the ceremony without fear of being disturbed. The candles, the slowed-down music, the thick purple curtains – it created the perfect atmosphere for what was to come. The woman was to be the mother they always wanted. Together, brother and sister would make it last for an eternity. And then they would move on to the other. The father that had wronged them so…
What a story to finish the anthology with. Not only is it head-trippingly messed-up, but it's also so utterly brutal that it leaves you breathless. Incest, torture, necrophilia – this is a pretty darn intense read to say the least. The horror of it isn't delivered in a straight-forward way. Instead Jouvet throws down hints and puzzling suggestions of what is to come. Anticipation mounts by the second. You know something messed-up is about to occur, but you just don't know what exactly. And then Jouvet unleashes all hell…and just doesn't stop with the grim surprises until we're left with one final monstrous twist to end this whole sickening escapade off with. What a final story. What an anthology. I just pray to god that I haven't developed a phobia of my own now…
The anthology runs for a total of 298 pages.

© DLS Reviews

A B C D E F G H I J K L M N O P Q R S T U V W XYZ VARIOUS NON-FICTION