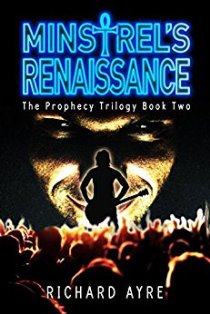 First published in June of 2017, British author Richard Ayre's novel 'Minstrel's Renaissance' formed the second instalment in his 'The Prophecy Trilogy' series, following on from his debut novel '
Minstrel's Bargain
' (2015).
DLS Synopsis:
For some time now, Phil Sturgess' life seemed to be on a one-way descent into self-destruction and misery. Worse still, he had no idea why. In work he'd started snapping at his colleagues. It seemed being co-owner of Heavy Metal Headlines wasn't all it cracked up to be. His home life wasn't much better. His marriage with Shelley had been far from idyllic of late. In fact, recently they'd barely been communicating with each other. And now he had suspicions she was having an affair with her boss, Gary. Life at the moment wasn't good for Phil Sturgess at all.

It was now 1999. Ten years since Phil's parents had died. Ten years since everything in Phil's life seemed to start falling apart. But now, as he tried to put his mind to it, he couldn't really remember what it was that started this mess. It was as if a huge chunk of his life had faded to almost nothing. Why could he not remember anything about that particular period in his life? The time when his parents had been killed. The time when Toby, the closest friend he'd ever had, had also lost his life.

It took the sight of the old man in mismatched shoes and a shabby brown coat tied up with clothes line, to bring back all those forgotten memories. And all of a sudden everything came flooding back to him. Toby, his parents, the deaths and suicides and mayhem that took place some ten years ago. Shelley's affair. The creature whose name was Minstrel and the nightmare journey down to a place that men imagine is called Hell.

It was all true. The months of death and destruction. His parents' murders, Toby's murder, Shelley's unfaithfulness. But more than that, much worse, were the other truths. The truth about Kick Bizarre, that hoax of a human and the creature that inhabited his body. And the music that stole souls.

But as the bitter memories came flooding back, Sturgess knew the emergence of the silvery-eyed tramp was a worrying turn in events. The tramp also knew it must be something catastrophic for him to have been called back. There must be something wrong. Something utterly wrong.

In fact, although the tramp had chosen Travellers in the past, this time was different. This time their success was so much more important. Now the tramp was worried he might not be up for the job. He had failed in the past and that had brought about aeons of hopelessness. But if he failed this time? This time it would be forever. This time the Light would be extinguished. The darkness would rule and nothing would be able to stop it. And with that, mankind would perish once and for all…

DLS Review:
The first instalment in what's now transpired to be a trilogy, was a visceral bloodbath of over-the-top pulpish violence interspersed with dark cosmic-style-horror that not only spanned centuries but also different astral planes.
Ayre returns here utilising the same tried and tested formula as he did with '
Minstrel's Bargain
' (2015), only upping the horror dosage on pretty much all accounts. With the foundations for the main plot already in place, and our principal protagonist and his shabby companion already suitably established, Ayre doesn't need to hang about before he can start ripping at the real blood and guts of the novel. However, Ayre adopts a surprisingly cautious pace during these initial few chapters, instead building up the momentum with a gradual pace to ensure a solid foundation is firmly set in concrete. Indeed, Ayre takes his time getting the main thrust of this second novel's plot down, spending time clearing up a few loose ends that resulted from the continuation of the story before he's able to fully commit himself over to another gore-splattered riot.
However, once Minstrel's twisted plan is fully in motion, and the first signs of his soul corrupting music are reaching across the airwaves, then the sadistic party really starts going. From this moment on, expect nothing short of explosive and adrenaline-pumping mayhem and violence. Indeed, we had a good taster of the chaos in '
Minstrel's Bargain
' (2015), however, what Ayre has to offer in this second instalment has well-and-truly upped the ante.
One thing that 'Minstrel's Renaissance' has in absolute bucket loads is standout scenes that'll burn themselves onto your braincells. Like with that infamous scene in James Herbert's '
The Fog
' (1975), where a minibus full of schoolboys mutilate and kill their gym teacher, here Ayre throws down scene after scene of utterly harrowing and unrelenting violence that slams you in the gut with each blow. We have a school where the pupils go on a bloodthirsty rampage, a nightclub where the drunken clubbers down shots of drain cleaner, and possibly most brutal of all - a ferry in the black waters of the North Sea whereupon the ensuing murder and mayhem goes berserk.
Throughout this there are plenty of twists and turns in the plot and its overall direction, however Ayre nevertheless manages to keep the pounding pace going by leapfrogging off each of these gut-churning scenes – creating one crushingly unrelenting beast of a read with elements that seem to be born from some truly fucked-up urban legends (I will never accept a free shot of vodka again).
Behind the madness and chaos, Ayre sketches out a prophecy-inspired storyline somewhat akin to that of David Seltzer's '
The Omen
' (1976). Here the plot deepens, creating a multi-layered offering with parallel runs threads which gradually converge as the tale hurtles to the eventual finale. We have a pregnant young woman whose unborn child holds the key to winning the battle against the encroaching darkness. Of course, Sturgess and his hobo-esque companion are given the role of protectors for the child. Furthermore, Sturgess has his own marriage to try to salvage amidst all this. It's a tough call – and one which will gradually tear strips off the middle-aged editor as he's faced with some of the toughest decisions we've seen him up against so far.
Another aspect that Ayre has absolutely nailed within the tale is with the characterisation. From his initial investment in the characters and their plight during the early chapters, the reader is able to build strong bonds with the key players – making their desperate situation feel that much more vivid and real.
Of course, the novel was always going to end with a bigass showdown. Minstrel's back – here taking over the flesh and bones of Yaron Doyle – the frontman for up-and-coming rock act 'Covenant'. It's all very much in the same air as it was with Kick Bizarre in 'Minstrel's Bargain' – only this time Minstrel has his own agenda. The resulting finale is as explosive as it is ingeniously imagined.
The end result is a sequel that stands on its own two feet with confidence. Yes it utilises many of the already established aspects from the preceding novel, however Ayre has built on this, taking the storyline as a whole to further newly-imagined reaches.
Where he goes from here for his third and final instalment is anyone's guess. But one thing's for sure, if books one and two are anything to go by, then it's going to be one heart-pounding, adrenaline-pumping bloodbath of a read. Bring it on…
The novel runs for a total of 316 pages.

© DLS Reviews
Other 'Prophecy Trilogy' instalments: