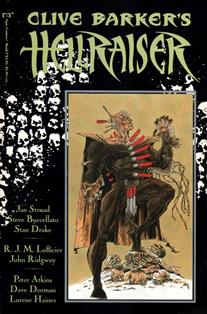 First published back in 1990, the third issue of Epic Comics' original 'Hellraiser' offshoot series contained another three short stories designed to expand upon Clive Barker's Hellraiser mythos. Although Barker didn't write any of the stories contained within the original Epic Comics 'Hellraiser' series, he did however act as a consultant for each issue.
The Crystal Precipice – 15 pages
Jan Strand (Writer) – Steve Buccellato & Stan Drake (Artwork) – Sherilyn Van Valkenburgh (Colour) – Michael Heisler (Letterer)
After their spacecraft crash-landed on an unknown and empty planet, the small group found they were completely stranded, with little to no hope of rescue. They'd not been there long before they spotted what appeared to be a strange-looking crystal-like city rising up from the horizon. And standing in front of the city appeared to be the silhouette a man. With darkness approaching the four companions decide to wait until day breaks before setting off on the long trek across the empty wasteland to investigate. But that night, one of their crew attempts to rape one of their fellow companions. The team find they have no choice but to throw the rapist off their spacecraft. Leaving him to fend for himself. However, when morning arrives and they start their arduous journey across the planet's dusty surface, they find that the man they let loose is out there…and he seems to be stalking them…
Writer Jan Strand takes the 'Hellraiser' mythos into the future with this sci-fi/horror intergalactic offering. The premise is pretty straight forward, and Strand doesn't waste time setting down any unnecessary backstory or detailing exactly why the space travellers are stranded on this empty planet. That just isn't important. However, what she does do is jump straight in with the events of the 'here and now': the attempted rape and subsequent abolishing of their so-called companion - Ernest. Whilst all of this is going on, Strand starts introducing some weird crystalline objects which float above the stranded group. The inclusion of such adds the first touches of the surreal – something which is carefully balanced against the horror throughout the length of the story. And then, as the short tale gradually unfolds, the Cenobite 'Face' who Strand introduced in her story 'The Warm Red' from 'Hellraiser: Book One' (1989) is brought in. A very welcome return too! Ultimately it's a strange and quirky tale, heavy on the sci-fi but with enough tension and suspense to keep all good horror fiends happy enough. And for sheer originality alone it deserves plenty of kudos.
The Blood Of A Poet – 24 pages
R.J.M. Lofficier (Writer) – John Ridgway (Artwork) – Steve Oliff (Colour) - Gasper Saladino (Letterer)
The year was 1925 and he'd arrived in Paris on the hope that someone would be willing to take a chance on a struggling young poet with no means of support. As fortune would have it, it wasn't long before he was directed to the Pension Veneur which he was told housed a community of artists who lived there for free under the provisions of a trust arranged by a deceased patron of the arts. And a vacancy had recently come up. Upon arriving at the imposing Pension Veneur he found it to emit something of a sullen atmosphere. The other residents of the property were a strange bunch of artists. The directeur - Monsieur Barsac – was a strange and oddly dislikeable individual. Nevertheless, the young poet could not refuse free accommodation where he would be able to dedicate his time to writing. But as he was to learn, Pension Veneur did in fact, come at a price…
Oh yes this is a good one. Writer Jean-Marc Lofficier offers up an early 1900's set horror with a decidedly eerie undertone running through it. The story's noticeably Lovecraftian, with its unsettling atmosphere and perfectly portrayed period setting. Although more of a slow burner than any of the previous stories in these graphic novels, Lofficier's offering nevertheless packs far more of a punch in respect of mounting tension and blood-chilling unease. Admittedly it's a while before any Cenobites make an appearance, but the path way to their inevitable calling is one hell of a compelling one. Lofficier's also managed to inter-weave more of the mythos surrounding the toymaker Philip Lemarchand. Quite simply put – this is a superb addition to the whole 'Hellraiser' mythos.
Songs Of Metal & Flesh – 15 Pages
Peter Atkins (Writer) – Dave Dorman & Lurene Haines (Artwork) – Phil Felix (Letterer)
From an early age Jason Marlowe realised that, although he was blind, he wasn't missing anything. He had all he needed. Smell, sound, touch and taste. But most of all he had music. As Jason grew up he learned how to create truly captivating music. But to him making music wasn't creating…it was uncovering. Unlocking the mysteries. Solving the puzzles. His music unlocked doors for his future. He was seen as a prodigy. He became revered. But his gift brought jealousy. And with that came pain. Loss and pain and beautiful, beautiful suffering. All of which would become music to his finely tuned ears…
'Hellbound: Hellraiser II' (1988) screenwriter Peter Atkins offers up his own short story to the 'Hellraiser' graphic novels. Here we have a compelling tale of jealousy and eventual retribution drenched in a bloodbath of fiendish horror. It's pure 'Hellraiser' through and through. The pacing is spot on, there's plenty of momentum, and the unravelling of the 'New Jason' is absolutely superb. It's as haunting as it is darkly poetic. Furthermore the accompanying rich watercolour artwork is absolutely stunning. Another incredible addition to the graphic novels and 'Hellraiser' mythos as a whole.
The comic runs for a total of 64 pages.

© DLS Reviews