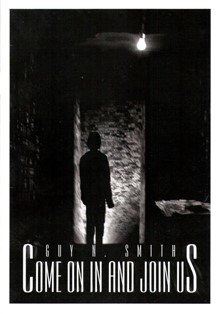 Published as a standalone chapbook in 2004 by Horror Express Publications, the chapbook was limited to just 100 copies, each hand numbered and signed on the inside cover. The chapbook was the first publication in a proposed 'Horror Express Chapbook Series', which only saw the release of one further title – Marc Shemman's 'The Forest' (2004) which was limited to just fifty copies.
The chapbook included two black and white full-page illustrations by Russell Dickerson (together with the accompanying cover artwork).
The story 'Come On In And Join Us' was originally published in '
Fear Magazine - Issue 6
' (1989).
DLS Synopsis:
Every Louis is a fresh-faced school graduate, who after searching for a job, manages to secure one within a local second-hand bookshop. However, Louis soon realises that there's something that's not quite right about the eerie little bookshop and its decrepit owner - Mr Klein. The only customers it appears to have are dirty derelicts, who Louis sees entering the dingy bookshop, either clutching a large tome or otherwise leaving with it in hand.

And so, one day when Louis is left to look after the bookshop, his curiosity gets the better of him and he breaks into the bookshop's cellar - somewhere that Klein had specifically warned him to keep away from. And there, in the gloomy depths of the cellar, Louis will witness an ungodly secret that will tear away at the young lad's sanity...

DLS Review:
'Come On In And Join Us' is another dark and intriguing tale, reliant more on atmosphere than anything else. The weird mysteriousness of the shop and its keeper is what quickly draws the reader into its peculiar storyline. The conclusion is surprising and delightfully imaginative (as well as exquisitely pulpy). The characters all display rich individual characteristics making the short an all-round entertaining and encapsulating read.

The chapbook runs for a total of 15 pages.

© DLS Reviews

A B C D E F G H I J K L M N O P Q R S T U V W XYZ VARIOUS NON-FICTION