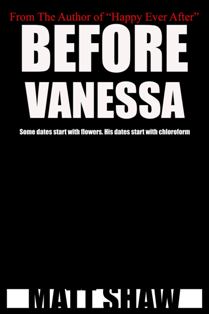 First published back in February of 2019, British author Matt Shaw's limited-edition chapbook 'Before Vanessa' formed a short instalment into the author's 'Peter Chronicles' series.
The story was the only instalment within the series to not be included within the '
His Name Was Peter
' (2017) collection, which compiled all of the other instalments from the 'Peter chronicles' into one complete volume.
The chapbook was limited to just twenty-five copies, each hand numbered and signed by the author.
DLS Synopsis:
Carrie woke in the dining room. Like all the dates he's had before her, she was cuffed to the chair by both wrists and ankles. Her screaming had prompted Peter to go and see her. To welcome the girl to his home. The home they'd end up sharing if she turned out to be the one. If she was willing to love him like he'd love her.
When he'd selected Carrie to be his next date, she'd looked perfect for him. Well presented, well mannered – a pleasant young woman who he could envisage having his happy ever after with. But now she was awake, she shown him a completely different side to her nature. Foul mouthed and vicious. How could he have gotten it so wrong again?
Still, he'd ask her the question he asked of all his dates. If it was just her and him for the rest of time, no one else to get in the way of their relationship, could she ever truly love him?...
DLS Review:
It's been almost seven years since Matt Shaw penned the last 'Peter Chronicles' story. In fact, for all intents and purposes, it would have been reasonable to have thought the Peter stories were all done and dusted. And then along comes this short, sharp snippet of an instalment to add to the fucked-up serial killer saga.
Despite being written so much later along the line, chronologically speaking, this particular instalment would be slotted in immediately after '
G.S.O.H. Essential
' (2011) and before '
Happy Ever After
' (2008). As the title would rightly suggest, it's basically what happened to the last girl Peter Jenkins selected for a 'date' before he turned his attentions to Vanessa.
In the whole 'Peter Chronicles' series, we see how these dates generally turn out. Susie was the first, here we have Carrie, then there was of course Vanessa, and finally Jade and Emma. Each of them had their own story to tell. Each affected Peter in a different way, bringing out different and evolving aspects of who he was. Indeed, through each we saw something beyond a monster (actually, Jade might disagree with that statement – but you get the idea).
With Carrie, we don't really see any of that. In fact, unlike all of the other instalments, this additional story doesn't really add any further dimensions to the series, or to the character of Peter. Yeah, it's short, so doesn't really have much time to really develop any other aspects. Instead, what we have is almost a 'filler story'. One which just cements another flesh and blood brick into Peter's past. Another corpse for his garage.
It reads well. It's straight to the point and manages to squeeze in some textbook Matt Shaw extremity (both from a violence and from a sexual standing). From that perspective alone it's an entertaining read in itself. However, that's pretty much the limit of the story. If you've read the other 'Peter Chronicles' instalments, then you'll probably come away thinking "business as usual". Not necessarily a bad thing. Just not anything more than that.
Although to see Shaw hasn't necessarily given up on adding to his 'Peter Chronicles' stories is certainly a welcome sign. It's a spectacular series, and still has pockets for additional stories, should Shaw choose to ever return to it. Here's hoping…
The chapbook runs for a total of 36 pages.

© DLS Reviews
Other 'Peter Chronicles' instalments: