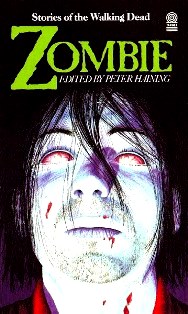 First published back in January of 1985, prolific horror anthologist Peter Haining's zombie anthology 'Zombie' was one of the first of its kind to bring together such a collection of stories involving the resurrected dead.
The book begins with a 14 page introduction on zombies in fiction (and film) which was written by Peter Haining back in July of 1984. Haining's introduction provides an incredibly informative and well-researched scholarly style of essay on zombies – detailing the early examples where these stories first appeared, their inspiration and initial reception. Haining continues on with this insightful overview, taking it all the way up to the time of George A Romero's 'Dead' films.
Dead Men Working In The Cane Fields - W.B. Seabrook
- 18 Pages
Constant Polynice was a Haitian farmer who scoffed at the notion of fire-hags and vampires – believing such ideas were pure superstition. However, Polynice declared that zombies were an entirely different matter. A matter that the farmer knew as absolute fact, because such walking dead men could be found working in the canefields that very night. Undead workers who, as Polynice would inform our eager listener, laboured for the Haitian-American Sugar Company. And to back-up his knowledge on the Haiti zombies, Polynice settles back in his chair to divulge a story that goes back to the Spring of 1918, involving a black headman named Ti Jospeh and his wife Croyance. A couple who decide to utilise the labour of the undead to their peril. However, this is not the only concerning the resurrected dead that will be spoken to this concerned listener. For the night is still young, and there is much to tell....
The anthology kicks off with US explorer and journalist - William Seabrook's 'Dead Men Working In The Cane Fields' (1929) which was one of the earliest stories to be written involving our dear friend the zombie. Indeed, the short became the inspiration for the movie 'White Zombie' (1932) and set in motion a whole new angle for supernatural horror fiction. And the short, although such an early example of such zombie fiction, remains a truly spectacular piece of eerie fiction concerning the inherently unsettling zombie slaves of Haiti.
Salt Is Not For Slaves - G.W. Hutter
- 15 Pages
He had heard many tales of voodoo lurking in the shadows of the Haiti culture, but he had no time for such superstitious nonsense. However, the urgent arrival of 'Tit Jean brought about a conversation with his dinner guest, Marie, that would edge him towards believing of such a thing. A story from her past involving a slave named Tresaint who caused an uprising with the slaves after coming in contact with salt. For salt has the power to break the spell. The merest contact with it will awaken the slaves from their zombie states. It is a lesson that Marie learnt the hard way, and one that she hoped would never need be repeated...
Garnett Weston's 'Salt Is Not For Slaves' was originally published in the magazine 'Ghost Stories' back in August 1931. Weston took up the pen-name G.W. Hutter for the piece (Hutter was his wife's maiden name) and penned the story which would lead to him becoming selected as the scriptwriter for the film 'White Zombie (1932) by Halperin himself. The short itself is gritty, with a displaced feel to the way the story is presented. Furthermore, an undercurrent of repression and murmurings of voodoo involvement makes for a tense and somewhat unnerving read.
The Country Of The Comers-Back - Lafcadio Hearn
- 17 Pages
In the night-time hours shapes in the vegetation can become sinister to the eye. And from such provocative shadow-play, Bitaco would find his imagination roaming. But it was Adou – the daughter of the kind old capresse, who he rented his room in the little mountain cottage from, who would make him begin to believe in supernatural entities. Stories of the dead rising and congregating in the cemeteries. Stories of zombies who roam the land around them. And stories of a black woman of strange beauty keeping her eyes fixed upon the sun and the child that accompanies her...
More commonly known as 'Le Pays De Revenants', Lafcadio Hearn's short was first published as an essay in 'Harper's Magazine' way back in 1889. Hearn reportedly became interested in the idea of a supernatural zombie whilst on the island of Martinique between the years of 1887-1889, where he heard of their supposed presence from the locals. This strangely alluring short was the end result. A tale which (once again) utilises the framework of a story-within-a-story to produce an oddly unsettling tale, where not a great deal actually seems to happen, other than detailing the mere presence of this undead woman and her equally haunting child.
Jumbee - Henry S. Whitehead
- 12 Pages
After returning from the war with a damaged lung, Granville Lee was recommended by his physician to spend some time in the lower islands of the West Indian archipelago, known as the Lesser Antilles. And it was whilst he was there that he became interested in tales of local magic. Tales which instigated questions to the locals as to the reality behind the Jumbee. Stories that Sir Jaffray Da Sila would not refute – but openly admits he believes in. And so he tells his own story – one concerning himself from when he was a young man, back in 1894...
US writer Henry S. Whitehead's short story 'Jumbee' was written after he apparently came face-to-face with the practices of voodoo between 1921-1929 whilst acting as Archdeacon to the Virgin Islands in the West Indies. The story is relatively simple in its design, without the use of any complexities to the events being described, but it nevertheless holds a morbid undertone that comes forth with surprising vigour at its conclusion; creating this altogether interesting piece of black magic inspired zombie fiction.
White Zombie - Vivian Meik
- 12 Pages
Geoffrey Aylett, acting commissioner of the district of Nswadzi, was getting increasingly worried. Upon waking from his sleep, he would find himself greeted by the smell of fetid corruption which would bring back terrifying memories from the battles of the Mesopotamia campaign, from some eighteen year ago. And being a somewhat superstitious man, Aylett was becoming concerned with their potential connection. However, as he pondered the matter at length, the only link that he could think of between him and Mesopotamia of 1915 was through John Sinclair from the Indian Army. A man who had once saved Aylett's life but had later died quite peacefully. The question that now plagued Aylett was – if it was indeed Sinclair, then why on earth would he be haunting him now?...

With this short, Vivian Meik was very possibly the first writer to actually take the zombie origins back to their original ancestral home in Africa. First published in 1933, Meik gained his inspiration for the short whilst travelling extensively in Asia and Africa, during which he encountered a whole host of strange and bizarre sights. Meik deliberately named the short after the Bela Lugosi film 'White Zombie' (1932) due to his love of the movie; although Meik's short has very little in common with the film other than sharing the same name and involving the undead. Meik's short is a weirdly creepy tale, utilising a nagging mystery which is only exposed in all its voodoo glory within the last couple of pages. And as it does – so the short smacks the reader in the face with a bone-jarring 1930's zombie-horror conclusion.
I Walked With A Zombie - Inez Wallace
- 8 Pages
After arriving at the island of Haiti he became interested in the notion of zombies, and in particular, Article 249 of the Criminal Code of Haiti which states that it is murder to bury a person as dead, and afterwards bring that person's body out of the grave to live again. And after researching the matter some more, he had come to believe in the presence of zombies, who would work as slaves for their masters, as more than mere legend. It was one particular story that convinced him of the truth behind such an unnerving phenomena. A story involving a man named George MacDonough who had come to the island and fallen in love with a native girl named Gramercie. A man who left the young Haiti for a white girl named Dorothy Wilson. However not long after they married, his new wife got mysteriously ill and died. And after she was buried, her grave was found disturbed. A matter that was not properly looked into – and a matter that would come back to haunt MacDonaugh soon enough...
Next up we have the first of US journalist Inez Wallace's newspaper articles for the American Weekly Magazine which was entitled 'I Walked With A Zombie'. Once again we have another short that has been written within a story-within-a-story framing device; with the main bulk of the tale concerning a story that is told by our narrator. And to be honest, it's an absolute corker. Although quite slow-paced to start off with, once the main tale gets underway, Wallace gets the creepy cogs moving with the well-oiled-ease of a killed storyteller. And from here until the final conclusion it flies by; concluding with a reasonably predictable but nevertheless chilling finale.
American Zombie - Dr. Gordon Leigh Bromley
- 6 Pages
In Paris in 1936, an appointment is made with the writer M. Henri Champley to discuss his views on modern commercial art. However, after discussing various matters of their tribal past, the well-travelled man, who was profoundly involved in the culture of the black population, claimed to have seen a real-life zombie. And it was not in Haiti, but in New York. Furthermore it was a white woman. And from here, Chimpley describes how, whist he was staying in New York studying what he classed as the Negro culture, he had attended a secret society meeting in which he was asked what he knew about zombies and ancient Congo black magic. But it wasn't what he was told that scared him senseless, but what he saw that night with his own eyes...
First published as a magazine article, Bromley's tale is a short little episode bringing occultist black magic into the concrete heart of New York. Our unnamed narrator retells the story that was told by the writer and traveller who he spoke with. A man who we are told witnessed such black magic and its effects first-hand. Although geared-up with undead potential, the short sadly has very little in it to get the creep-value rising; and ultimately signs off on quite a disappointingly flat note. However, the short went on to inspire the writer-director Val Lewton to create another film about zombies, this time entitled 'Isle Of The Dead' (1945) with starred the legendry actor Boris Karloff.
While Zombies Walked - Thorp McClusky
- 32 Pages
When Eileen's letter arrived, Anthony Kent couldn't believe what he was reading. She'd left her job in New York City to rush off down to the Atlantic seaboard to see her great-uncle, Robert Perry, after he suffered a stroke. But now she was saying she wanted no further contact with him. That he shouldn't come down to see her and that she didn't want to see or hear from him again. To Tony it seemed as if she had been writing words that weren't her own. He was worried that Eileen no longer loved him. So, ignoring her request to leave her alone, Tony sets off from New York to speak with Eileen and get to the bottom of the matter. But upon arriving at the Perry residence, Tony finds strange men working in the cottonfields surrounding the isolated property. Workers who seem unnatural to his eyes. Workers who shuffle along in an undead state...
McClusky's short first appeared as the lead story within the September 1939 issue of 'Weird Tales' magazine. The tale is an unnervingly sinister piece of fiction that slowly builds on the feeling of unease with the strange mystery of Eileen's letter and the zombie-like workers in the nearby cottonfields where she is staying with her great-uncle. Add in the dominating colossus of a man that is the Reverend Barnes, and what follows is a triumphantly chilling tale that keeps on gaining speed as the momentum of the black magic involvement is gradually unveiled.
The House In The Magnolias - August Derleth
- 21 Pages
Artist John Stuard had been in New Orleans a full month without finding anything agreeable to be painted. However, whilst out driving with the young poet who he had been living with, Sherman Jordan, the pair happened upon a house that was literally buried in magnolias. A house that Stuard thought would make the subject for a perfect painting. However, Jordan wants to get back home, and so it's not until the following day that Stuard is able to speak with the occupant about painting the house. Although when he knocks on the door he finds himself confronted by a silent black woman with an ill-looking ashen face. However, after requesting to speak to the servant's master, Stuard is greeted by Rosamunda Marsina, the lady of the house, who eventually agrees to Stuard painting the house. And he can stay at the property during the week or so that it takes to do the painting. An offer that the artist accepts, but it is a decision he would later come to regret. For not everything is as it seems in the quaint little house amongst the magnolias...
First published back in July of 1932 within 'Strange Tales' magazine, US author August Derleth's short utilises quite a typically classic premise for a horror story - one of being a guest staying in a strange house where odd and worrying things happen at night. Indeed, once the premise is set, the short powers along awash with nail-biting tension and a continually growing element of suspense. And as the horror that is undoubtedly lurking behind the tale is gradually unveiled, so it spirals to an almighty climax where the final revelation ends the short on a triumphantly dark note.
The Zombie Of Alto Parana - W. Stanley Moss
- 27 Pages
Once a month the Emil would watch the paddle-boat from Buenos Aires nosing its way up the river and unload whatever stock it needed to, before continuing on to the Jesuit country of Misiones. Apart from these brief visits which would last no more than an hour, Emil was otherwise left in near complete isolation within his small bungalow, squatted on the water's edge along the Alto Parana river. For since Schlesinger had died, Emil had been alone in this remote part of the South American jungle. But this was about to change with this next delivery. Because on board the paddle-boat, a young Englishman named Clift had paid to be taken up as far as the boat would go, so that he could go in search of silver within the surrounding jungle. And for Clift, Emil's bungalow was the end of the line. A place where he would hole-up for a while, become acquainted with the local Indians, and perhaps trade a little. But it's also a place that could bring the end to someone who doesn't follow the local rules. Otherwise it could really be the end of the line...
First published in the London Mystery Magazine back in 1960, British army officer, writer, broadcaster and journalist – Ivan William Stanley Moss's (aka W. Stanley Moss) short is an incredibly atmospheric piece of suspenseful and downright chilling fiction. Having seen first-hand many such isolated and far-reaching places in the world, Moss was able to paint an incredibly believable backdrop for the short tale; with the South American jungle setting playing an absolute key part in the story. And indeed the tale works well, albeit in a somewhat plodding and slow-to-unfurl fashion. However, it is laced with such a palpable amount of tension, that even with very little actually happening for the majority of the story, Moss has nevertheless managed to deliver an impactful and utterly compelling read.
Ballet Nègre - Charles Birkin
- 20 Pages
It was the premiere of the Emanuel Louis's 'Ballet Nègre du Port-au-Prince' and both Simon Cust, representing the Daily Echo, and David Roberts were in attendance. The sold-out performance by the Haitian dance company was packed to the rafters as the curtain came down and the show commenced. The first dance concerned the cultivation of crops, followed by a homage to Papa Legba; one of the most benevolent of the voodoo hierarchy, and then on to a tribute to Agoue, the God Of Sea. The final item of the first half depicted the propitiation of Ogoun Badagris, the most feared and powerful of all the powers of darkness in voodoo. Here the first half of the performance ended in a frenzied climax of blood, religion and sex. Following this, the second half continued again with the voodoo story; commencing with a ballet based on an old folk lore legend surrounding a man who dug up the recently deceased to use them as zombies to help with his labour force. Included was a scene involving a man and woman swaying within a lake of very real and believable red-hot ash. A scene that left the audience breathless with the utter realism of the performance, and left Cust seeking an interview with the two stars of the show who produced such a wholly convincing voodoo performance. An interview that the show manager, Emanuel Louis, forbade. But, after such a powerful and dramatic performance, Cust wasn't going to take no for an answer...
First published in 1964, British horror author, Charles Birkin's short is an imaginative and inventive addition to the Haitain zombie premise; utilising an original setting for an altogether quite surreal tale. And although different in its premise to all other zombie stories of the time, Birkin nevertheless injected many of the established 'Haitian-Zombie' rules; bringing together an oddly fitting story that showed a clever use of diversity within this tight subgenre. And as a whole the story works very well; maintaining interest and intrigue throughout – until the eventual (and inevitable) conclusion is spelt out in all its melodramatic glory.

The Hollow Man - Thomas Burke
- 14 Pages
In the evening darkness, a man wearing a mackintosh and dungarees shuffles along the quiet London streets. He's searching for a friend, and instinct has led him all the way from Africa to London. The same instinct that now leads him to the eating-house of his friend Nameless. And here, he quietly enters the dining-rooms and confronts the man who killed and buried him deep in the African jungle some fifteen years ago. However the man is no ghost or apparition. He is his old friend Gopak; sill appearing as the thirty-two-year-old that Nameless remembered him as. However, until recently Gopak had been dead and resting. But then they came and disturbed him – The Leopard Men. And now, having escaped them, Gopak had come to Nameless. For he was the only man who could help him with his restless state...
First published back in 1935, British author Thomas Burke's short, 'The Hollow Man' utilises a whole new perspective on the zombie. Instead of our undead friend being a voodoo driven monster (or similar), Burke has created a sad portrayal of a wandering lost soul who merely wishes to return to his restful sleep. And the short fuly takes on board a depressingly sombre tone – delivering a strangely conversational story depicting two old friends at odds with the situation. And it works in an oddly surreal way – coming to a quietly understated ending that concludes not only the short, but the entire anthology in a satisfyingly human fashion.
The anthology runs for a total of 223 pages.

© DLS Reviews

A B C D E F G H I J K L M N O P Q R S T U V W XYZ VARIOUS NON-FICTION