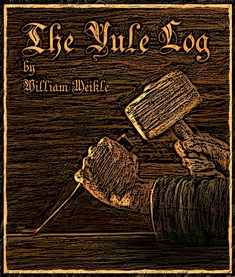 First published back in December of 2011, Scottish author William Meikle published his short 'The Yule Log' on the 'This Is Horror' website (www.thisishorror.co.uk) as part of their 'Flash Fear' free online contributions.

DLS Synopsis:
On a cold wintery night on Christmas Eve, an old man by the name of John sits alone in his chair, awaiting the blessing that this particularly sentimental night brings. Over the past week he had carefully selected the right log for his task. He'd prepared the wood, and then inscribed the personal legend that has remained etched in his memory over all these years.

As he works on this lonesome ritual, he thinks back to when his wife was with him. Just the sound of her name, Jacqueline, is enough to bring back stinging tears to his eyes. For tonight is the anniversary of his poor wife's death. And with that, John has kept up the ritual that keeps her as close to him as he can on this fateful night. A task that might just allow him to glimpse his wife again...

DLS Review:
Meikle is undoubtedly a master of the cold and wintery backdrop. Although the bitter weather of the Scottish winter isn't really touched upon in this short, the bleak seasonal atmosphere is as rich as ever. Indeed, from the very start, the short is tightly wrapped up in a mysterious Celtic tradition, with the ritual that is being performed so utterly befitting to the atmosphere, environment and the little we know of this tragic old man's loss.

Okay, so we pretty much know where the short tale is going from very early on, but nevertheless, Meikle subtly sneaks in a second less predictable surprise which, although not of any really striking impact, simply wraps the short tale up with a powerfully emotive finish.

For its short length and simplistic concept, Meikle has achieved a hell of a lot within such a limited space. The short is bursting at the rafters with atmosphere, tragic love and an intriguing Scottish legend. And it's down to the combination of these factors that bring out such an endearing story that plays on the reader's heartstrings with the loving ease of a truly great storyteller.

© DLS Reviews

A B C D E F G H I J K L M N O P Q R S T U V W XYZ VARIOUS NON-FICTION