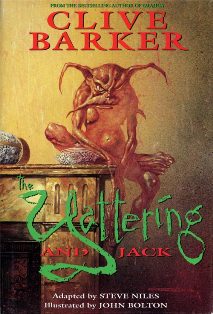 First published back in 1991, the Eclipse Graphic Novel's adaptation of Clive Barker's short story 'The Yattering And Jack' from the author's 'Book Of Blood: Volume One' (1984) was released midway through the publication of the successful 'Tapping The Vein' (1989 - 1992) adaptations. Indeed, in the March 1993 re-printing of 'The Yattering And Jack', the expanded 92 page graphic novel also included the comic version of 'How Spoilers Bleed' that was originally included in 'Tapping The Vein: Volume Five' (1992).

DLS Synopsis:
Jack Polo, a gherkin importer, is being haunted by a relatively minor demon known as the Yattering. Beelzebub himself has commanded the Yattering to stay within the confines of Polo's house until it succeeds in driving Polo insane. This sentence has fallen on Polo in retaliation for an ancestor's failure to fulfil his part in a deal made with Hell. However, unbeknown to the Yattering, Jack is well aware of the frustrated lesser demon's presence and the task it has been given by its master. And so by remaining in a state of good cheer throughout all of the Yattering's best efforts to terrorize him, Jack knows that he is slowly but surely winning the battle of wills. Que Será Será…

DLS Review:
Unusually comical for a piece of early Barker fiction, the short maintains a light-hearted temperament through the majority of the tale, with its mischievous mix of black comedy and chaotic demonic frustration. The plot is set down from early on, balancing a simple plot with the charismatic (and purposefully over-the-top) two characters that play out their little battle of wills. From this imaginatively formed acorn, Barker keeps up the comical frustration, until finally throwing in the delightfully-deserved finale that brings with it a sly smirk of satisfaction. This is black comedy with a good scooping of hellish fury cutting through the layers of light relief.

Steve Niles' graphic novel adaptation is a testament to both the mischievous joy of Barker's original short and the strengths that can be achieved within the comic book format. The frame-by-frame nature of a graphic novel works tremendously well here, with the pace maintained, and the story not feeling compressed or shoe-horned into an unwilling new format in any way. Indeed, the comic adaptation appears to bask in the unrestrained versatility offered by the uncluttered and close-quartered storyline. John Bolton's illustrative artwork is absolutely superb throughout the story. His depiction of the Yattering is spot on. The frustration, annoyance, and bitter rivalry plainly, evident across its face, and accentuated by the cleverly chosen demonic features of our little lesser demon. Even the character of Jack Polo is pictured almost perfectly. It's a magnificent display of how well a short can be adapted, if done by the right people and with the right story.

The graphic novel runs for a total of 60 pages.

© DLS Reviews

A B C D E F G H I J K L M N O P Q R S T U V W XYZ VARIOUS NON-FICTION