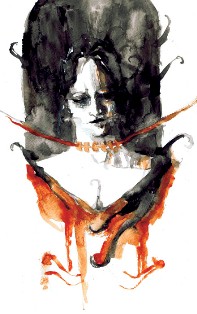 First published back in December of 2012, British author Stephen Volk published his short 'With All My Love Always Always Forever XXX' on the 'This Is Horror' website (www.thisishorror.co.uk) as part of their 'Flash Fear' free online contributions.
DLS Synopsis:
Sitting in their mini amongst the bustling Fleet services, Iestyn and Michaela watched as the Christmas shoppers battled with their gifts and against other shoppers, as they prepared for the yearly family festivities. However, neither Iestyn nor Michaela believed in wasting the time, energy and money on purchasing any such gifts. They had decided a long time ago that they were not prepared to bow down to the dominance of capitalism. And so they watched and waited. Waiting for the perfect target.

And then, they spotted it. A blue Audi packed to the rafters with gift-wrapped presents. A perfect candidate for their Christmas. Because giving wasn't everything. Sometimes you had to take.

Iestyn disabled the alarm and jacked the boot with the ease of a professional. And then they were into the car, and the gifts were theirs for the taking. Gifts that they would later give to each other in bed on Christmas Day. Gifts that were wrapped and name-tagged, including a small present that simply stated 'With All My Love Always Always Forever XXX'. A gift that would leave a lasting impression on them always always forever…
DLS Review:
Stephen Volk's short piece of flash fiction is a bit of an odd one. Volk purposefully creates somewhat of an uneasy tone to the story, with the callous and spiteful couple plotting their Christmas thefts in the busy services. Volk keeps his cards reasonably close to his chest during this initially establishing of the premise and plot; not wanting to give too much away too quickly. And in doing so, the reader is constantly on edge, pushing forwards with a need to know what is unfolding – just itching to find out exactly what devious deed is transpiring.
Volk keeps his writing style tight and immediate, with careful attention put to the pace and length of each sentence in order to keep it flowing forwards at just the right rate. Creeping ever-so-gradually onwards towards the 'horror-twist' that we suspect is looming, but haven't the slightest inkling what it will be.
And when it comes it's swift, suitably vengeful and snaps the short storyline to a quick and immediate end. It works and concludes the story well. However, the actual twist remains somewhat unexplained and perhaps just a little too out-of-the-blue for its own good. But it's still a good piece of festive fun nevertheless.

© DLS Reviews

A B C D E F G H I J K L M N O P Q R S T U V W XYZ VARIOUS NON-FICTION