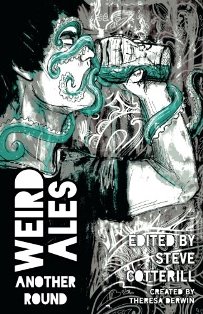 First published back in November of 2016, Steve Cotterill and Theresa Derwin's second anthology in their 'Weird Ales' anthology series was entitled 'Weird Ales: Another Round'.
Introduction: Another Round – Richard Bruce Clay – 4 Pages
British author Richard Bruce Clay opens the anthology with a pleasing little introduction, indulging in our cultural passion for pubs and other such age-old drinking establishments, and the potential consequences of infiltrating these relative sanctuaries with ghastly visions of horror. Taking us through story-by-story, Clay whet's the appetite with mini overviews of all the horrific delights to come in this booze-fuelled collection. Now it's time to quench that thirst…
Holy Orders – Matthew Ward – 14 Pages
Victor had been distracted by the girl's beauty. A second's attention lost and he'd become the victim of a pickpocket. The girl, darting off down the darkened alleyways of Lace Market. Victor had instantly taken pursuit. Racing after the girl through the streets of Nottingham until he'd spotted her ducking through the welcoming doors of 'The King's Head' pub. Victor had done the same, hoping inside the he would finally catch the girl and have his wallet back. But inside the pub is empty. Not a soul in sight other than the Olde Worlde style barman. The girl having left out through the back, escaping into the storm outside. Victor had missed his chance. She'd be long gone now. Seeing Victor's frustration, the barman offers him a pint on the house. A malty beer dubbed 'Holy Orders'. With nothing to gain from venturing out, until the storm has passed, Victor accepts the barman's generous offer. After all, what harm could come from a free beer?...
Kick starting this second 'Weird Ales' anthology, author Matthew Ward offers up a strangely alluring tale, thick with mystery and intrigue from the outset. Ward lays down an atmospheric bygone days style of Nottingham Town backdrop out of which his curious story sprouts from. Pacing is somewhat haphazard, starting with a furious chase which comes to an abrupt halt, to be replaced with a quiet beer and chat with a decidedly eccentric barman. But Ward has a big old twist up his sleeve. And when it's revealed, the entire dynamics of the tale shift. This is a solid first story to really get the anthology underway with.
Unlucky Sunrise – Catrin Rutland – 12 Pages
It was 'Open Mic Thursday' at the pub opposite her house. Hearing her friends playing, she decides to head on over for a few midweek drinks. Upon arriving she decides to go with something a bit more exotic for her drink. A cocktail or two suite her current mood better than beer would. However, after she sits herself down with her friends, she's almost put off from her tequila sunrise when she finds a bulbous white worm floating in the drink. The barman duly throws the drink away, offering her and her friends another round of cocktails on the house by way of an apology. But unfortunately for her that won't be the last she'll see of the fat, juicy worms. Not by a long shot…
This is a weird one. It's the sort of story that just seems to trundle along at its own meandering pace until all of a sudden the shit well and truly hits the fan. Talk about things escalating quickly. One minute our hapless narrator is in her home following a few midweek drinks at the local pub, the next a mind-boggling worm apocalypse has broken out. The question is, how much of this shit is reality and how much is just the result of the cocktails? You never really know for sure. And that's definitely part of the appeal of the story. Trying to decipher reality from some strange booze induced hallucination. And of course, you've just gotta love the near-biblical horror of it all. Nice one.
The Sorceress – Charlotte Baker – 8 Pages
Jim and his yobbish mates had turned up at 'The Sorceress' for another evening of drinks and rowdy behaviour. Located miles from anywhere on the very top of a hill, the North Derbyshire pub had a reasonably regular trade thanks to the likes of Jim and his disagreeable crowd. Neither Marcy nor her far gentler sister – Nero - liked the way the men acted in their pub. But they tolerated it. The trade was good. Not something they wanted to turn away without good reason. So they kept pulling the yobs their pints and taking their money, despite their utterly loathsome behaviour. However, such tolerance is quickly lost when one evening, just after closing, Jim and his brutish mates attack Nero in the alley behind the pub. From that moment it was just a matter of time and collecting the right resources, and then vengeance would truly be theirs…
Honestly, I didn't think much of this one. It's pretty simplistic, old school kid's style horror incorporating cliché witches and their wacky potions. Furthermore, the plot is really without any hint of imagination or flair for creating something with energy or any degree of horror in it. Author Charlotte Baker does put in a moderately gruesome end, but there's absolutely nothing by the way of impact or shock in its delivery. Zero characterisation and a story devoid of twists or anything else that could possibly pull the reader in, unfortunately results in a flat and utterly unimaginative tale. Sorry!
Real Ale – Misha Herwin – 14 Pages
Sophie had taken the plunge and asked Benedict Delany his honest opinion of her book. She knew this was an important step in her career as an author. He wasn't just their creative writing tutor; Benedict Delany was also a best-selling author. He could open doors that could kick start her career in a matter of days. Unfortunately Benedict didn't have time then and there to give Sophie an honest opinion of her work. So he'd arranged to meet her at The Bridge Street Tavern for a one-on-one session. Sophie couldn't believe her luck. Although she had to admit to being somewhat apprehensive. Pubs were not Sophie's scene. The memories that being around alcohol invoked were too intense. Nevertheless this was an opportunity she couldn't pass up on. The chance to find out what Benedict Delany really thought…
This is an interesting one. Playing to her strengths, author Misha Herwin has utilised a creative writing setting, using an author's near-desperate desire to have her work recognised, alongside an ingrained uncertainty stemming from the location of their meet-up coupled with a growing dislike for the way she feels she's being belittled. And fair do's to Herwin, there's a lot to pull the reader into the tale. The characterisation is absolutely superb. Our protagonist, Sophie, isn't a clear-cut easy to identify with character. In fact, she's quite irritating in her own egotistical way. She's the sort of person who always has an issue with everything. Her relative uncertainty at the situation comes out as a quiet-aggression to others. You find yourself gritty your teeth at her self-involved, always having a problem with everything, outlook on life. If anything, evoking such frustration in the reader shows the strength of Herwin's characterisation. Outside of this, the rest of the story flows with a slightly jerky pacing, ultimately concluding with a loosely delivered but ever-so-twisted finale.
The Witch's Tit – Anthony D. Redden – 10 Pages
Joshua and Mike had travelled all the way to the strange Olde Worlde Somerset Tavern after hearing Fat Allan's story. They'd heard that Fat Allan and his friend - Fish Lips Gary - had come across The Witch's Tit after wandering around the West Country Moors. There they'd not only sampled the local ale, but also the barman's buxom daughter. However, it was in the cellar, whilst receiving some oral attention from the barmaid, that Fat Allan had apparently seen an old woman, naked and withered, chained up upon a wooden milking stool. Fat Allan described how a hose was coiled down through the ceiling, the ends attached via metal clamps to the old woman's shrivelled breasts. This was presumably the fabled 'Witch' whose 'Tit' the pub was named after. And it appeared that they were literally pumping the house brew straight from the very witch's breasts. If even half of what Fat Allan told them was true about the pub, then it was something Joshua and Mike knew they had to see for themselves…
Fuck yeah this is a good one. Author Anthony D. Redden has penned an 'An American Werewolf In London' (1981) style out-of-the-way pub setting, with some wonderfully tongue-in-cheek horror to bring a huge-ass smile to your face. It's crude and pretty damn weird in a 'Bad Taste' (1987) era Peter Jackson sort of way. There's plenty of witty imagination and a desire to push the horror deep into the gutter. And if you ask me, all the better for it. This is proper unabashed lowbrow horror entertainment through and motherfucking through. Very probably one of the highlights of the entire anthology.
A Night At The Wells – Sara Kellow – 20 Pages
Sir Henry Clemmy was to wed Miss Maria Barrrett shortly. But first they had the matter of the hen do to attend to. Maria had chosen Tunbridge Wells to be the location of their final pre-marriage jaunt. But unfortunately for Sir Henry, she wanted her soon-to-be husband to accompany her there. Of course Philip Harcourt was to join him. Together they'd find a way to get through a week at Tunbridge Wells. They'd already been warned off the wine. Stick to beer and they should be okay. But there was one particular beverage that had piqued their interest. Upon the heath they were told was a rare species of toad not found in any other part of these isles. Each spring these creatures would return to the well to spawn, whereupon the waters would boil with their frenzy. It was said that the well water was used to brew a potent ale which they could find on sale at the Sign of the Toad…
So it looks like these stories are just going to keep getting weirder and weirder. Here we have a strange Clark Ashton Smith 'Tsathoggua' style story with a hint of 'The League Of Gentlemen' about it. Sound a bit odd? Well, that's exactly what it is. The story itself feels like it's almost entirely without any sort of structure. The characters come across as mere cardboard cut-outs snatched from 'Withnail And I' (1987) outtakes. It's got all the right ingredients for a thoroughly weird tale of horror. However, Kellow fails to pull all the pieces together into an effective story, and simultaneously misses to give any characters of this particularly character-driven-tale any of their own personalities. The end result is more confused and clumsy than weird or intriguing.
The Shed – Lynn M Cochrane – 10 Pages
He'd bought the house at a rock bottom price. It needed a lot of work doing before it was anywhere near homely, but he didn't mind putting in the time or hard work. And with his workmate's help, doing up the house and garden wouldn't be too laborious at all. In fact, it could turn out to be quite enjoyable with Col working at it alongside him. The odd thing was the clause he'd noticed in the house deeds. "The making and selling of alcoholic beverages on this land is permanently forbidden. Violation of this constraint will have devastating consequences for the owner, friends and family". Both agreed that it was a very strange clause to find within the small print. Very, very strange indeed…
Another good 'un. Here we have a story that shares many of the same ideas as Jack Rollins' 'Spores' which appeared in '
The Black Room Manuscripts: Volume Two
' (2016) or indeed Stephen King's 'The Lonesome Death of Jordy Verrill' from the 'Creepshow' (1982) movie. To be fair, from early on we pretty much know where the tale's going, but that doesn't seem to detract from the sheer entertainment factor of the piece. It's because author Lynn M Cochrane writes with an instantly captivating flair. It's unpretentious and wonderfully paced. Characterisation is quite purposefully given a light touch. This doesn't hinder the story, but instead pulls the reader into the shoes of our narrator (who I'm guessing is male but it's never really confirmed). All in all, this is a very well-written, tightly-paced and damn entertaining read.
Her Dearest Wish – Reen Jones – 16 Pages
When Cassie received the news that the private investigator had tracked down her birth mother and she wanted to meet her, Cassie simply couldn't believe it. She'd phoned Donnie at work straight away to tell him the good news. And then, the following weekend she'd gone to visit her mother at the big country pub she owned, out in the sticks of Wales. The two of them had gotten on exceedingly well. So much so that after her visit, Cassie decided she'd go back again the following weekend. Furthermore she wanted Donnie to come with her. For Donnie, as long as Cassie was happy, then he was too. He knew there was nothing Cassie wanted more than to have a real family of her own. It was her dearest wish. And with the two of them still without a child of their own, even after four years of trying, this newfound family could work out for the best. So Donnie hoped anyway…
Horror takes a bit of a backseat, and instead we have a tale of heartache and the desperate yearning for a real family. Similarly, the whole 'pub' or 'booze' theme seems to be a little lost in the tale. A portion of the story is set in a pub – well a hotel bar – but that's about as far as sticking within the anthology remit goes. However, what we have is a tightly-written story that very gently pulls on the heartstrings of anyone who's gone through the waiting process of trying for a baby. It's a quiet and more subdued story that gradually works its way to the point where the mild-horror unveils itself. Although much more toned down than most of the other contributions in the anthology, author Reen Jones still holds her own with delivering an engaging and intriguing tale that seems to flow with an effortless ease.
Last Call – Sheldon Woodbury – 10 Pages
He'd fine-tuned his pick-up strategy to the point where it rarely failed. To him every singles bar was a kind of sanctuary where he know there was always the hope that tonight would be the night when your romantic dreams would finally come true. For the women in the bar who weren't exactly beautiful, this yearning was even more extreme: a gaping hole in their heart, because they were looking for love in a world that had deemed them less than worthy. It created the ideal hunting ground for those who didn't care too much about looks. And after a handful of bourbons, the lines began to blur and shimmers of beauty could be seen even in the blandest of faces. He had a good feeling about tonight. Everything was going as it should. He'd timed it to perfection and now it was looking like his hunt would be successful. As the witching hour approached, he knew it wouldn't be long before he had this next girl back to his private lair of darkness and pain…
This is a dark one. Author Sheldon Woodbury lays down a tightly-written and gut-churningly cold tale that capitalises on the uncertainty and fear of being out at a singles bar. It's a modern day fear. A real life situation that's been exploited many, many times in the past. Indeed, it's understood that notorious serial killer Jeffrey Dahmer used 'singles bars' as his principal hunting ground for ensnaring young boys in order to take them back to his flat to brutalise and kill them. Woodbury's story is very much in the same vein. It's incredibly sinister and works its way under your skin with a slow and deliberate ease. Indeed, it's a while before you know the full extent of the horrific ordeal that clearly awaits this next young woman. As the tale edges towards this man's apartment – his dark lair – you can feel your heart begin to pick up pace. That's the calibre of the writing on show here. It draws you in and fucks with your senses. To be honest, the ending, although satisfying in some way, does feel like a bit of a let-down. For a tale that claws at your nerve-endings in such a way, it really needs to end on an equal par. A thick wedge of brutality shown in stark, vividly uncompromising blood-splattered glory; only this time used against the perpetrator of the piece. But other than that, this short, dark and truly twisted tale is still one hell of a read.
Press Ganger – Sue Oldham – 8 Pages
Will hadn't been working behind the bar at 'The Sailor's Rest' all that long when the stranger with amber eyes walked in. Will had tackled his fair share of trouble in the past, but something about the arrival of this weathered individual unnerved him. Will noticed that Old Jack had kept his eyes down as the newcomer moved towards the bar. The other locals didn't follow suit. Instead they continued to stare as the man pulled out a King's Shilling. Something about this felt very wrong. Something that Old Jack knew something about. Something that wasn't going to end well for some of those who looked on in the old coastal pub…
I love a bit of historically set horror fiction. And this is a good example of how creepy a story can be simply by fleshing out a historical premise. As legend has it, press gangs were used to forcibly enlist men into joining the army or navy by entering pubs and distributing King's Shillings to the unlucky chosen few. Whether there's much truth in the legend is open to debate, but it certainly makes good fodder for a short horror story. And fair do's to author Sue Oldham, the short tale offered up is properly eerie, with our zombie-like Press Ganger enlisting men in one messed-up distortion of how we understand it was done. Okay, so there's not much else in the tale other than this, but for its scare factor alone, it does the job very nicely indeed.
The Early Worm Catches The Bird – Ruschelle Dillon – 8 Pages
Like most mornings, Eric had once again woken, still drunk from the night before. He'd spotted the almost empty bottle of Mezcal which he noticed he hadn't quite drained. Possibly three or four good mouthfuls were still left. He certainly wasn't going to see it go to waste. However, as he was about to take a swig of the liquor, Eric heard a small voice calling out to him. Unless his bloodshot eyes were deceiving him, there was a small agave worm swimming in the shallow pool of alcohol at the bottom of the bottle. And the worm was speaking to him. It appeared good fortune had shone upon Eric. This was no ordinary agave worm. This was a Genie Worm…
Weird, weird, weird, weird, weird. Here we have the second story in the anthology to include a tequila worm. From early on you get the gist of where this story's going. It's like a modern day fable. A wacky story with a moral lesson embedded in its strangeness. We've got a Genie Worm who, let's be honest, comes across like the talking worm from Jim Henson's 'Labyrinth' (1986). Eric himself is an instantly dislikeable drunkard who hits the jackpot when he comes across the worm, but his choice in wishes leaves a lot to be desired. Author Ruschelle Dillon throws in a solid twist to beat away any thoughts of predictability, leaving an altogether entertaining and utterly imaginative tale.
Tasty Amy – A.E. Santana – 16 Pages
Vanessa had convinced Daisy to join her and Kimberly for a night out at one of those roving clubs located at a different secret spot every night. Tonight's one was being held in a warehouse. Not wanting to pay the ludicrous prices for drinks in the club, both Vanessa and Kim had already started drinking in the comfort of Vanessa's flat. Daisy on the other hand wasn't drinking at all. She'd seen the mess people could get into after a few drinks and knew it wasn't for her. Although Vanessa was trying her hardest to apply some peer pressure, Daisy was sticking to her guns. Even when they eventually arrived at the club, Vanessa kept on at Daisy to have a drink. And then, over the DJ's sound system, it was announced that the club would be handing out a free drink to all. Everyone was going to be given a free Tasty Amy. Daisy knew from the start that the night out was going to be a bad idea. This free drink was only going to make matters worse…
What was I just saying about imagination? One thing's for sure, this anthology's got it in absolute bucket loads. For her offering, author A.E. Santana lays down a story of peer pressure that culminates in a completely over-the-top bloodbath of B-Movie proportions. Santana spends the first third or so of her story fleshing out her handful of characters and setting the pop-up-club scene. Then, with an almost palpable quiver of suspense in the air, Santana unleashes all hell. It all feels just a tad anti-alcohol in its underlying message. But not in a preachy way (thankfully). Indeed, the second half of the short roars away at a pulse-thumping pace, with horror and desperation flooding the final few pages in what ultimately ends up as a truly insane horror romp.
Moonchild – Chris Amies – 13 Pages
He'd taken the afternoon off to explore West London, and in particular, to see if he could find a few real ale pubs where he could sample some local delights. It was here that he came across The Plough And Stars. A pub that offered its own ales – each with decidedly dark names. He'd opted for a pint of Beast Bitter to start with, followed by a 6.66% and finally the pub's speciality, a pint of Moonchild. And that's when he'd heard the story. The connection the pub had to Aleister Crowley and Gustav Holst. How the composer had been locked up beneath the pub until he'd written an opera for Crowley. A piece named Moonchild. And as he drank deeply from his pint, he could just about hear the sound of music playing from somewhere…
What a way to end this booze-fuelled anthology of weird delights. Chris Amies' offering is dark and sinister and fully embraces the whole 'Weird Ale' mission of the book. Written with a Lovecraft / Ashton Smith style prose, the story carries an underlying sense of uneasiness which purposefully keeps the reader feeling ever-so-slightly unsettled throughout. As more and more pieces of the story are uncovered, so something that's altogether darker than the sum of its parts begins to reveal itself. This is where author Chris Amies really shows his strengths. There's so much unspoken suggestion. So many haunting images just glimpsed or whispered but never truly revealed. It works perfectly, and as the last page is turned, it leaves the reader feeling that little bit colder than when they set out on this journey. Utterly superb.
The anthology runs for a total of 167 pages.

© DLS Reviews