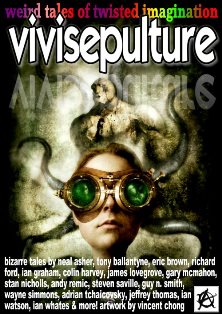 First published back in December of 2011, Andy Remic and Wayne Simmons' ebook-only anthology 'Vivisepulture' brought together a collection of weird and bizarre tales of twisted imagination from a host of different authors.

Since its publication, for some reason the anthology has been removed from most of the sites it was made available on, making getting hold of a copy quite tricky now.

Plastipak TM Limited – Neal Asher
Morris had just finished planting the last of the trees around the factories surroundings. Glancing around, he could see all of the blue-overalled workers had started to arrive for their shift in the factory. Being self-employed, he certainly didn't envy their mundane working lives. With his invoice written up, Morris now faced the task of locating the factory's supervisor so that he could hand the invoice over and get paid. But when he enters the factory, Morris finds more than your usual plastic products being manufactured. Morris is about to enter a factory that could have come out of one of his worst nightmares…

We kickstart the anthology with this strange little sci-fi-cum-horror tale from British sci-fi author Neal Asher. And indeed, it's got a good helping of an 'I Robot' (1950) vibe going for it, with a delightfully gruesome twist to the premise edging it more towards horror than sci-fi. Somewhat simplistic in its plot, the story gains most of its credit from an urgency of pace that jumps upon the reader from around halfway through. The rest of the tale is focussed more on unravelling the strange mystery behind the factory and its workers, rather than anything else. Overall it works, but perhaps not 100% within the brief of the appetite-whetting introduction.

Pretty Teeth – Tony Ballantyne
It had happened whilst they were having dinner with their friends in one of the flats at the exclusive Monagan Hall development. Whilst her boorish husband, Matthew, argued downstairs with the other guests, Katie was upstairs having sex with her husband's best friend, Alex. Now, several months later and Katie was pregnant with twins. But the pregnancy was becoming increasing painful. In fact, it felt like the twins were at war with each other in there. Like one of them was actually trying to kill the other…

For this second short story, British SF and Fantasy author, Tony Ballantyne, commences his tale with a textbook unhappy marriage situation, whereby we see our principal character, Katie, beginning an affair with her husband's best friend. Throughout this and the ensuing pregnancy, Ballantyne maintains an air of realism to the whole premise; gradually injecting the first worrying signs of something that's just not quite right. The resulting plot and conclusion is formulated from quite an interesting initial idea, but ends on too much of a mid-point to the bigger story as a whole. As such, the tale feels lacking in a climatic and properly concluding finale.

Bukowski On Mars, With Beer – Eric Brown
The last thing that Bukowski could remember was being in downtown LA back in 1973. But as he was soon to find out, that was a long time ago. Since then he'd become a famous writer – his books selling millions. But then, in March of 1994, he'd died. However, here he was, back again, and dying for a beer. But it's where 'here' is that proves to be the real kicker. Around him, scattered across the barren landscape, were numerous dome constructions. As it turns out, he was far away from the grease and grime of LA. He's now one of just a few who inhabit Mars…

Author Eric Brown is certainly no stranger to the weirder side of horror and dark speculative fiction. Indeed, if one was to peruse his quite eclectic back catalogue you'd see that Brown has a tendency to veer into the weird, wonderful and oddly perverse. So it comes as no real surprise that this pulp-tacular author has penned another short that's just that little bit peculiar. However, the overall oddness of the (quite imaginative) premise sadly does little for the actual success of the short, which other than for its witty dialogue, feels somewhat flat and ultimately lacking in a persuasive direction.

The Eviscerators: A Thaddeus Blaklok Short Story – Richard Ford
In the dank depths of their lair, Mister Milo and Mister Krane arched over the bound, gagged and naked body of their next squirming victim. With their respectively chosen blades at the ready, the two men began their work. Their victim's screams muffled by the gag in his vomit-covered mouth. Elsewhere, Thaddeus Blaklok had been summoned to the industrial quarter of the Manugactory by an anonymous messenger promising plenty of ready cash if he was to take on one simple job. Cash to 'eradicate a problem'. But this was no assignation. This was protection. Blaklok's employer is a wealthy industrialist named Clarence Horatio Arkell who is anticipating plenty of trouble…

For his offering, author Richard Ford offers up a short story that involves the mercenary, demonist, bastard and thug-for-hire protagonist from his novel 'Kultus' (2011) – the deadly Thaddeus Blaklok. Penned as a pulpish cross between Clive Barker's Harry D'Armour and Guy N Smith's Mark Sabat, only with his brutality ramped-up to stupid levels - Thaddeus Blaklok is a stick of Steampunk dynamite ready to go off. Expect lashings of visceral gore, explicit violence and squirm-inducing torture from start to finish. Ford doesn't disappoint in the in-for-a-penny-in-for-a-pound graphicness of the short. And, although only utilising an incredibly simplistic plot, the end result is nevertheless an absolute triumph of pulp-cum-splatterpunk nastiness.

Rotten Cupid – Ian Graham
It had been seven days since Meilissa had left Michael. A fortnight before that they'd been a happy couple, relishing the romance of their relationship in Venice. But now she'd ended it all and gone off with one of her work colleagues. And Michael was left alone. Drowning his sorrows in cheap whisky night after night. In fact, he hadn't eaten for seven whole days. Eventually he had to leave the house. He had to get to the local petrol station to restock his whisky supplies. But, as he's about to leave, out of the corner of his eye he spots a squirming movement from on top of his livingroom table. The small wood-sculpted cherub that adorned the corner of a picture of Michael and Melissa together in Venice was alive and squirming its way out from the picture frame. A rosy-cheeked cherub, that once free, suddenly began to decay. And then the evil-reeking putti is upon Michael – its intention abundantly clear – it wants to eat Michael's love-torn heart…

I'm really getting in the swing of this whole 'Vivisepulture' vibe now. And Ian Graham's contribution has just solidified the position further. This here is some pretty weird and grotesquely perverse stuff. A decaying cherub that's trying to rip out the heart of our severely depressed near-alcoholic protagonist. Alongside this there's a definite element of black comedy running through the tale, with Michael's perspective on his misery bringing in an unlikely avenue for hints of humour. The pace is good, with plenty of momentum and intrigue pushing the story onwards; ending with a slightly clever angle on the whole cupid plot.

You Always Remember Your First – Lee Harris
He hadn't exactly had the best history with women. None of his few relationships lasted particularly long. The few that had gone on for more than the briefest of snogs had ended almost as quickly as they'd started. There was Simone, then Samantha and finally Julie. But then, four years ago, everything changed when he got a new job as an assistant at a local funeral home. With the position came a new window of opportunity to meet with women. Women who wouldn't complain about his advances. Women who would just lie back and let him enjoy being with them. Women who were dead…

Author Lee Harris doesn't hold back with his choice of subject matter. Indeed, he's straight in with the taboo subject of necrophilia – delivering a story in the first-person-perspective that's a coldly-romantic cross between Lynne Stopewich's film 'Kissed' (1996) and Jörg Buttgereit's 'Nekromantik' (1987). That said, there's little in Harris' short to really gross-out the reader other than the subject matter itself and the oddly-detached way in which the narrator describes the preparation of his sexually depraved acts. There's a twist at the end, but sadly one that can be seen from a veritable mile away. Still, a darn good read with plenty of taboo-fun for added entertainment value.

Torturer's Moon – Colin Harvey
Tom and Linda Goodman packed a picnic basket and took the children off for a family day-out at the Torturing. It was a monthly event held in each county that was put on by 'The Order of the Knights Inquisitor of St George' where they would hold a Mass Confessional and Penitence. It was an event that saw the community coming together. A gathering where retribution would be dished out to those who had strayed from the righteous path. And this month's mass-torturing was proving to be as bloodthirsty and sadistic as ever. But the event will prove to hold far more in store for Tom Goodman and his family than they had anticipated…

Colin Harvey's short utilises one of those wonderfully imaginative ideas that really makes the entire story stand out from the pack. Indeed, with a semi-social commentary running behind the medieval-new-world backdrop; the short is able to hit upon some slightly challenging points, whilst delivering a straight-to-the-jugular plot rammed-to-the-gills with brutality and a constantly uneasy air. And yes, there's a wonderful but slightly predictable twist that sets the real crux of the short in motion as it spirals towards an edgy and quite cleverly formulated ending. It's a triumphant short that seems to linger on in the readers mind for quite some time afterwards.

Caught In The Shadow – Vincent Holland-Keen
Wayne Todd, aged nine-and-three-quarters, lay back in the field of the remote picnic site and watched as the clouds moved across the sky. In the background his baby brother, Levi, was screaming for attention. His parents were once again in the throes of yet another petty argument. Wayne had to get away from it all. And so he made his way down to a dry stone wall lying at the bottom of the valley. Here he spots the strange glimmer of water. Oddly, there appears to be a patch of water moving across the landscape as if in the shadow of the cloud above. Water that would then change its shape and form as it came to different areas of the land. But it was the door hidden away in the copse of trees that really drew Wayne's attention. Wayne had a lot to learn about the nature of reality. A lot which he would very quickly find out…

Almost Clive Barker-esque in its weirdly imagined oddness and surreal fantasy-like developments, Holland-Keen's short is as perplexing as it is imaginative. It begins with a purposefully mundane quarrelling-young-family scenario, which soon moves off into the strange and surreal weirdness of a pretty darn warped reality. There's basically no horror in the story at all. No dark underbelly or scares in store. It's just a weird dreamlike setting that draws the reader into the strange set-up, the even odder teachings in store, and (if I'm honest) a disappointingly abrupt ending.

Bible Basher – James Lovegrove
Helen Forester loathed her husband. In fact, over the years he had become less and less like the man she had married. But frustratingly, everyone in the village loved the vicar. Reverend Christopher Forester was the charm of the quaint little community. But not to her. Behind closed doors he was an oafish misogynist who spewed out the most out-of-date quotes from his beloved bible. Over the years Helen had learned to grin and bear his Biblical harangues, but she was coming close to the end of her tether. She really couldn't take the presence of her beloved husband that much longer…

James Lovegrove's character-driven short is one that relies heavily on the slightly-comical agonising irritation and mounting detest felt within our lead character. Indeed, the justification behind Helen Forester's growing hatred for her husband soon becomes apparent, with his biblical quotations exposing an instantly disagreeable side to the man. And in essence, this is what the entire short is about. Helen's mounting hatred for her husband, and her final (and utterly inevitable) snapping point. Bible basher indeed. Regardless of its simplicity – the short is nevertheless a thoroughly entertaining read.

Deformation – Gary McMahon
After the last Great War the Rains came. Now, almost forty years since this great downpour had stopped, mankind had learned to adapt to the rising waters. One such man was Cale. And having arrived on his longboat, he made his way into Squid City. He had no money on him to spend in the hustle and bustle of the vast market, nevertheless he knew there would be no problem in finding a buyer for what he had on him. After all, he'd obtained Vee from the Gillmen when he was last at the London Islands. It was a drug that was in high demand. And with the money that he would obtain from its sale, he could spend some time enjoying himself in the great city. But being untouched in a city of the modified would inevitably bring unwanted attention…

Like a grime-covered cross between the 'Deathlands' novels and Kevin Reynolds' film 'Waterworld' (1995), Gary McMahon's short packs in mutants and extreme body modifications in a downbeaten post-apocalyptic world. From the outset the short tale sets down a grim and dirt-encrusted backdrop, with 'Mad Max' (1979) like characters bombarding the reader from all angles. And in amongst the veritable cacophony of post-apocalyptic madness which the reader is presented with, an unnerving, yet masterfully subtle spiritual thread gradually gives the tale a direction and ultimately a concluding note to ponder upon. Definitely one of the better shorts in the collection.

Juice – Stan Nicholls
Today was Robert Duthie's first day as a young trainee with British Distillates. He'd been paired up with Craig Anders who had years of experience in his role of detecting possible leaks of distillate. As soon as Duthie arrived, the two were out in the field responding to their first call – a possible leak of Joy at the New Dawn Evangelical Mission. And upon arriving at the scene there are obvious signs of an outbreak of the temperament-affecting gas. With the fracture in the gas pipework identified, they were then off to HM Prison Forest Grange where reports of a possible leak of Submission had come from. However, distillates are not as tightly controlled as the government would have hoped. A black market in illegal distillates is emerging. And the illegal gasses being supplied bring with them a whole host of problems…

There's no doubting that Nicholls' short isn't borne from a particularly interesting and clever idea. And with such an idea comes plenty of potential for an entertaining and possibly even a thought-provoking read. However, other than laying down the fundamental principles for his near-future distribution and supply of temperament affecting gases, Nicholls' short sadly offers very little else. Indeed, the actual plot behind the tale doesn't come into play until around two-thirds of the way through – offering up a fleeting hint of excitement that is just as quickly quashed by a weak and unambitious ending. Unfortunately not a great addition to the collection.

Snot – Andy Remic
Ben Sherikov's day wasn't going very well at all. He'd just been sitting there in his executive office at the BlueX Corporation when a bucket-load of bright orange snot poured out from his nose and splattered across the office carpet. What's more, the snot appeared to be heavily acidic; burning through the fibres of the carpet and leaving behind a tell-tale stain. And then it happened again. Deeply worried, Sherikov nevertheless decides to go home and wait until Monday when he can visit the doctors within normal working hours. After all, how bad can it be? However, following in his car closely behind is the Mongrel. A three-figured man who got his name for being a son of a bitch. And he was keeping a very close eye on the troubled executive…

This is some pretty weird bizzaro shit that we have here. Inherently disgusting, the focal incorporation of such copious quantities of snot makes much of the story pretty foul reading – especially if (like me) you're reading it whilst trying to digest your lunch. Indeed, from the very outset the reader is confronted with the unashamed vulgarity of the story; with an odd and not-altogether very well defined plot snaking around the weird grotesqueness of the storyline. Furthermore, this peculiar storyline seems to flitter all over the shop through the entire length of the short; seemingly directionless and incredibly flimsy. However, it's the sheer weirdness and utterly outrageous vulgarity of the short that really keeps the readers interest. There's no denying that it's a story that you'll likely remember for a long time to come. But not necessarily entirely on its positive merits.

Wind Project NX104 – Jordan Reyne
Windmachine H443 stood on top of the hill looking outwards at the town below. The machine was a model 208 SKY – a windmachine purely designed to harvest energy from the wind. A machine with just that one function. And it was identical to all those that stood on the hill around it. That is, except for one thing. This windmachine was able to communicate vocally. A unique ability that had been picked-up on by a young visitor. Sam Dortmund had become a regular face for the windmachine. But that made it nervous. After all, inventors don't usually visit windfarms. Not unless there's going to be an operation, which only happens when a windmachine is ill or broken, or when one needs upgrading. And it had been noted that Machine H443's software had playing up. But there were potentially worse things on the horizon for the machine than just unreliable and malfunctioning software…

Okay, so Jordan Reyne's contribution to the anthology is possibly the most far-removed from the collection's brief compared to all the other shorts. Yes it's creative and yes it's got a sci-fi element, but that about as close to the anthology's original remit as the tale comes. However, this does not necessarily make it a bad contribution. It does feel quite out of place amongst the other shorts, but it still holds its own in terms of interest and originality. Indeed, the short is bursting with imaginative originality; written from the perspective of a windmachine with Artificial Intelligence, Reyne soon gets stuck in with plenty of clever computer-speak terminology and a 'outsiders' understanding of the humans it encounters. It works, and remarkably well. The only real fault with the short being its lack of any real punch, or much in the way of a dramatic storyline to draw the reader in with. Nevertheless, an interesting and ambitious short.

Wunderwaffe – Ian Sales
It's March of 1944 and the Ministry of Armaments and Munition's liaison officer, SS-Sturmbannführer Günter Ehrlichmann, is reporting to the Hitler's secret redoubt beneath the Northern Limestone Alps. Here in the Führer's office, Ehrlichmann is congratulated for his work on the nuclear bomb which he has been working on. One which will create history. However, Hitler has other plans for Ehrlichmann. He wants the liaison officer to fly to the Wencelas Mine in Sudetenland. From there Hitler wishes for Ehrlichmann to report to him personally on a secret project that is taking place in its tunnels. A project that is being undertaken by the scientist, Rotwang, which offers up a veritable plethora of possibilities for the Third Reich. For deep in the Wencelas Mines, a gateway has been opened that will allow those brave enough, to travel through space and time…

Ian Sales' tale is certainly an ambitious one for a short story. Indeed, Sales has crammed in a superbly interwoven and ingeniously inspired science-fiction yarn that spans history as well as throwing in some well-thought-through complexities to the developing scenario. Sales has done plenty of homework in order to produce this initially WWII set historical sci-fi tale. With hints of an 'Indiana Jones' style plot squeezing through the storyline, it's not long before Sales is embarking upon an action-rich story which offers up plenty of scope for weird and wonderful sci-fi creativeness. And it's undoubtedly fair to say that Sales delivers the goods in absolute abundance here. Although pushing the boundaries somewhat with its final wrapping up, the tale is nevertheless a thoroughly entertaining and well-crafted read. It finishes with a page suggesting 'Further Reading' showing just how well-researched and cleverly ingrained in real history the short actually is.

METAmorphosis – Steven Savile
Steven Savile was once agin within the isolated cabin which he had been returning to time and again. Alone in the cabin, he had just finished his final masterpiece, had just smoked a cigar, as was his ritual when finishing another novel, when he found himself surrounded by three strange intruders. The first was a well-toned and stern looking woman named Lise who stepped forward into the cabin's light. She was accompanied by a tall man wearing brass glasses with different coloured filters named Velman along with a squat dwarf with a malformed head named Montel. Somewhere in the depths of his mind, Steven harboured a faint recognition of them. But he couldn't quite place who they were. That is, until the birds started to pummel the cabin's window and the characters that he'd created for his stories began to arrive…

This is clearly a short that's been written by Savile for his fans. It's one of those weird stories that purposefully blurs the gap between fiction and reality, with Savile writing himself into the story as himself, and then bringing to life the characters he has created over the years. Indeed, much of Savile's writing career is laid out in the story, with the various characters he's created over the years 'brought to life' to confront him. Savile is self-deprecating as well as just that little bit egotistical in the writing. And the end result is a story that will be lapped-up with absolute vigour by fans of his work (particularly the older horror and fantasy stuff) but leaves those who haven't read any of his previous novels feeling somewhat bored with the numerous references. Most definitely one for the fans. But otherwise there's not much else in it.

Kitty Wants A Hitty – Wayne Simmons
Geordie Mac was far from happy to see Kitty McBride turn up on his doorstep a day before see was due her next instalment. Being a dealer, Geordie knew how these junkies became so desperate for their next fix that they'd do anything. But he wasn't about to break his rules for Kitty. Even if she was the daughter of Paul McBride – the biggest and most feared gangster in the city of Lark. She would have to wait for her next hit. But that's something that Kitty just wasn't prepared to do…

Gritty, grimy and downright grim – Wayne Simmons' short is one drenched in drug dependency, the hardship of street life, violence, prostitution and vengeance. Yeah, it all sounds pretty grim. However, Simmons has injected a strangely addictive air of sly black comedy into the mix. Okay, so it's not in-your-face humour, but there's nevertheless an underlying smirk behind the way the story is projected that certainly works in its favour. Indeed, the short is one that draws the reader into its slippery descent within mere seconds. From the very outset it's fast-paced, with an eagerness for corruption spilling out from its seams. Quentin Tarantino meets Irvine Welsh – all with a Richard Laymon style of entertaining prose. Nice!

Zombie Gunfighter – Guy N Smith
Sheriff Black was awoken by the sound of gunfire. Not an unusual sound for the dusty town he called home. Especially considering the Circle D boys were due to be returning that evening. However, when Deputy Borg bursts into the Sheriff's office saying that the Circle D boys were planning on lynching the town's best gunfighter, Jack Skeet, Black knew he'd need to take action. After all, Skeet had helped the town out with shooting down all those Paiutes. He was undoubtedly the deadliest gunfighter in town. But the Circle D boys were determined to see Skeet dead once and for all. However, not too far away from the town, the wizened Paiute witch doctor, Black Snake, was planning his own revenge on the small town beyond the canyon. A vengeance that would be more terrible than Black, or the other townsfolk, would have ever dreamed possible…

Undoubtedly one of the absolute highlights of the collection. Prolific pulp horror author, Guy N Smith, offers up a short that blends his love of Westerns with his undisputable skills as a pulp horror writer. The end result is a Wild West that's been oh-so-deliciously infected by the undead. In typical Smith style, the story gets straight into the thick of the action, with a drunken lynching, followed by the resurrection of the dead victim. Vengeance is the overall theme in the tale, and it seems that everyone wants of slice of it. Expect a grim and unashamedly unresolved ending. And it works in bitter harmony with the overall vibe of the short. For Guy N Smith fans, this short is one not to be missed. The story was later reprinted within the 'Hangman's Hotel And Other Stories' (2014) collection.

Pipework – Adrian Tchaikovsky
Mrs Levinger had been experiencing problems with her pipework. In fact, her bathroom reeked to high heaven with the smell from the blocked up septic tank. So she had called in a plumber. However, for one reason or another, the plumbers who came to her house had never come back. She was hoping that this latest plumber, Mr Stebbins, would see the job through to the end. But that wasn't going to prove likely considering the paranormal investigator, Walther, had actually turned up instead, under the guise of the plumber. He had a hunch that there was something supernatural lurking behind this black sludge that was blocking her pipes. Something that required a slightly different approach to sort out…

This is a pretty weird short. Laced with an obvious lathering of comedy, Tchaikovsky's story of blocked-up pipework and supernatural apparitions lodged away in black sludge is definitely one that you'll remember for some time afterwards. In fact, the short would have found itself very much at home within the likes of Kelly Laymon's 'Excitable Boys' (2002) collection, with its leanings towards a real gross-out vibe and that lingering smirk that the author injects in the storyline. However, as crass as the plot may sound, it's nevertheless a well-written, well-executed and all round entertaining read. There are some clever little twists thrown in as well as a good peeling-back-of-layers approach which works well with the plot. Definitely worth a read.

The Lost Family – Jeffrey Thomas
Following the Armageddon, the Damned, Angels and Demons were left sheltering inside a vast building named the Construct, with the shattered remains of Hell outside its walls, all buried under solidified lava. Now, having awakened from centuries as a catatonic prisoner of war in the bowels of the Construct building, the angel, Vee, made her way upwards through the building's many floors. She had learned that there was a settlement called Freetown on the 128th floor of the Construct. A place where the Damned lived cooperatively alongside Angels and Demons. Where Vee might find peace at last. A place she could possibly one day call home. But first she had to get there. And even with her trusty Demonic-gun named Jay, Vee still had a fight on her hands to reach the 128th floor of this colossal building where Demons prowled the many forgotten rooms…

Continuing with the weirdly imaginative fiction, Jeffrey Thomas' offering is perhaps one of the most peculiar to appear in the collection. In essence, what we have here is a lone building situated in the middle of solidified lava in the aftermath of Armageddon. Inside this vast building we have three remaining groups. The Damned – who didn't make it to heaven, those who died and then became Angels, and finally Demons. With this Construct building housing them all across its many levels, we follow the Angel, Vee, as she makes her way upwards – dodging Demons and meeting with a forgotten family of the Damned. It's all a bit surreal, especially with her talking Demonic gun and the hints at a 'The Matrix' (1999) like existence for the Damned. It's certainly an interesting and imaginative story, but that's probably about the only two things going for it. The main issue with it is how difficult it is to get into what is undoubtedly a very cluttered and overly-elaborate story for its length.

The Recruit – Danie Ware
When Kate received a panicked call from her close friend, Tari, in the early hours of the morning, she rushed straight over to the house she shares with her husband, Rob, and their six-year-old daughter, Lyn. However, upon arriving Kate has very little idea of what to do, other than to call for an ambulance. And when Tari relays what little she knows about the situation it all gets more perplexing. They had heard their daughter calling out in the middle of the night, so Rob had gone to see what had disturbed her sleep. The next thing Tari heard was a loud thumping sound coming from Lyn's room. When she went up to investigate herself, she found her husband lying on the floor, his face like that of a corpse, with a trail of black fluid dried on his chin. It was exactly as what confronted Kate now. Only there was something else that caught her eye. A flicker of light, travelling across Lyn's face as she clutched her oddly shiny grey doll. A light that played over her skin like an embedded tattoo. Something very disturbing was going on. And somehow, Tari's young daughter was at the root of it all…

There's something inherently unnerving about young kids who seem possessed. You need look no further than Tobe Hooper's film 'Poltergeist' (1982) to know that kids under some weird supernatural influence are just plain creepy. Indeed, Danie Ware's short has much in common with Hooper's supernatural classic. All the way down to staring at a tv screen in the middle of the night and people suddenly disappearing. However, Ware has injected another angle to this possession plot. And, although confined to the limitations of a short story, she still manages to cram in a veritable minefield of creepy mayhem along the route to the downbeat and quite imaginative conclusion. Weird and perplexing – the short certainly is…and all in a good way. Although, sadly it still feels just that little too rough around the edges, with a narrative that feels a bit directionless through much of its length.

Tales From The Zombible – Ian Watson
The Wandering Zombie, whom Jeshua bit infectiously with His blessing, stood before his class of Grubs and began his next lesson. It was a lesson about Jeshua himself – the first one of them from two thousand years ago. A leper who the Romans crucified and who would later arise following the first zombification. It is a story that was written in the Zombible. And ever since then, Zombikind had lived under the guidance of Him. But two centuries later a Great Schism arose between the Eyes-on-Cheeks Heresy and our Eyes-mouldering-greenly-in-their-Sockets orthodox truth. The word of the Zombible was open to dispute. But what wasn't was there ever-present and insatiable hunger for human flesh. However it was something that the Chinese could offer…

Raising the stakes on the anthology's weirdness is Ian Watson's truly bizarre offering. Like a cross between a Stant Litore story from his Zombie Bible series, and something Mark McLaughlin would pen, this odd story (if indeed you can call it a story) is as surreal as it is utterly perplexing. In essence Watson has rewritten predominant aspects of the Christian bible, adding a zombie element into it (much like Stant Litore has done with his books). However Watson has done this with a colourful wit about it, with the opportunity to inject humour into the mix snapped up wherever possible. Sadly, the joke invariably wears thin within a matter of pages, and what you're left with is an odd reworking of the bible awash with quite cringe-worthy erratic stabs at humour.

The Devil In The Details – Ian Whates
Declan Worthington had taken to walking to work in the mornings. It was far better than catching a bus, but it did have its drawbacks. Bumping into Jenny on the way was one. She quite obviously fancied Declan. However he wasn't interested. And then Bromby appeared. A man who quite obviously was himself interested in Jenny, and he duly (and quite annoyingly for Declan) tagged along as well. However, after about five minutes of walking, a small child moved out in front of the trio causing them to bump into each other. The effect was something that Declan was more than a little used to. Suddenly he was somewhere and somewhen else. The air was humid, he was scantily clad, and he was surrounded by jungle. The jump had obviously gone back quite far this time. And frustratingly, it appeared that he'd brought both Jenny and Bromley with him. This was going to be awkward. He just hoped that he didn't cause too many consequences whilst working his way back to his own time…

Ian Whates' short utilises the classic premise of time-travelling in an ever-so-slightly-witty way; with our protagonist (for reasons completely unknown) able to accidentally jump through time merely by touching another person. Getting back is a similar process, and as such the story follows Declan as he jumps through various periods in time accompanied by Jenny. To be honest, there's actually very little else in the story; with its short blasts of quite random scenes and scenarios throughout time making up the vast body of the tale. The reasonably expectable and unsurprising ending is a slight let-down, but because of its incredibly short length, it doesn't suffer particularly for it – with the reader having not really invested all that much time into the tale. Not the best short to end the collection on, but not an altogether bad story.

The anthology runs for approximately 260 pages (ebook only).

© DLS Reviews

A B C D E F G H I J K L M N O P Q R S T U V W XYZ VARIOUS NON-FICTION