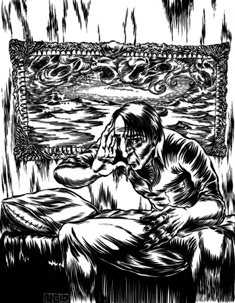 First published back in June of 2012, British author G.R. Yeates (aka Gregory James) published his short 'View Of A Desolate Landscape' on the 'This Is Horror' website (www.thisishorror.co.uk) as part of their 'Flash Fear' free online contributions.

DLS Synopsis:
Living in amongst the depressing concrete jungle of the city, he had become more than accustomed to the misery and soulless abyss of the urban landscape around him. His life had become swallowed up in the misery of the environment. He had slowly-but-surely become lost in the gloom.

Each day he walked past the gallery-cum-shop on his route home from work, and wallowed in the depressive bleakness of the artwork on show. Paintings and pictures that truly encapsulated the very essence of the inner-city misery. Images that were more a reflection of each and every one of their souls, than anything else.

And one painting in particular reached out at him from the many. One bleak and desolate landscape that seemed to perfectly mirror his own inner and outer existence. One painting that he had to own, and that may very well one day own him…

DLS Review:
Yeates certainly has a way with words. Moreover, he can spread a nightmarish and darkly atmospheric backdrop that creeps under the reader's skin and chills them to the very core. And even within such a short and tightly restrained piece of flash fiction such as this one, Yeates manages to concoct an image of utter misery and despair that is as oppressive s it is thoroughly mesmerising.

The storyline is simple in essence but complex in its emotional turmoil. It feels so sadly befitting to so many of our lives, no doubt inspired from the author's own day-to-day existence living within the urban expanse that is the city of London. And for that connecting-truth behind this brief glimpse of a tale, the writing sucks the reader in and exposes nerves that we may not wish to have revealed.

It's Algernon Blackwood gone over the edge into suicidal depression. It's cold and emotive without really going anywhere. But perhaps it's this distinct lack of any progression that really gets to the reader in the end. It so aptly outlines the very essence of this short tale, and ultimately swallows the reader up in the swirling sickness that is inner-urban decay.

An outstanding piece of flash fiction.

© DLS Reviews

A B C D E F G H I J K L M N O P Q R S T U V W XYZ VARIOUS NON-FICTION