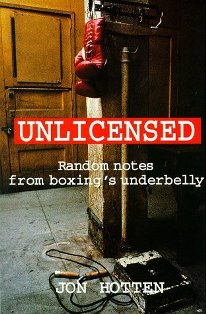 First published back in October of 1998, British writer Jon Hotten's book 'Unlicensed – Random Notes From Boxing's Underbelly' attempted to tackle the controversial subject of unlicensed boxing.
Jon Hotten is a journalist and author of a number of similarly themed books. Indeed, Hotten's approach to his writing is very much a half-and-half attack insomuch as a good half of the book's strength is with the first-hand research and knowledgeable insight that he brings into the subject; the other half being the energetic and enthusiastic style of writing that Hotten utilises.
Following a quick three page 'Acknowledgements', Hotten jumps straight into the grim scene of underground boxing, starting off with an unlicensed boxing match held in a deserted warehouse, kick-starting the book's first Chapter with plenty of gritty gusto. The first of the fighters is twenty-five-year-old Dennis the Dogman, who was duly named after he took on a fight with a pit-bull terrier and won it at the cost of having one of his hands mangled. The second fighter is a much older man named Paddy, who has plenty of experience at fighting under his belt. With both boxers in the ring, and the hefty crowd jostling for a good view of the fight, it commences with a burst of brutal energy that Hotten vividly depicts with the excitement of a man who has become utterly swept up with the raw-energy of the fight.
Bloody from the high-adrenaline action of the first Chapter, the book launches into Chapter Two, with the book's author tracking down and meeting forty-eight-year-old John Barnwell, who had at one time been an unlicensed boxer, but now trains them in ex-pro fighter Danny McAlinden's London gym. Barnwell was also willing to speak about the highly controversial sport – which was why Hotten was sitting in a pub with whim.
Barnwell introduces Hotten to many of the names in the London scene; talking of old times and notable stories from his past. Indeed, if even half of what Hotten reports about Barnwell's past is true – then the man has certainly led an interesting and eventful life if nothing else. But it's not long before talk moves on to the unlicensed underground boxer – Billy Heaney.
Employed as a doorman predominantly because he was an undeniable deterrent for trouble – Heaney had also become somewhat of an infamous legend on the underground boxing circuit. From here stories of both Barnwell's and Heaney's fighting career's come in quick succession. The popularity and money involved in these matches coming as one heck of an eye-opener for anyone who is not already familiar with this particular avenue of boxing.
From here the book leaps over to the MGN Grand Garden Arena in Las Vegas where Hotten takes the book away from unlicensed boxing and on to the story of the infamous fight of 1997 where Mike Tyson viciously bit a large chunk out of Evander Holyfield's ear. Hotten details the build-up to the fight, the key-players in the event and the rivalry between the two fighters. Promoter Don 'The Kid' King is further detailed at length during this chapter; with Hotten painting a damming picture of the man's ruthless greed and countless dubious actions which landed him in prison.
After that reasonably lengthy chapter, Hotten leaps back into the real hardcore unlicensed boxing; most notably with an interview with the vicious fighter Ray White. Here the chapter culminates in a bare-fist fight between Darren Lee and Ray White which gets the book's blood pumping once again.
Finally Hotten tracks down the Heavyweight champion from the '70s, Roy Shaw, sitting down with this affable old fella who talks of his time in the British Underground Boxing Circuit. A wealth of stories follow, with Hotten showing a great deal of affectionate respect for the man who had been a big name in the unlicensed boxing world back in his day.
As a whole, Hotten's book is certainly more of a combination of interlinked stories and interviews, rather than a complete overview of this shady underground sport. Whilst reading the book it does feel that Hotten's (perhaps somewhat purposefully) only grazing the surface of the controversial subject. From a handful of key players in the scene, Hotten has stitched together something that clearly has an angle it wants to press. And Hotten's underlying themes and unspoken agendas are always there, and quite brazen at times – but not always necessarily in a bad way. Okay, so Hotten's not exactly glorifying the sport, but he does show many of the characters and events in a particular light – detailed in a way which will fit in well for his own purposes of telling an engaging and interesting story.
Hotten's links between the licenced and unlicensed boxing worlds are also quite interesting to see; most notably where he draws certain parallels between Tyson and the underground scene.
However, you can't help but feel that Hotten forces whatever angle he wants to use when he is depicting any particular character or event. It's not hard to see how certain aspects are being shoehorned in certain ways to meet with Hotten's eventual goals for the book. Furthermore, this ultimately leads to the loose documentary style (which is utilised for much of the book) beginning to feel forced and ever-so-slightly fake.
That said, the book is nevertheless an interesting and insightful read. Hotten certainly knows how to keep his reader's attention, and often goes for the jugular with the adrenaline-pumping action rather than taking the reader through the real intricacies behind many of the events. And that's not a particularly shameful thing. It leads to the book being an entertaining and easy read – although one which may not be taken too seriously on its underlying factual basis.
The book runs for a total of 191 pages.

© DLS Reviews