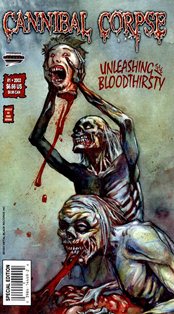 First published back in November of 2003, the special edition one-off comic 'Unleashing The Bloodthirsty' was originally included within US Death Metal veterans Cannibal Corpse's box set '15 Year Killing Spree'. However, the comic was also later included in the German Special Edition release of the band's ninth studio album 'The Wretched Spawn' (2004). The comic's story is based on the band's song 'Unleashing The Bloodthirsty' that was included on their seventh studio album 'Bloodthirst' (1999). Indeed, the only text in the comic are Alex Webster's gore drenched lyrics from the original song.

DLS Synopsis:
The dead lie dormant, buried away in their graves. Restlessly waiting, they anticipate those first drops of blood. The blood that with re-awaken them. The murderers. The despicable. And at last she comes to the graves. Slices open her wrists, pouring her life blood over the dark soil. Blood that seeps into the ground and down to the rotten corpses below. Blood that brings them to life. Frees them from their earthbound prison. Blood that lets them roam free once again. Free to kill without remorse. To mutilate and dismember. To roam the earth for blood…

DLS Review:
The artwork for the entirety of the comic was produced by the artist Vince Locke who has done almost all of the cover artwork for Cannibal Corpse's albums. And as such, the comic is absolutely drenched in violence and gore, with Locke's sketchy yet remarkably detailed pen and ink artwork telling the song's gruesome tale. Yeah, there's not really a hell of a lot of a plot or anything that even remotely resembles a storyline, other than simply reanimating a few nasty corpses with the sacrificial blood of a female follower, and then letting the slaughter commence.

The first half of the novel (pretty much to the frame) is given over to the blasphemous reanimation of the dead, and then the second half is just non-stop violence and mutilation in the name of blood. And oh my doesn't it get grotesque! And all along this gruesomely singular thread, the song's lyrics accompany the pictorial violence; the short sharp stabs of text on each frame further emphasising the savage brutality of the despicable atrocities being performed with reckless abandonment.

To be honest, it's an absolute corker of a read (it'll take you less than two minutes to get through). But it does the song and the band complete and utter justice. It's just gore and splatter for gore and splatter's sake. And that's what the band is all about. They bask in the violence of it all. They wallow in the blood and worship the gore. And that's just about the beginning and end of what you get here. This is quite simply Cannibal Corpse in comic book format.

The graphic novel runs for a total of 12 pages.

© DLS Reviews

A B C D E F G H I J K L M N O P Q R S T U V W XYZ VARIOUS NON-FICTION