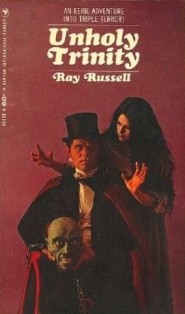 First published back in 1964, US author Ray Russell's 'Unholy Trinity' offers up three short stories of that hark back to the dark years of gothic horror and exist somewhere between homage and pastiche.

The book begins with a four page introduction by the author entitled 'The Haunted Castle: A Confession' in which Russell provides the reader with a brief insight into the three short stories included in the book; telling of his deep love for "good old aromatic baroque tales" and his inspiration for their subject matter. For a short little introduction this four page addition serves as a delightfully mood setting beginning for the delightfully gothic treats to follow.

Sanguinarius – 42 pages
Incarcerated in the Castle Csejthe, Countess Elisabeth Bathory ponders the horrors that she was led into after becoming the young virgin bride of Count Ferencz Nadasdy. As a mere fifteen year old girl, Elisabeth was swept up by the handsome and masterful twenty-one year old Count.

At first Elisabeth was overwhelmed with love and desire for the man. She basked in the warmth of his embrace and worshipped the deeply charismatic lover that he was. And following their marriage the young couple became near reclusive, wishing instead to spend all their time with each other. But when the Count is called away to war, Elisabeth is left alone in the great castle with just her loving maid Ilona Joo to aid her. But that all changes when the gypsie woman Dorottya arrives to offer her assistance. Their friendship quickly blossoms and the Countess' longings for her departed husband soon subside.

However, when the Count Ferencz Nadasdy returns to his castle, to be greeted by his loving wife and her new bosom friend, something more sinister starts to stir. And as the days pass by, a dark and blasphemous cloud begins to descend over Castle Csejthe and its inhabitants…

Written in the first-person-perspective of Countess Bathory herself, Russell offers up an intriguing alternative of the notoriously bloodthirsty tale of the 16th century Hungarian aristocrat Countess Elizabeth Bathory who later became known as one of history's most notorious mass murderers. Somewhat uniquely told from the Countess' perspective, the short takes on a daring breath of defence for the young woman's bloody actions, painting a picture of coercement and deflected blame. The story is ultimately resigned to a hellish tragedy, with a thriving gothic misery engulfing our narrator as the horrors spiral towards the Countess's pitiful end. Russell adopted a particularly 16th century prose to the writing of the short, giving an added historical and credible atmosphere to the storytelling and ultimately making a much more befitting and honest backdrop for this cruel and gloomy tale.

Sardonicus – 42 pages
Upon receiving a letter from his ex-lover Maude Randall (now Madam Sardonicus) whom he hasn't seen for over seven years, Sir Robert Cargrave decides to take up her offer of a fortnight stay at the now married couple's Castle in Bohemia. And so Cargrave leaves his home in London and journeys to Paris, then on to Berlin, until finally arriving at Castle Sardonicus. There the highly revered doctor is met by a downcast Maud who introduces her withered and deeply disfigured husband. Cargrave is told of the wealthy Polish man's misfortune in receiving a seemingly permanent ghastly grin across his face after exhuming his father's corpse for a winning lottery ticket that was buried about his person. In order to correct the terrible infliction that Sardonicus had received - akin to that of the 'Risus Sardonicus' found in extreme cases of lockjaw - the doctor will have to perform surgery upon the desperate man's face. Surgery that Sardonicus is very persuasive in receiving…

Russell's second tale in his 'unholy trinity' is certainly a bizarre one. The strange summoning and acceptance of Maude's invitation to Castle Sardionicus introduces what is to slowly become a surreal and creepily unusual tale. This time Russell adopts a purposefully nineteenth century prose to the writing, setting a quietly atmospheric mood that gradually enwraps the reader in a smothering case of odd misfortunes and utterly out-of-place demands. The warped nature of the tale works well with the gothic setting, creating an altogether chilling and frightfully compelling read.

The short was later made into the feature length film 'Mr. Sardonicus' (1961) which was directed by William Castle, in which Russell himself adapted the story for the screenplay.

Sagittarius – 42 pages
Back in 1909, when he was only around twenty-three years old, the Earl Terrence Glencannon (better known as Lord Terry) was living in Paris and enjoying the culture that the great city had to offer. Back then two names in particular ruled the theatre floorboards – Sellig and Laval. Lord Terry followed the performances of the two actors closely, having only just discovered Laval's dominating performances of frightful monsters and beasts of horror. In direct comparison Sellig was a man of the arts. Prone to classically heroic performances within highly revered plays. However, neither actor held each other in particularly high esteem. But they had their own connection. Their own unspoken bond. And it will take the gruesome slaughter of a young and innocent girl to reveal the true horror of the theatre…

Much more modern-day in feel and atmosphere, this rich and doting homage to theatre and the artistry of horror serves up a wickedly endearing storyline. Admittedly somewhat slow in getting underway, the storyline instead builds upon tight characterisation from our narrator – Lord Terry and the two highly revered but very much conflicting actors. Once all of our principal pawns in the plot are met and appropriately established, Russell begins embarking on an elaborate storyline that weaves in the plots of classic horror stories to form a magnificently celebratory horror story. Expect twists and turns that throw the reader from one conclusion to the next until the final curtain ends this triumphant homage to the dark arts.

The book runs for a total of 141 pages.

© DLS Reviews