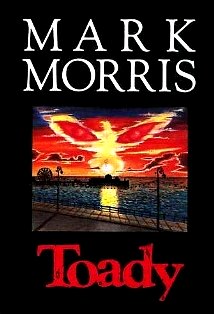 First published back in May of 1989, 'Toady' formed British author Mark Morris's debut novel. The novel was later released in the US in February of 1991 under the title 'The Horror Club'.

DLS Synopsis:
Not much really goes on in the sleepy seaside town of Starmouth. At least, so Richard Gardener, Robin Treadwell and Nigel Figg thought. But the three young boys had come together and formed an exclusive club for which they were currently the sole members. A club that brought together their collective love of horror. Whether it was in films, comics or books – they would regularly meet in each other's bedrooms and discuss the latest news and releases in their much loved genre. This was the Horror Club.

But all of that would change when they admitted a new member into their club. Equally as much of an outcast as the rest of them, Arian Tibbett, better known as Toady, was someone who was also regularly referred to as a 'geek'. But he also had a much more unsettling side to him. Unlike the other three boys, Toady delighted in the thrill of real life horror. He thrived on it. And with his new membership into the Horror Club, he brought with him ideas that they could all partake in.

And so, within a matter of days, the four members of The Horror Club found themselves in an old derelict house whilst the rest of Starmouth was settling down for the night. A abandoned and decaying property that had once been the scene of a number of vicious murders. Under Toady's guidance, the four boys would be performing a séance to draw upon any lurking spirits, trapped within the confines of this utterly macabre setting.

But what they thought was going to be just a stupid game, quickly turns dangerous when something dark and terrifying is unleashed from within the freezing cold property.

The boys return to their homes, aware that they have just done something terrible, but not sure exactly what. That is, until the nightmares begin. Suddenly the members of the Horror Club are being stalked by something powerful and evil. One by one they are being picked off by the shape-shifting entity that enters their nightmares and corrupts their waking lives.

All of a sudden, nowhere seems safe from this all-powerful, unrelenting force that has the members of the Horror Club in its sight. There's nowhere to run. Nowhere to hide. And as the boys are picked off, they are thrust into a netherworld, somewhere outside of everyday reality. Somewhere where they can never come back from, unless the entity that they unleashed is stopped once and for all.

Evil is truly upon the once quiet seaside town of Starmouth...

DLS Review:
Morris' debut begins with a solid setting of the scene, with the backdrop of the seaside community established with a particularly British atmosphere vividly etched into it. Indeed, the frostbitten temperate and the damp and dreariness of the whole setting seems perfectly fitting for a bunch of young school boys to feel bored with and so likely to dabble with something out-of-the-norm.

From early on, Morris sets down strong foundations for our four principal characters, paying particular attention to both Richard Gardener and Toady who will form our main characters in this tightly-knit supernatural storyline. Indeed, Morris doesn't end there with the characterisation, but instead purposefully continues with developing on their personalities throughout the tale, keeping the reader-to-character bonds alive and constantly evolving.

Much of the general premise behind the tale draws noticeable similarities to Stephen King's novel 'IT' (1986). Likewise, the tale does follow a small group of kids who are being stalked by a monstrous entity that can invade their dreams as well as their everyday lives. But the similarities pretty much end there. In fact, aspects of a malingering dark imagination can be glimpsed within the tale which starts to show leaning towards an almost Clive Barker style of writing.

What's particularly noticeable about Mark Morris' 'Toady' is the sheer unpredictability to the storyline's general course, which always keeps the reader on their toes as it races off in a new and nightmarish direction. Indeed, from seemingly out of nowhere, the direction that the tale was following will suddenly shift, jarring the reader out of their comfort zone time and time again. Nothing can be taken for granted in a Mark Morris tale. And nothing is left to stay quiet for too long.

There's also plenty in the way of 'horror' shoe-horned into the predominantly supernatural tale. Okay, so none of the scenes are particularly visceral or notably drenched in bloodshed, but Morris instead deals with a horror that can burst out of nowhere and devour its victims with a mindboggling display of nightmarish horror. Like with Douglas Clegg's novel 'Goat Dance' (1989) the real horror is in the twisted absurdity of the nightmarish illusions that the author projects onto his terrified characters. It's not about the slice & dice aftermath of a gory horror novel; it's about warping reality to something darker and a hell of a lot more sinister. It's about suddenly making nightmares real.

The tale ends in a suitably satisfying manner. Morris does manage to wrap the tale up in record time, even with the somewhat lengthy storyline preceding the finale. But it works. And it ends on a fitting (if not slightly tragic) note, which does pretty much does justice to the rest of the novel.

The tale runs for a total of 702 pages.


© DLS Reviews