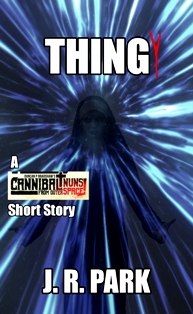 First published back in July of 2019, British author J.R. Park's incredibly limited edition novelette chapbook 'Thingy' was given an exclusive one day release to celebrate the launch of fellow author Duncan P. Bradshaw's novel 'Cannibal Nuns From Outer Space!' (2019).
Only thirty copies of the chapbook were printed, which went on sale at the 'Edge-Lit' horror, sci-fi & fantasy fiction convention, where Bradshaw's novel was launched. The chapbook has since sold out and remains out of print.
Movie Trailers:
Mandrill - 1 Page & 1 Full page 'Movie Poster'
After delivering a taped confession to the police, Kieran Palmer was given a fresh start. Although, his old boss wasn't quite so happy about Kieran ratting on them. So he'd left a nice little surprise for Kieran whilst he was showering. A vicious mandrill, loose in his apartment…
One of my favourite short stories by author J.R. Park was the maniacal adrenaline-overload of high tension 'Mandrill' which appeared in the 'Beasts: Genesis – A Dark Ethology Volume One' (2012) anthology, and then later within his 'Death Dreams In A Whorehouse' (2017) short story collection. It's the sort of story that could be turned into a fucking awesome film. A messed-up cross between 'Hardware' (1990) and 'Life Of Pi' (2012). The type of crazy-ass movie you'd accidentally happen upon late one Friday night on Film 4 – and just become instantly absorbed the minute it begins. Here we have what the film trailer might look like. Justin – make it happen man!
Thingy – 63 Pages
DLS Synopsis:
Gary "The Screw" Cork was back in the porn game. It'd been a number of years since he'd last been in a film, shooting his load over some poor lass' barnet. He'd tried making his money through the distribution and rights of his movies, rather than just starring in them. But with the advent of the internet and all those freebie jerk-off sites, his once booming booty-empire had dwindled away.
This was his first porno since his return to the business. A bit of a niche one too. His old mate Johnny C was directing the film, and for old time's sake, he'd given Gary a go. 'Dirty Habits' – a jizz-heavy fuckfest with Gary playing the lead role of Father Cork at a sex-starved nunnery.
The shooting had been going relatively well. After quick ciggie, Gary had gone back inside the old chutney factory they'd been filming within, to find Johnny C no longer his usual lively self. In fact, Gary found himself staring down at his once good friend's mangled corpse. What sort of bastard could do such a thing? If the murderer was still in the building, Gary would see to it they'd not leave alive…
DLS Review:
Duncan P. Bradshaw's wacky comedy-horror novel 'Cannibal Nuns From Outer Space!' (2019) delivered a completely off-the-wall B-Movie story, cramming in more crazy antics than you would ever have thought humanly possible.
Park's short story contribution to the 'CNFOS' universe is a slightly different kettle of fish, but still very much on-the-ball and in keeping with the principle ideas behind Bradshaw's novel. You see, where Bradshaw would cram ten or twenty off-the-wall jokes onto one page, Park's approach to the humour is noticeably far less of an avalanche of wacky humour and instead much more sporadic. There are jokes, and jokes-a-plenty, but they're utilisation is far less showering and more of a toe-dipping. Although there are moments of absolute comic genius in the novelette. The stagename for the porno-nun 'Sister Fister' being a prime frigging example.
The other aspect to Bradshaw's writing style which Park's ensured he kept true to, is with the repeated incorporation and influence of pop culture within the tale. Bradshaw does this all the time, but it's particularly prevalent within 'CNFOS'. Park's story continues with this theme, most notably with the bizarre re-writing of the "blood sample scene" from John Carpenter's 'The Thing' (1982), which when modified for identifying porno-actresses against insectoid alien invaders, is nothing short of utterly inspired lunacy.
Indeed, these particular elements behind the creation of the story are its very building blocks. However, the foundations which Park lays down is probably where the real genius lies. We're talking about the very idea behind this whole story. The premise of a low budget porno shoot involving nuns, which coincides with the arrival of our favourite flesh-hungry Cannibal Nuns from Outer Space.
You've got it. Bring that sleazy-ass B-Movie bloodbath the fuck on! The short story is just as good as it sounds. The premise is inspired, and Park does it absolute justice. There's blood and guts and outlandish ideas being thrown around all over the shop.
Yeah, as previously stated, it's nowhere near as full of wackiness as Bradshaw's work is. However, had Park done so, it probably would have meant him completely abandoning his own writing style, rather than simply adapting it to try something different. This would have lost the strengths that the two author styles bring to the table. The end result of which works perfectly. It's the best of both worlds. Hilarious but gritty. Like nazi-dwarf porn.
Park's 'Thingy' a story that complements and expands upon Bradshaw's original B-Movie madness impeccably. It's only relatively short, but like Bradshaw's style, manages to cram in a fucking bucket load and more. There's so much to like within this novelette-length short story.
A truly brilliant offering.
Bonus Material:
Author's Commentary: 'I Had No Choice' – J.R. Park – 7 Pages
Author Justin Park provides a very open and honest account of the reason why he decided to write 'Thingy'. In it he talks about the incessant headaches he suffers from, stunting the output of his writing, and divulges how he adopted a completely new-to-him style of writing, which in itself proved to be creatively therapeutic. It's a very honest and frank account, and one that just makes you the reader, admire the work of the author that much more.
Outro: Duncan P. Bradshaw – 8 Pages
Author of 'Cannibal Nuns From Outer Space!' (2019) – Duncan P. Bradshaw – provides a short outro to conclude the chapbook with. In it Bradshaw slices and dices Park's offering, giving a praise-filled examination of what Park has achieved with his own addition to the 'CNFOS' world. The examination shows just how well the two gents behind these two stories, know each other. They're good mates. Two stand up guys who understand so much about how each other works. It's a fantastic outro. The sort of shit that puts a lump in your throat (not your pants).
The chapbook runs for a total of 84 pages.

© DLS Reviews