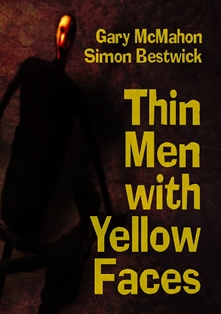 First published back in September of 2012, Gary McMahon and Simon Bestwick's story 'Thin Men With Yellow Faces' formed the second offering in the 'This Is Horror' quarterly chapbook series. The chapbook was limited to just 250 signed and numbered copies.
DLS Synopsis:
Gabrielle Holmes worked for the Child Protection Service. It was her job to locate vulnerable children and take them away from those that are mistreating them. A job that had brought her back to the notorious Loudon estate, where she had reason to suspect a young girl named Heather Mayhew was being abused.

However, the reception she receives at the Mayhew household is far from welcoming. After being refused access, Gabby tries the police, but finds their sense of urgency in the matter lacking. But when she learns that the teacher who informed her about the possible child abuse has been found dead, Gabby's fears for the young girl turn to desperation.

But no one seems to share Gabby's frantic concerns. Concerns that soon lead to drastic action, when she sees a group of thin yellow-faced men exit an old-fashioned car parked outside her home. Thin men with yellow faces that are coming for her. Thin men with yellow faces who want their terrible secret to stay a secret…
DLS Review:
Starting out with a gritty 'child abuse' vibe, the tale instantly sparks off a feeling of unease, incorporating such a tough and deeply emotive subject matter. Indeed, from within these initial few pages, McMahon and Bestwick's story already starts getting under the readers' skin; cranking up the tension in carefully punctuated stages with each worrying discovery.
But it's when the real meat of the horror story is unveiled in all its terrifying glory that the author's really come into their own. With a touch of Clive Barker's '
The Midnight Meat Train
' (1984) about it, the story's authors joust their way through a hellish abyss of visceral horror – bringing together a tense and taut thrill-of-a-ride, to a wonderfully rightful ending.
Furthermore, in the space of just one chapbook, McMahon and Bestwick have created some of the most monstrous deviants in their Carnificiers. Indeed, the sheer blood, bone and gristle of the final half of the tale would make the story feel completely at home in the likes of '
The Books Of Blood
' (1984-1985). For absolute get-under-your-skin-and-yank-out-the-blood-drenched-meat horror brutality, you can't go far wrong with this short, sharp, sinister offering.
The chapbook runs for a total of 33 pages.

© DLS Reviews