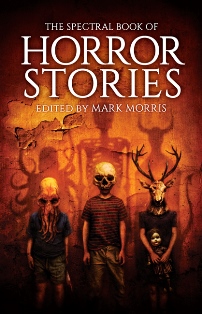 First published back in September of 2014, Spectral Press' anthology 'The Spectral Book Of Horror Stories' was compiled and edited by British horror author, Mark Morris, whose hope is to make the anthology an eagerly anticipated annual publication celebrating the very best of short horror fiction.
On The Tour – Ramsey Campbell
– 17 pages
Stu Stewart knew that he was still a legend in many people's eyes. After all, he'd been the drummer in 'Scotty And The Scousers'. In fact, Ringo himself had once referenced Stu as his favourite drummer. That sort of fame couldn't be forgotten. So when he overheard a tour bus guide pointing out his home as they drove passed, it only furthered his deeply-established conviction of fame. What he couldn't understand was why his employer at Vin's Vintage Vinyl, wasn't at all impressed by the whole thing. Surely having a rock legend working in his record shop could only help boost sales?...

Kick-starting the anthology we have none other than the highly-respected horror veteran himself, Ramsey Campbell. However, it's perhaps a bit of an odd short to choose as the opening tale for a horror anthology; with the short actually having very little in the way of what you would call 'horror' in it. In fact, the story has more in common with the character of Les McQueen from 'The League Of Gentlemen' (1999 – 2002) than it does anything that will terrify, chill or disturb you. Furthermore, there's plenty of black comedy and cringe-worthy desperation in the short, which only goes to further its similarities to that of the hapless Les McQueen. That said, the short reads well, has some superb dialogue, and although quite predictable with its supposed 'twist ending', is nevertheless quite a smirk-inducing entertaining read.
The Dog's Home – Alison Littlewood
– 10 pages
When his Aunt Rose is taken in to hospital, Andrew's mother tells him he needs to take care of her house and her dog and visit her in hospital - because that's what family does. Aunt Rose had never been someone that Andrew felt particularly close to. She was cold and uncaring. So he was surprised when he found that the dog he was to look after was one that was full of life and affection. Sandy the retriever was everything that Andrew loved in a dog. But it's true what they say, sometimes a dog can break your heart…
This next offering is possibly the very definition of a slow-burner. Not necessarily in any bad way at all, it just takes a heck of a lot of time to get going. But that's the type of story it is. It needs a firm base of characterisation and an understanding of the affection felt towards the dog in order for the ending to work to full effect. And it does. Kind of. But if you've read any other stories that are purely focused upon this sort of impactful ending, then you'll be anticipating the twist finale from a veritable mile off. And to be quite honest – I'd not long read Grace McCleen's '
The Offering
' (2015) which is pretty much just an expanded and thickened-out version of this. Still, not a bad little read at all.
Funeral Rites – Helen Marshall
– 18 pages
Nora Higgins was after a place to live. Nothing fancy, but enough to call home for a short while. She'd not had much luck with choosing accommodation in the past, so she had come to be fairly apprehensive about finding such places. But the one she'd found, and had checked out by a friend, seemed just fine for her needs. Although the landlady, Mrs Moreland, was a little odd. Nothing bad or enough to put her off the room she was hoping to rent. But enough to make her not entirely at ease. Especially with the welcome reception from Mrs Moreland's niece being downright frosty. And Mrs Moreland herself clearly pinning the recent loss of her son. But Nora was adamant that this is where she wanted to stay. She'd just keep to herself is all…
Another slow-burner here. Like with the previous offering, Helen Marshall's short spends the vast majority of its relatively short page count setting the scene and establishing the quirkiness of the characters. Marshall injects a strange underlying sense of something being not-quite-right with the situation from early on, and ever-so-gradually builds upon this until the weird jerk of the final twist. It works to some degree. But you can't help but feel that you're perhaps missing some key piece to a much larger picture.
Slape – Tom Fletcher
– 4 pages
Eel had been taking him around the milk round, showing him the houses he'd be delivering to and the various ins and outs of the route. And of course that included Mr Bacon's property, with those tricky slate slabs that formed a narrow, uneven path through the wild thicket of his overgrown garden. All of which led up to the old man's decrepit back door. He'd been warned about those paving slabs. They could get slippery as hell, and cause some nasty falls for anyone carrying milk bottles along it…
I do love a story that's a bit edgy and weird. And that exactly what Tom Fletcher's contribution is. Okay, so it's short and sweet and doesn't exactly venture far from where it ultimately plans to go. But its compelling reading, mostly due to Fletcher's ability to capture the atmosphere of the piece so perfectly. You feel like you're on the milk round with these guys. You can picture the rundown garden and hazardous paving slabs. And you can't help but wince when the inevitable finally happens.
The Night Doctor – Steve Rasnic Tem
– 13 pages
Sam and Elaine hadn't long moved to their new home. They were new to the area and hadn't really gotten to know anyone yet. But Elaine was determined to start the ball rolling with becoming acquainted with their new location. Even in their later years of life, she still wanted to know those around her. To be a part of the community. Part of the neighbourhood. And as Elaine went about her business settling in, Sam's mind was cast back to the stories his mother used to tell him. When he was feeling ill, she would tell him to get some sleep so that the Night Doctor could come and pay him a visit. It was an unnerving notion that still haunted him to this day…

This is a bit of an odd one. It's a strange little story that doesn't really head in any obvious direction, but flutters around with some eerie imaginary of a 'Night Doctor' that the elderly character of Sam remembers from when he was young. Indeed, the whole Night Doctor angle in the story is probably its only saving grace. Steve Rasnic Tem paints a picture of a sort of seventeenth century Plague Doctor figure who lingers in Sam's subconscious. Unfortunately, the rest of the story is decidedly lukewarm, with little of interest or of any discernible point to it all. Indeed, other than the creepy-ass Night Doctor, the rest of the short is pretty much a slow-paced mish-mash of an elderly couple's everyday lives.
Dull Fire – Gary McMahon
– 9 pages
Every woman he'd known had left him for some reason or other. However, Lisa seemed different. For one thing, she'd stuck around. Furthermore, she'd shown interest in him. Proper interest. And now he felt at the point where he would finally talk about his past. About how his father beat him regularly until he was sixteen and big enough to fight back. He still wore the scars to remind him of those days. Both physical and mental. But most frustrating of all was that even now, after his father had died, he was always there. Plaguing him. Following him around. He couldn't seem to get rid of him. The one opponent he couldn't defeat. But Lisa seemed to care. She seemed to understand. Maybe it was because she too knew what it was like to suffer at the hands of a parent…
Short and sweet, Gary McMahon's offering is one brimming with intrigue from the outset. Our unnamed protagonist is one who clearly has quite some psychological issues to deal with. Whether the presence of his dead father is more than just a psychological manifestation is open to the reader. In fact, it's one of those stories that requires quite a bit of the reader bridging the purposeful gaps that have been left. And it works very well with this. Coming to a well-delivered and thought-provoking twist ending that fits in perfectly with the haunting chills of the rest of the story.
The Book And The Ring – Reggie Oliver
- 21 pages
Jeremiah Staveley had been visiting Mother Durden in secret for some time now. He would venture out to her cabin in the woods below Cutberrow Hill, and there she would pass on to him her many ancient sayings and incantations. However she had one secret. It was the secret of her heart. One that could bring about it great profit and encompass all one desires. It all came from one book. The book of the Devil. It was an ancient volume that from the moment Mother Durden mentioned it, Jeremiah knew he must possess the book's powerful secrets. And it was a tome that he would go to great lengths to find…
Written in a faux-Olde English style in order to add a feeling of authenticity to the eerie tale, Reggie Oliver's short is one that demands the full attention of the reader throughout. Indeed, if you don't maintain a full concentration on the story's text, you'll find it all too easy for your mind to start to wander, and before you know it you'll be lost within a quagmire of Shakespearian Olde English without a clue of what's going on. Nevertheless, it's worth keeping yourself on track with the story, as beneath its 'The Lord Of The Rings' (1954-55)-esque exterior, lies the beating heart of a surprisingly creepy horror story. It's Tolkein meets M.R. James nestled within the sixteenth century.
Eastmouth – Alison Moore
– 8 pages
Peter had brought Sonia back to his hometown. The fog obscured much of the Eastmouth. But what Sonia could make out from it was a quiet and slowly decaying seaside town; one that clearly hadn't tried to keep up with modern times. Peter's mother greeted them as if they had both come home. It was something that Sonia felt uneasy with. This wasn't her home. She was only visiting for a short while. After all, she had other plans. She was waiting to hear back about a job she'd just been interviewed for. And if that went well, she would save up a little cash and fly out to Las Vegas. But it was a plan that didn't sit well with the Webster's. After all, who needs Las Vegas when you have Eastmouth promenade and all the other delights that the town has to offer?...
This is a surprising highlight of the anthology. Written in a purposefully vague and almost dreamlike fashion, the story gives off a 'The Wicker Man' (1973) meets 'The Shadow Over Innsmouth' (1936) vibe. And I have to be honest, the constant undercurrent of unease that Moore has executed to such perfection has created one thoroughly unnerving story which somehow manages to end on an even creepier note. And what works so damn well about the short tale is it's not what Moore says in her story, it's what she's not saying. It's that unspoken fear. The thoughts of something that's not quite right that lingers at the back of your mind. It's one of those tales that's likely to pay a visit to you in the quiet of the night. And you can blame the author for allowing her tale to creep its way into your head during all those chilly sleepless nights.
Carry Within Some Small Sliver Of Me – Robert Shearman
– 15 pages
When Beverly Roberts looked in the mirror she could clearly see bits of her parents in her. Every part of her face was made up from her parents. And she loved it. Looking in the mirror it reminded her of them. And oh, how she loved them. Beverly had friends at school, although not many and they weren't very close. They all thought she was a bit odd. But that was okay with Beverly. Because for an eleven-year-old girl, she felt she had everything she needed. Two wonderful, loving, parents who looked after her. But then the letter arrived. Beverly hardly ever received letters, so she was excited to see what she had been sent. She hoped for a long letter, with plenty to read through. But what she got instead was just one sentence. But it was enough to tear her whole world apart. "You should know this, your father has died"…
Wanna feel just that little bit uncomfortable? Well author Robert Shearman has a short that's pretty much guaranteed to play with your mind. Set around the principal character of eleven-year-old Beverly Roberts, it's an altogether strange little story that plays with the affection and devotion she feels for her parents, and then pulls apart the very fabric that has made up this love. However what you won't see coming is where Shearman plans to take his tale. From devastating emotional pain to some mighty-messed-up bizarre madness – expect the cruel and utterly unexpected here. Not the most joyful of reads, but it has some strange and troublingly poignant points lurking in there which will play with your mind aplenty.
The Devil's Interval – Conrad Williams
– 14 pages
Trevor Fleckney had always wanted to be a guitarist, but life had gotten in the way of his ambition. However now he had the time and money to finally take up the electric guitar. Okay, so he was middle-aged and living alone. But the guitar was a way in which he could be himself. A way of expressing himself. Venting those internal emotions and finally opening up to the world. However, Fleckney was finding his development with the guitar frustratingly slow. Furthermore, at his work they had started making fun of his musical ambition. It was all beginning to get to him. But without being able to play the guitar to the degree he desperately wanted, he had no release for his pent up anger. He needed this. He needed to learn to play real bad…
Hmmmmm…to be honest I'm not 100% sure what to think of this one. The writing is good, the characterisation tight, well-formed and believable. Pacing is also pretty much spot on. It's just not really much of a 'horror' story. Yes, there is a certain horror element that slips its way into the tale, but we're only talking about a quiet entrance as the short tale draws towards a close. Other than that, this is just a story about a middle-aged loner who's finally taken up his lifelong ambition to play the electric guitar. Furthermore, the story seems to build towards something that never really comes to fruition. In fact, it ends so abruptly, I had to check I hadn't accidentally skipped a page. As I said, well-written, but not really the most compelling of horror stories.
Stolen Kisses – Michael Marshall Smith
– 4 pages
In her eyes she hadn't really done anything wrong. How could you steal a man from someone anyway? Even if it was the husband of her so called best friend. She didn't feel bad about it. Why should she? After all, she had fallen in love with him first…
A short one here. More of a piece of flash fiction than a short story. And author Michael Marshall Smith doesn't hang around with his offering. In a nutshell, it's simply the thoughtful ponderings of a woman who's contemplating what she's done. No remorse. No regret. Just reassuring herself that she's done no wrong. The sudden, last minute twist at the end is as expected as wet weather on a British camping holiday. But it's still quite entertaining. And it's not exactly a hefty investment of your time. Short and sweet and full of intrigue. And it keeps a good momentum going. So not bad at all.
Cures For A Sickened World – Brian Hodge
– 20 pages
Derrick Yardley woke up to find his ankles were laced together with zip-tie cuffs. Better known as Mr Sunshine, Yardley was a reviewer who had built his whole career on ripping people's work to shreds. Whatever it was that he was reviewing, he would invariably end up taking chunks out of it. Belittling the efforts of those involved. Cutting them down without even putting the time or effort into seeing what it was they actually had to offer. Ultimately it was why he was in this predicament now. Standing over him was the towering figure of Tomas Lundvall (aka Ghast) – lead singer and the main driving force behind the Black Metal band Balrog. Although Lundvall wasn't alone in this kidnapping. He had his road manager with him. But that wasn't going to stop the inevitable. Mr Sunshine was a plague on the creative world. And Lundavall planned to set the record straight…
You've gotta love a story that has the whole Black Metal thing going in it. Adam Nevill utilised the Black Metal kvlt obsessiveness in his novel '
The Ritual
' (2011) and it did him proud. Now Brian Hodge has done the same with his short, bringing to the table his own Gaahl type of character – dominating, intimidating and powerfully imposing. And this character is mighty pissed with the reviewer he's kidnapped. You can kind of guess where this is going. It's certainly not going to be much fun for Mr Sunshine. However, what's perhaps most intriguing about the story is how Hodge tells it from behind the passive eyes of the unnamed road manager – seen via a sort of 'outside observer' who's existence if only vaguely there. It's odd, but it works well. In fact, the whole damn story works well – especially the sly little twist ending. Nice one.
The October Widow – Angela Slatter
– 14 pages
After Gil had gone, and after his wife had left him, it had taken Cecil Davis seven years to track the woman reasonable for all of his misery down. At last he had her in his sights. In the small town of Ashdown, he had taken up a neighbouring property and kept his cameras permanently fixed on where he knew she was now residing. She'd taken on the name Mirabel Morgan and had already attracted the attention of a young gardener. Cecil would do what he could for the lad. He was someone's son after all, and Cecil had no wish for another father to go through what he had. Cecil would see to it that this woman's time would be coming to an end very, very soon…
I have to admit I don't know what to make of this tale. It's certainly intriguing. And author, Angela Slatter's drip-feeding of information surrounding Mirabel Morgan and Cecil Davis and why they are where they are works strongly in the tale's favour. However, I can't help but feel that the overall construction of the story is offputtingly clumsy. That's not to say that Slatter can't write. Far from it. Her story sings with an intriguing and naturally compelling prose. But it's the loose fit to the jigsaw pieces that is ultimately the tales undoing. Furthermore, the ending feels too sketchy and without enough substance driving the characters to its final goal. It's a real shame, but I'm sure Slatter has plenty more devious tales up her sleeve.
The Slista – Stephen Laws
– 4 pages
Svival had been telling them about The Slista for as long as they could remember. The Slista was the only thing they were afraid of. The five of them lived in the under-the-ground place in the Big House. They were family. They looked out for one another. But they had to stay very quiet. If they made noise, people would hear and tell The Slista. And then they would be taken away. So they had to stay quiet. They had to stay hidden. For the good of the family…
Written from the perspective of one of the youngsters hiding away in the basement of this 'Big House', Stephen Laws' short is quiet a poignant and thought-provoking read. The story is purposefully delivered in bad semi-illiterate English, as if written by this youngster who has learnt to read and write himself from whatever books he could get his hands on. Laws utilises this broken English to full effect; only as you begin to work out the actual situation, do you gradually begin to piece the rest together. It's a sad tale. And one that leaves a cold and bitter taste in your mouth as the true magnitude of the horror playing out is revealed.
Outside Heavenly – Rio Youers
– 27 pages
From the pillar of black smoke that rose up into the sky, the townsfolk of Heavenly could see that the Roth place was burning. Forty-three-year-old Police Chief John Peck was one of the first to arrive at the scene. Once the local Fire Chief had gotten the fire out, Peck cautiously made his way into the smouldering remains of what had been the Roth family's home. There he found the headless and naked remains of Beau Roth; hung by his arms from a support beam. The stomach open from sternum to groin and the entrails strung around the room; all red and blistered but incredibly not burnt to a crisp. Outside part-time cop, Tyler Bray, discovered Beau's daughter, Mary Roth, covered in soot and grime and lying unconscious in the long grass out back. Upon coming round, Mary had little to say. But the few words that did part her lips would send a shiver down Peck's spine. She said it was the devil's doing…
I'll get straight to the point - this story is excellent. Author Rio Youers delivers a tight, well-executed and utterly compelling read; crammed to the rafters with intrigue and smouldering tension. Youers' writing style is immediate and instantly engaging, his storyline is suitably fast-paced and containing enough momentum to keep the tale pounding onwards without the need for any additional layers. Furthermore, the characterisation, even within the confines of its reasonably short length, is absolutely spot on. For a dark and occult-heavy tale, laced with tension and mounting suspense, and one that's not afraid to get its hands dirty with the blood-drenched grime of harsh vengeance, this short has it all. One of the undoubted stand-out tales of the anthology. Rio Youers is certainly one to be keeping a watchful eye out for.
The Life Inspector – John Llewellyn Probert
– 12 pages
Franklin Chalmers had done rather well out of life. He had a nice house in quite an affluent area of Bristol, a loving wife, and two well-brought-up young kids. He worked hard, and had reaped the rewards from his work. However, when the doorbell went and he was confronted by a smart looking gentleman at his door, Franklin wasn't entirely sure what to expect. He certainly didn't think he'd be told that he was being visited by a life inspector. Someone who was there to evaluate his life. The business card declared the man was Mr M Norton from the HM Life Inspection Department. Surely this was a joke? An elaborate con of some sort! However, when Franklin refuses Norton entry to his home, he is shown a photo of his wife and kids tied to chairs in the darkened confines of what looks to be someone's garage. Franklin realises he has no choice but to let this man into his home. He has no choice but to undergo this life inspection…
John Llewellyn Probert writes with originality. Marrying dark comedy with hints of horror and bold characterisation – Probert's stories stand out as instantly captivating and wonderfully engaging. There's absolutely zero padding, just straight to the bones of the matter, with just enough attention to establishing the characters to ensure their presence has the impact required. And 'The Life Inspector' is no exception to this. It's a colourful and instantly engaging read – laced with dry humour and an undercurrent of something that's not quite right. It works damn well. Entertaining and witty from start to end. You just can't help but love it!
Something Sinister In Sunlight – Lisa Tuttle
– 16 pages
Los Angeles' constant sun without the respite of a cloud or two stuck Anson Baker as unnatural. He simply couldn't get used to LA. Furthermore, now that the decent acting jobs were drying up, he had begun to pine for London. He missed his partner. He missed having good roles to play. He wished he'd never gone back to LA. All his agent could find him now were the same sort of parts. In fact, since playing the character of Cassius Crittenden, all he'd been offered were similar roles playing serial killers. He was bored of it. He was more than just the face of a psychopath. Luckily he only had a few more days left. One last meeting, and then he'd put it all behind him and go back to London. But then he bumped into Elissa Condé. She seemed friendly, although a tad obsessive. Still, what harm could come from one evening meal at her house before he left LA for good?...
Washed-up actor meets obsessive fan. What could possibly go wrong? Okay, so the concept's not exactly bursting with originality. Nevertheless, author Lisa Tuttle delivers a compelling story that draws the reader into the life of Anson Baker at a time when things are on the downturn for him. For the first half or so of the short you're not exactly sure where Tuttle's going with the story. Direction's certainly not clear. However it still flows with a natural ease. And then the character of Elissa Condé is introduced and gradually the whole dynamic of the story shifts. From our position it's now pretty darn obvious where Tuttle's going with it. But this doesn't take away from the impact of the surprisingly hard-hitting finale. Original? Nope. Impactful and entertaining? Damn right it is! And the ending's well worth the wait.
This Video Does Not Exist – Nicholas Royle
– 17 pages
He'd woken up, gotten out of bed, and looked out of their bedroom window at the grey sky over Manchester. It was just another day like any other. Going into the bathroom he glances in the mirror at his reflection. And that's when his day suddenly falls apart. Everything in his reflection is as it should be other than one critical factor. He has no head. Where his head used to be, where it's always been, there's now just nothing. Not even a stump. Nothing. Upon leaving the bathroom and delivering a cup of tea to his wife, she says nothing of his missing body part. It's as if she can't see that it's missing. Only him. And as the day progresses, he has the same lack of response to his missing head from others. This is all just too much for him. How the hell can this have happened?...
Weird weird weird. Nicholas Royle has penned a particularly surreal story that would perhaps be more at home in the likes of 'Weird Tales' (1923 – 1954). Royle doesn't really take his tale too seriously, and shovels plenty of black comedy into the preceding story. And not only is it odd in its premise, it also has very little else in the bare-bones mix, other than watching the unfortunate university tutor try to come to terms with what the hell is going on. That said, the short tale takes a distinct left-turn as it edges towards its oddly abrupt ending. And it ultimately concludes on a surprisingly sombre and thought-provoking note. Unnervingly strange and very purposefully cold. One thing's for sure - Royle knows how to mess with his readers' heads.
Newspaper Heart – Stephen Volk
– 51 pages
Iris Gadney worried that her eight-year-old son, Kelvin, didn't really have any friends. And so when Gareth Powell turns up on their doorstep asking if Kelvin could come out to the quarry to help make a bonfire in preparation for Guy Fawkes Night, Iris can't help but feel a little relieved. But then her husband, Des, overhears the conversation and puts his foot down. He's not having his son go up to the old quarry and become a target for the bigger kids' mischief. And with that, the chance of Kelvin having fun with some potential friends is over. However, when Kelvin sees a scruffy made-up guy that some of the local kids have made for bonfire night, his eyes light up with the fun of such a fabricated man-sized doll. Furthermore, when his mother tells him they can make up their own one, she sees a sudden eruption of joy in her son. And so, as soon as they get home, they get to constructing their very own guy out of Des' old clothes. However, when Kelvin arrives home from the shops with a shiny pink mask of a baby's face for his guy, Iris starts to feel uneasy. Why would Kelvin choose such a mask in favour of the traditional Guy Fawkes face? And as the days go by, Iris and Des begin to grow increasingly concerned about their young son's unhealthy attachment to the newspaper stuffed figure. There's something that's not right about Kelvin's guy. And it's beginning to make them feel very uneasy…
Oh yes this is a good one. It's a bit of a slow-burner, with author Stephen Volk taking his time to establish each member of the Gadney family. After all, this is very much a character-driven tale, with the bonds between the three principal characters, their interaction with each other, and elements of their past, all making up the vital building-blocks for how the story is to progress. And Volk executes this perfectly. You can't help but feel for young Kelvin. You can understand his devotion to his newspaper stuffed guy. The emotional turmoil he feels, under his somewhat strict father's rule. It's a sad tale that purposefully pulls on the readers' heartstrings. And as it draws closer and closer to the inevitable finale, a second, almost hidden thread gradually begins to emerge that sends shivers down your spine. And if that's not enough, just you wait for the heart-stopping twist ending. What a story to finish the anthology with. Utterly superb!
The anthology runs for a total of 303 pages.

© DLS Reviews

A B C D E F G H I J K L M N O P Q R S T U V W XYZ VARIOUS NON-FICTION