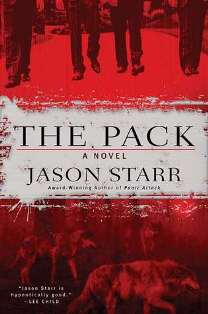 First published back in June of 2011, 'The Pack' formed US crime writer Jason Starr's first flittering with the dark fantasy/horror genre. The novel was later followed on by a sequel entitled 'The Craving' (2012).

DLS Synopsis:
Simon Burns was pretty much convinced that a much needed promotion was finally in the bag. He'd been working at the Smythe & O'Greeley advertising agency for a number of years now and was on the verge of securing a very lucrative new client for the firm. But when his boss, Tom Harrison, breaks the news that they were making him redundant, Simon's whole life takes a sudden and dramatic nosedive.

After returning home to his wife, Alison, and their three-year-old son, Jeremy, the couple decide that they should just be able to scrap by if they make a few financial sacrifices (most notably losing Jeremy's child-minder Margaret) and having Simon as a stay-at-home dad. Apprehensive about his new role in life, Simon quickly finds that looking after their three-year-old son is quite a day-to-day struggle.

Meanwhile, the couple's marriage is already on rocky ground. For a long time they haven't been spending any quality time with each other, and when they are together, there is virtually no intimacy between them. Attending regular counselling sessions with their psychotherapist, Dr. Hagan, they had recently started to make a concerted effort to spend more time with each other. But with Simon's redundancy a new strain is put on their already weakened relationship.

However, when Simon takes his son to a different playground one afternoon, he becomes friendly with a tightly-knit trio of fathers who come to that particular park most days with their sons. Instantly having their fatherly roles in common, the three men - Michael Hartman, Ramon and Charlie – soon welcome Simon into their small group.

But there's something noticeably different about the three men. They give off an air of confidence and irresistible charm. Physically the three men are attractive, stylish and undoubtedly very fit. Nevertheless when Simon is invited to a 'guys-night-in' at Michael's old family brewery, Simon immediately accepts the offer.

However, the following morning when Simon wakes up naked in the middle of a wooded area deep in New Jersey, with absolutely no memory of how he got there or why he's naked, Simon's friendship with the three dads quickly goes sour. Convinced that he was drugged when he was given some of Michael's special 'family beer', Simon plans to have nothing more to do with the guys. But things go from bad to worse when he finds out that his old boss, Tom Harrison, was killed that very night, supposedly haven been attacked by a vicious wolf, literally metres away from where he woke up. With worrying splatters of blood on his clothing, and vivid nightmares of a vicious bestial mauling haunting his dreams, Simon is suddenly very aware that things are far from right here.

And what's more, he thinks he may have had something to do with the death of his ex-boss. But that brings up many more horrifying questions. Ones that all come back to one thing – how could he have killed his ex-boss for it to look like a wolf was responsible?...

DLS Review:
Jason Starr is so obviously a crime writer. This first attempt at horror fiction still clings on to a very noticeable cloak of 'whodunit' and hints of a shadowy criminal underbelly. That in itself is perfectly fine. It adds mystery and intrigue to the storyline. However, what's sadly lacking from the very outset is any form of gripping pace or excitement.

Now don't get me wrong, I enjoy a good tension-builder, with a slowly mounting horror that feels like it's ready to pounce on the reader at any given moment. When delivered well, that nail-biting suspense can absolutely make a novel. Alas, Starr really misses anything even remotely resembling growing tension by an absolute mile. Instead the reader is subjected to one of the slowest, most mundane and irritatingly meandering start-ups to a horror novel that you are likely to encounter. The whole werewolf vibe is very obviously in the pipeline from almost the word 'go', however Starr holds off from delivering anything along the werewolf trail for what seems like an absolute age, instead flouncing around with the intricacies of characterisation and 'setting-the-scene'.

Starr goes for the inclusion of a particularly erotic edge to the tale, slipping in vast swathes of sex and carnal lusting, with a particularly metro-sexual theme accompanying much of the characterisation. Veering closer to a more smutty modern-day vampire-esque storyline with its constantly erotic undertones, the tale begins to feel like it would be more at home with the likes of Amarantha Knight's 'Darker Passions' series.

Accompanying a particularly American writing style is a painfully cheesy dialogue, with everything being endlessly heralded as "great" by our plastic-cast characters. Although a vast wealth of time and energy has been put into developing all of the characters, Starr still fails to make any of them even remotely believable. They all seem so utterly fake, like puppets playing out their individual roles in a gratingly slow story.

Forget anything close to an updated 'Werewolf By Moonlight' (1974). Starr's 'The Pack' misses absolutely every chance at throwing a punch, only to flap about with a mildly action-filled finale and conclude with one of the weakest endings put to paper. The phrase 'disappointing drivel' has never been more fitting. Absolutely no chance that I'll stick around for the sequel!

The novel runs for a total of 341 pages.

© DLS Reviews

A B C D E F G H I J K L M N O P Q R S T U V W XYZ VARIOUS NON-FICTION