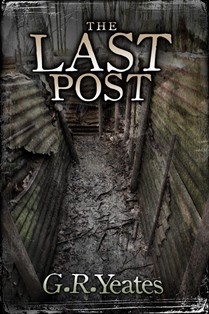 First published back in March of 2012 as a bonus short story added at the end of G.R. Yeates' novella '
Hell's Teeth
' (2012), the short story 'The Last Post' later had its own stand-alone release in September of 2012. The short continues with Yeates' 'Vetala Cycle' mythos, as another stand-alone addition to the dark world that Yeates has so masterfully unleashed.
DLS Synopsis:
It's Christmas Eve 1914 and midnight is approaching. As the soldiers hunker down for another bitter cold night in the trenches bordering No Man's Land, the few on sentry duty during the cold winter night know there is little hope of a seasonal respite from their duties. Lieutenant Reynolds offers what little good news he can to the three soldiers on watch - Charley, Bennett and Jimmy. But there is little to raise their hope during the bleak hours of darkness.

And then they hear the faint sound of singing across the way. German soldiers, joined in a chorus of 'Silent Night'. And then, from across No Man's Land they see the blurred shapes advancing through the wispy fog. Figures walking through the perilous ground between the two opposing sides. But there is more than festive cheer here in the ravaged Western Front. The Vetala are here. Torn from the ground they are ready to feed. And feed they will...
DLS Review:
As one of two final short story additions to the trilogy, Yeates has drawn upon the legendary 'Christmas Truce' along the Western Front to set his final conclusion to the First World War set Vetala Cycle mythos. Already wrapped up in a wealth of nostalgic emotion, Yeates inches closer and closer to the great moment of the ceasefire, when suddenly he chooses to pounce. From out of nowhere we're back in the vicious throngs of Vetala chaos; thrust into the last post before those that have fallen pass over into the Greylands. And with a somewhat out-of-character twist, Yeates begins the end of his mythos on a somewhat different note to what we have come to expect. And it's done so darn well.
The short runs for a total of 19 pages.

© DLS Reviews

A B C D E F G H I J K L M N O P Q R S T U V W XYZ VARIOUS NON-FICTION