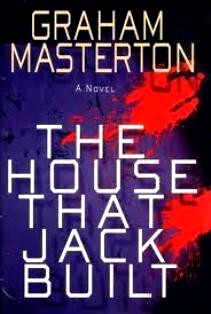 First published back in May of 1996, British author Graham Masterton's novel 'The House That Jack Built' was another typically graphic horror novel by this veritable master of intense bloodshed.
DLS Synopsis:
Running late for a meeting, wealthy international lawyer Craig Bellman takes his highly-strung frustration out on the dawdling taxi driver, only to find himself kicked out of the cab and having to walk to his next appointment in the pouring rain. On his way Craig is approached by a young girl who desperately pleads with him to come to the aid of her friend who is being raped in an abandoned convenience shop nearby. Bellman follows the girl to find himself confronted by two local gang members who rob the trapped lawyer. Worse still, before fleeing the scene, the two thugs hold Bellman down and smash his testicles with a claw hammer.

What happened to Craig Bellman that day in the deserted shop leaves him a broken man. And as he slowly begins to recover from the trauma of the vicious mugging, his marriage with his loving wife, Effie Bellman, soon begins to suffer. Craig no longer feels like he is a complete man any more. His depression continues to spiral downwards, leaving him feeling crushed and worthless. And so Effie decides that what he needs is a break from it all. The two of them need to get away from New York and visit her childhood hometown in the Hudson River Valley. In the hope of saving their marriage, Craig Bellman agrees.

Early on in their stay, the couple drive out to a particular restaurant that holds strong memories with Effie. The restaurant is closed, however on their small excursion they come to the decaying ruin of a mansion located by the mountainside. A magnificent yet creepy building named Valhalla that was once owned by the infamous tycoon, gambler and womanizer – Jack Belias.

Craig feels an instant draw to the incredible architecture of the abandoned old mansion. His imagination brought to life by the towering building before them; Craig feels a sudden surge of life run through him. But Effie is far from impressed with the old rundown property.

Nevertheless, Craig begins to make enquiries about Valhalla and its current ownership. Working through their finances, Craig realises that if he were to sell his portion of the law firm, then the couple would be in to position where they could just about afford to purchase Valhalla, as well as accommodate most if not all of the hefty restoration costs.

With his new lease of life, Craig begins the long process of purchasing and restoring the huge gothic building. But when the local property developer, Norman Moriarty, commences with the work on Valhalla, Effie begins to notice small changes occurring in her husband's temperament. Craig begins to show signs of an increasingly irrational behaviour, which gradually escalates to sudden bursts of aggression and violence.

But tragedy awaits the Bellman's restoration project within the eerie corridors of Valhalla. And when a surveyor dies in a horrific accident whilst working within the building, Effie decides to seek help from the local psychic-cum-herbalist - Pepper Moriarty. Local talk of an evil presence within the damp walls of Valhalla have not gone unnoticed, and as time goes by, the two women become convinced that there is something in these whispered rumours.

But Valhalla holds a secret far more terrifying than a simple haunting. In the cold walls of the towering building, Jack Belias still holds a controlling presence. And the doors are opening for his return...
DLS Review:
What starts out looking like just another haunted house story, in a very similar fashion to 'The Haunting Of Hill House' (1959), gradually begins to turn into something very different. Masterton lets loose with his imagination, creating an intriguingly involved story that weaves together inspired theories on time and the corruption of its supposedly linear rules.
From early on Masterton pays particular attention to the characterisation of Craig Bellman, fabricating an intricate and emotionally-heavy backstory that serves as the initial catalyst for the events to unfold in and around Valhalla.
Masterton avoids all possible clichés in describing the eerie building of Valhalla, instead masterfully painting a darkly atmospheric picture of a decaying premises that holds a spine-chilling secret. And it's this oppressive atmosphere that really keeps the reader utterly enthralled with the unfolding tale. Its shadow is always there, the underlying supernatural fear constantly keeping the reader on edge as the work continues and strange sounds are heard throughout the empty rooms.
The tale holds a great deal of energy, with the growing chill-factor making way for bursts of manic horror and eventually on to scatterings of fairly graphic gore. Oh yes, Masterton once again goes right for the jugular with the levels of hard-hitting gory horror on show. And it's all kept in check with an increasingly bizarre storyline that works surprisingly well.
The character of Jack Belias soon takes on a much more dominant role with the way in which the horror is unfolding. His overall importance and influence on the storyline, slowly but surely making itself known until the critical point where the true secret of what is happening in Valhalla is revealed.
And in and amongst this al there are plenty of impactful scenes of out-and-out horror to keep the novel racing along like an out-of-control rollercoaster. With the horror spiralling towards new levels of imaginative madness, Masterton throws in all he's got for a truly magnificent and action-rich finale that closes off the novel in spectacular fashion.
The novel runs for a total of 385 pages.

© DLS Reviews