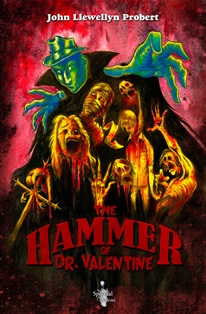 First published back in December of 2014, John Llewellyn Probert's novella 'The Hammer Of Dr. Valentine' formed the second instalment in his planned trilogy of Dr. Valentine stories. The novella followed on from the previous offering - '
The Nine Deaths Of Dr. Valentine
' (2012).
DLS Synopsis:
It had been two years since Dr Edward Valentine's murderous rampage saw nine medical practitioners murdered in a series of elaborate deaths; each one inspired by deaths from within Vincent Price films. Now, with the silhouette of Castell Coch providing a suitably fitting background, the body of Dr Valentine's next victim is catapulted into the darkened mouth of the Welsh valley. Having been meticulously arranged to ensure the moment of death is just as he wants it, the still-living body of his victim lands squarely on a heavy golden cross placed at the very bottom of the gaping valley.

Before the police have had a chance to learn of this elaborate death, Dr. Valentine has struck again. Thirty-one-year-old journalist, Margaret Upchurch, whose article "Doctor Death – The Mad Medic Who Slew His Own Kind" accepts an invite to the British Museum where she believes she will be reporting on an evening of 'Ancient Egyptian Splendour and Excitement' courtesy of a Professor Fuchs. However, what awaits her is another elaborate murder at the vengeful hands of Dr. Valentine.

After the crushed body of Margaret Upchurch is found in the street, covered with bandages and soaked in embalming fluid, recently promoted Detective Chief Inspector Jeffrey Longdon is called back to Bristol to head-up the investigation. After all, the elaborate deaths could only point to one man - Dr Edward Valentine.

The death of the crusading journalist, Michael Brennan, who had been the one to cover the Dr Valentine affair for his paper, only furthered the police force's belief that Valentine was back with a vengeance. The link between the chosen victims came quickly. They had all collaborated on the book "The Nine Deaths Of Dr Valentine", which included articles they had each written, weaving in plenty of gossip and conjecture to ensure they received plenty of attention.

Journalist John Spalding is brought in to help compile a list of those that could be in Valentine's sights. As with the nine deaths from Valentine's previous rampage, the elaborate nature of these recent murders points to a similar style of inspiration. Vincent Price is no longer the link between the deaths. And DCI Jeffrey Longdon realises he has his work cut out for him when it's revealed that the deaths are this time inspired by the Hammer Horror films.

Furthermore, it appears that Dr Edward Valentine has a young companion assisting him with the murders now. The question is, how far will Valentine go with his murderous campaign this time around?...

DLS Review:
How can anyone not love these stories? Having recently finished the first novella in the trilogy - '
The Nine Deaths Of Dr. Valentine
' (2012), and having absolutely loved every second of it, I have to admit that I was particularly keen to get straight on with this second instalment. After all, '
The Nine Deaths Of Dr. Valentine
' (2012) was such a non-stop horror-filled read, it was a disappoint to finish it so damn quickly. And I'm incredibly happy to say that 'The Hammer Of Dr. Valentine' is every bit as good as the first book.
In essence what we have with this second book is a very similar storyline. Once again we have vengeance as the sole motive. Our villain is the exact same Dr Valentine. His murders are just as elaborate. They're just as over-the-top and utterly far-fetched. Furthermore, the single and completely linear storyline is just as bold and direct as the previous instalment was. Indeed, it's another case of line-up the hapless pins and watch as Valentine gleefully bowls them over once again.
Yes it's formulaic and simplistic in its singular approach. But wasn't that often the way with the classic Hammer Horror films? Was it more often than not simply a case of jumping from one death to the next, until the final showdown is played out? And in replicating such an approach, Probert has (consciously or not) stuck with the essence of these classic horror films he has so lovingly embraced.
Indeed, once again Probert has declared his passionate affection for the Hammer era of horror films with a similarly respectful reproduction of the deaths from a number of the films. Here Probert turns to the likes of 'Dracula Has Risen From His Grave' (1968), 'Blood From The Mummy's Tomb' (1971), 'Fear In The Night' (1972), 'She' (1965) and 'Hands Of The Ripper' (1971) for his macabre inspiration. And each and every one of them fit the bill perfectly.
If you've read '
The Nine Deaths Of Dr. Valentine
' (2012), then you'll know the score by now. In fact, if you just look at the glorious cover artwork on the novellas, you'll be able to garner a reasonable idea of what's in store for you within the novella's pages. And what's for certain is that Probert doesn't disappoint his audience one bit.
I've got to say it again. These novellas are the very definition of horror that's been written by a horror fan for horror fans. Probert knows his audience. And that's because he's so clearly one of us. He's writing stuff that he'd undoubtedly love to read himself. It shows from the very beginning to the very last adrenaline-pumping action-rich page. It's energetic, tightly-written, over-the-top and monstrously entertaining Hammer Horror style wackiness.
This is pure, unadulterated horror entertainment from start to finish. And let's be honest – life is so much better with Dr Edward Valentine in it!
The novella runs for a total of 92 pages.

© DLS Reviews