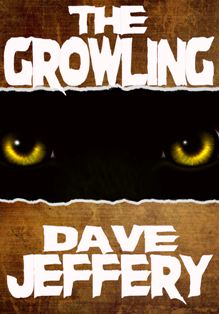 First published in September of 2010, British horror author David Jeffrey's short simply entitled 'The Growling' was made available on the internet as a free miniature ebook for instant download.
DLS Synopsis:
After beating his ex-girlfriend's new lover to a bloody pulp, Cory Anderson finds himself even angrier with the world. Now, as he makes his way down the stairwell of the grimy tower block where the two are living, he starts to ponder just where it all went wrong. But then he hears something waiting for him on the floor below. Something that's deep and menacing growl reverberates around the walls of the stairwell. It's time to face his fears…
DLS Review:
Jeffery's fast paced and ferocious short pounces on the reader from the very beginning with the relative chaos of our principal character's raw emotions at the forefront of the storyline. With Anderson quickly departing from the flat, the pace, premise, plot and characterisation is now efficiently and skilfully set. The rest of the short is now dedicated over to fleeing from the awaiting 'beast' on the stairwell.
Jeffery utilises the classic 'face your fears' literary ploy, bringing together a collection of the character's inner fears and confronting them head-on. The short is a rip-roaring cross between the likes of Guy N Smith's 'Werewolf By Moonlight' (1974) series and Stephen King's novel 'Cujo' (1981). Indeed, the whole short appears to be almost a miniature homage to Guy N Smith's action-hungry pulp novels.
All in all, the tale is monstrously action-packed and crammed to the rafters with edge-of-the-seat tension. Its straight forward storyline offers the reader the simplicity of a well written and thoroughly enjoyable horror storyline. It's a quick burst of action-fuelled horror, designed to amuse.
The short runs for a total of 14 pages (at standard text size on a Kindle).

© DLS Reviews

A B C D E F G H I J K L M N O P Q R S T U V W XYZ VARIOUS NON-FICTION