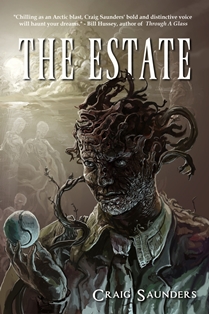 First published back in October of 2013, British author Craig Saunders' novel 'The Estate' saw the writer once again returning to the horror genre.
DLS Synopsis:
For the past few years forty-two-year-old Sam O'Donnell's life had been on rocky ground. His cocaine habit and excessive drinking had put him firmly on a road to self-destruction. And then it happened. He suffered a heart attack and stroke all at once. A simultaneous attack that should, in all intents and purposes, kill someone. But somehow Sam O'Donnell had survived. And even more unbelievable – his wife, Helen, had stuck by him through it all.

Now Sam was left with the right-side of him dead to the world. His right hand barely functioned and his right eye could was pretty much dead. Walking was a painful challenge that left him exhausted after just a short distance. And he could no longer see the colour yellow. It simply came out grey to him. That is, other than from when he saw the sunset. But it wasn't the normal sunset. He couldn't see that one. It was grey to him. But just a little while after the normal sunset, he would see his own personal one. And no one knew why.

Packing in his highly-paid job, Sam and Helen sell-up and move away from the rat-race of London to a picturesque seaside spot in Norfolk. And there, where life goes at a much slower pace, Sam and his wife start a new life together, in their quiet and sleepy new home by the sea.

However, it's not long before Sam starts to see strange things around the area. Faceless men in flames torment his dreams. Dreams that seem to be bleeding into his waking hours. And it all seems to point towards the nearby estate – Townshend.

His seventy-year-old next-door neighbour, Frank, seems to know something of what is going on. But it is an unspoken understanding. After all, how do you bring up something like that? And if he spoke to Helen about it, she'd probably get him sectioned.

But what he was seeing in and around Townshend was getting worse. After seeing a teenaged girl alone on the estate, somehow he knew she was in trouble. Possibly even dead. Furthermore the stranger inside him – that passenger in the dead parts – was beginning to show himself. He had to do something. He had to take control and face this thing head on. And in doing that, he would rip open every wound that had healed over time. He would finally have to face his demons, and see if he came out the other side…

DLS Review:
One thing that Craig Saunders can do so goddamned well is create characters who, although full of horrendously off-putting traits, make a strong connection with the reader. You only have to look at the principal protagonist within Saunders' previous novel '
Spiggot
' (2012) to see how far the author can go in creating loveable anti-heroes. And now we have Sam O'Donnell. A man who has lived a life of excess – only to be given a second chance after suffering a life-threating dual attack.
And to be honest, the novel really is about the emotional journey of this character more than anything else. In the course of the novel, O'Donnell's life is plummeted through absolute hell, whereupon he is forced to face his own personal demons and somehow, in his lowest moments, fight back.
Like with his other work, Saunders injects a healthy amount of dry wit into the novel – particularly within the first half of the book. Indeed, O'Donnell is a bold and brash character who, although having been physically brought down a fair few pegs, is still a strong and highly opinionated individual. And this is where that bond with the reader is established to such a great effect. Within a matter of a few chapters, O'Donnell feels like a living breathing person. Someone who the reader feels they know. Someone who it's impossible not to sympathise with.
Admittedly, from early on it's a little hard to see where the tale is going; focussing more on the character of Sam O'Donnell rather than anything else. However, after their move to Norfolk, the frequency and ferocity of the nightmarish scenes gradually escalates with a strong supernatural direction creeping into the otherwise character-driven storyline.
Sadness and regret are key elements which Saunders focusses upon from early on, gradually bringing forth ideas of personal conflict and ultimately a strong sense of redemption. The three principal characters – Sam, Helen and Frank – all have their own crosses to bear. And it's with the realisation and acceptance that they must overcome these bitter hardships that the tale ultimately pulls the reader deep into the underlying theme of the tale.
O'Donnell's loss of his daughter is a painful and heartfelt addition that draws strong parallels to the likes of James Herbert's '
The Secret Of Crickley Hall
' (2006). And by this time this is delivered to the reader, they will be fully engaged with the character of Sam, making the impact of coming to terms with his daughter's death so very heart-wrenching.
As the novel draws to a close, Saunders builds upon a very powerful finale; truly encapsulating all of the key elements that have run through the course of the tale. And it's a magnificent finale – which races to a truly heart-in-mouth conclusion.
The end result? Well, it's hard to pigeonhole the novel as just a horror. Yes there are strong horror elements nestled into its fabric, but the emotional journey of the lead character is far more domineering. It's one of those tales that digs deep into the reader, leaving behind a lasting impression of a character that has made a difference.
Quite simply, 'The Estate' is a tale that you are unlikely to forget in a long time.
The novel runs for a total of 369 pages.

© DLS Reviews