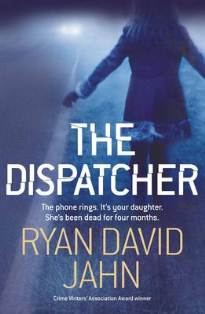 First published in July of 2011, US author Ryan David Jahn's third published novel entitled 'The Dispatcher' followed on from two well received and highly regarded novels – 'Acts Of Violence' (2009) and 'Low Life' (2010).
DLS Synopsis:
Ian Hunt is a police dispatcher, working the emergency phone line for the small town - Bulls Mouth within East Texas. Seven years ago his seven-year-old daughter Maggie was abducted. Since then he hasn't seen or heard anything from her. His now ex-wife, Debbie, had since given up all hope of ever seeing her again. But just as his shift is about to finish, a call comes in from a fourteen-year-old girl saying she's just escaped from her abductors. The terrified girl is Maggie.
Hunt's life is suddenly thrust into utter turmoil. He had never given up hope of ever seeing his daughter again. And now here she is, on the phone with him, saying that she's alive and still in Bulls Mouth. That is until she is dragged away from the phone, leaving the middle-aged dispatcher with the lingering sound of her ear-pitching scream.
Working with the few police officers that make up the local force, Ian Hunt tracks down his daughter's captives to an isolated home where she has been kept locked up for seven long years in the gloomy confines of the basement. There a short lived shoot-out occurs, leaving Hunt wounded and the other two officers either seriously wounded or dead.
Maggie Hunt's captives are now on the run with Maggie still in their possession. The chase will lead across Texas, with violence and murder around every corner. But Ian knows that he will do whatever is necessary to get his daughter back. Even if that goes against every principle he's lived his life by. The chase is on for Hunt to bring back that one glimmer of light in his otherwise bleak life…
DLS Review:
With a veritable litany of praise adorning the cover and rear of the book, I must admit that I was pretty well geared-up for reading Jahn's next novel before I had even started the first page. Within minutes of picking it up I wasn't disappointed.
The novel reads very much like his previous two tales, jumping between multiple points-of-view, from chapter to chapter. Many times the progressing storyline repeats itself, but from a different point-of-view, which was a style of writing that Jahn had previously employed but to a much greater extent with 'Acts Of Violence' (2009).
With a premise, location and storyline that the likes of Cormac McCarthy could well have penned, the gritty plot is one that relies heavily on atmosphere, vivid descriptions as well as lovingly constructed and continuingly developed characterisation. This is where Jahn really comes into his own. The novel instantly flings the reader into the dusty and hot location of outback Texas, with the oppressive heat always beating down across the pages. And each and every character that appears in the novel (there aren't actually that many) are brought to life with detailed and elaborately constructed back-stories and individual personalities, each with their own distinct traits visible from the outset.
There's no avoiding the fact that this is a damn fine read. It's instantly captivating, gripping throughout, well-paced and thoroughly enjoyable. The action is intense, snowballing as the storyline progresses on its greasy slope to the inevitable showdown.
The violence is quite harsh throughout, slapping down pockets of gut-twisting cruelty on top of numerous scenes of brutal vengeance as well as a particularly poignant episode of torture that brings to home exactly how far our principal protagonist is willing to go in order to get back his daughter.
The tale ends in a triumphant fashion, with a perfectly envisioned location forming the backdrop for a spectacular showdown. 'The Dispatcher' certainly lives up to everything that it claims to be, with a truly compelling storyline producing a brilliantly engaging and mesmerising read.
The novel runs for a total of 416 pages.

© DLS Reviews