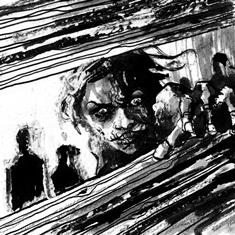 First published back in January of 2012, British author David Moody published his short 'The Cost Of Living' on the 'This Is Horror' website (www.thisishorror.co.uk) as part of their 'Flash Fear' free online contributions. In May of 2014, David Moody published an expanded novella version of the story, again with the same title, 'The Cost Of Living' (2014), in ebook only.

DLS Synopsis:
Being an accountant, Tom was naturally a man who paid attention to the details. A man who prepared ahead, and made sure that everything was thoroughly in place beforehand. And so that's why, when the world went to hell around them, Tom and his family were already well-prepared and ready for the madness to come.

With the virus spreading across the globe through direct physical contact, Tom had already ensured that along with his wife and daughters, they were completely cut off from the rest of the world – locked-up securely in their home with a garage full of water and provisions.

Outside the relative sanctuary of their home, the world was going insane. At first there was desperation, people fighting over the last scraps of food, water and DIY supplies. Then the violence followed – streets bursting out into utter chaos. And finally, just silence.

But with their supplies now dwindling, they need to ask themselves, is this really a life they want to cling on to?...

DLS Review:
Written in the first-person-perspective of Tom's wife, Moody's utterly downbeat glimpse of a last surviving family's dilemma within a world that is facing utter extinction is certainly a morbid one. Moody is certainly no stranger to the post-apocalyptic setting. Indeed, he is a veritable master of the particular subgenre. And with this short addition into his already extensive contributions to the premise, Moody shows that he still has plenty left to explore on the vastly emotive theme.

Although reasonably similar to his earlier short 'Muriel' (2011), minus the zombies that is, 'The Cost Of Living' plays with the claustrophobic and slightly-voyeuristic viewpoint of a family who watch out of their windows at a world that is slowly dying around them. It's that age-old post-apocalyptic question: is it really worth surviving this? Will it not just be better to die alongside everyone else?

Utilising the carefully calculating character of Tom, this question is made the focal part of the tale, with his careful preparation and provisions, at the end of the day, just postponing the inevitable. It's bleak and its downbeat, with just the right amount of irony, the short tale ends with a delightfully fitting and satisfying conclusion.

An excellent piece of post-apocalyptic flash fiction from one of the masters of the subgenre.

© DLS Reviews

A B C D E F G H I J K L M N O P Q R S T U V W XYZ VARIOUS NON-FICTION