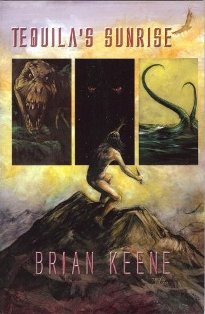 First published back in October of 2007 by Bloodletting Press, Brian Keene's novella 'Tequila's Sunrise' was originally only made available in a limited edition signed and numbered hardback (500 copies) or a more deluxe lettered hardback edition (26 copies). This had made the novella highly collectable and over the years quite a sought after book. In May of 2011, the tale was re-released in ebook format via Deadlite Press.
The tale later appeared within the collection of Keene's shorts entitled 'Unhappy Endings' (2009).
DLS Synopsis:
In the land of Oaxaca, war is upon the tribe of the Tenochas (a tribe who would later become known as the Aztecs). The men of the tribe leave Oaxaca in order to fight for their land. However, fourteen-year-old Chalco is left behind to look after the women and children.

However, when Chalco leaves Oaxaca to hunt for food he encounters a messenger of the gods named Huitzilopochtli. The messenger allows Chalco to gain their godly vision by drinking tequila. Chalco obliges and a door to the labyrinth (a dimensional shortcut between worlds, universes and realities) is revealed. And so Chalco is sent on a mission by Huitzilopochtli to save the Tenocahs people (and indeed humanity itself) by killing the leader of the brutal invaders who plan to attack the Tenochas people.

Chalco's mission is filled with otherworldly surprises along with strange glimpses from different periods throughout history. A mission that will see Chalco grow into the great man that he was destined to become...

DLS Review:
'Tequila's Surise' is a fast-paced and highly imaginative fable-esque tale that manages to squeeze in a clever fictional history for the spirit tequila (something which the whole story revolves around).

Within the tightly woven fabric of his strange coming-of-age tale, Keene ties in a host of gods and prolific historical figures, creating a tale of near-epic proportions that somehow sits snugly within such a short novella. However surreal this may sound, Keene has managed to do this well, delivering a tight tale of the fantastic, that it has to be said concludes particularly well, whilst still wrapping-up the whole fictional history that he has created behind the drink of tequila.

The novella is in no way overwhelmed with the details behind the Tenochas people, nor does it go to great lengths to set down the purpose of the ensuing war, or the various intricacies of the gods. Instead Keene takes the reader on a short yet fantastical trip that unearths a whole host of surprises.

All in all 'Tequila's Sunrise' is a thoroughly enjoyable read that fits well within the mythos of Keene's other work. For hardcore fans of Keene, this will be another must read, whereas for everyone else it is simply an imaginative pleasure to follow Chalco's fantastical story.

The book also includes a three page afterward that gives those readers who are unaware of the principals behind Keene's labyrinth, a very important insight into what is involved and how it links his other work together.
The book includes three black & white illustrations by the artist Alex McVey.
The novella runs for a total of 61 pages.

© DLS Reviews