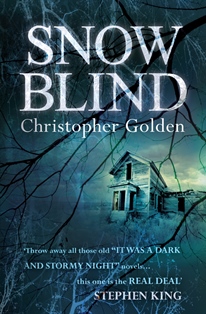 First published back in January of 2014, US author Christopher Golden's novel 'Snowblind' followed on after a number of award-winning and bestselling titles from the writer.

DLS Synopsis:
When the Great Storm hit the small town of Coventry in Massachusetts, not one of the residents was prepared for the frost-bitten-hell that it would bring. In a matter of hours the snow had piled up making it nigh-on impossible to move around outside. Power lines went down and those caught out in the snowstorm were suddenly at a very serious risk. But it's what was lurking within the storm that would haunt the community for years to come. Eighteen people died in the blizzard. Eighteen people that the people of Coventry would never forget.

Now, twelve years later and another massive snow storm is on its way. Nerves are on edge as the people of Coventry prepare for another crippling blizzard. But for Allie Schapiro memories from the storm of twelve years ago still cuts painfully deep. On that night, she lost her lover, Niko Ristani, together with her ten-year-old son, Isaac.

Similarly, for twenty-four-year-old Jake Schapiro, the night he saw his brother torn out of their bedroom window still haunts him to this day. But over the years he has convinced himself that it couldn't have possibly happened how his mind remembers it. And that's why he became a crime scene photographer. To preserve the truth of the situation. To expel the lies. To wipe away all doubt.

Doug Manning was another resident to lose someone important to him in the great storm. His wife had been taken from him as she waited at home for him to return for a job he'd just lost. Her body found frozen in the vast expanse of snow weeks later. And now, Manning thinks the world owes him. He's had his fair share of hardship – it's time he was repaid. And as fortune would have it, his casual job at Harpwell's Garage had gotten him in possession of the keys to some of the wealthiest residential properties in Coventry. When this next blizzard arrives, Manning's going to be ready – and this time he's going to take full advantage.

Meanwhile, Detective Joe Keenan's doing everything in his power to find a ten-year-old boy named Zachary Stroud who it seems survived a crash which saw their family car disappearing into the Merrimack River, killing both his parents. Keenan has rallied up a number of the residents of Coventry, together with the police force's own manpower for the search; but there's still no sign of the young boy. And as time goes by, and the bitter cold of the approaching storm draws closer and closer, so Keenan begins to fear the worst…

DLS Review:
There's nothing quite like a massive blizzard to set the scene for a horror novel. Trapped in your home, with power cuts always on the cards, communication lines prone to collapse, and any attempt to travel outside thwart with inevitable danger. It's a classic set-up. And when done well, it can lead to some pretty terrifying and claustrophobic reading.

Sadly, author Christopher Golden has really missed almost all of the potential from his snowstorm premise, and instead produced a tale that barely holds the reader's attention for more than ten minutes at a time. Okay, so perhaps I'm being a tad unfair there. But it has to be said that 'Snowblind' is shockingly dull at times, even give the absolute bucket-loads of potential that the tale had going for it in the early stages.

For his tale Golden has incorporated a healthy mix of characters, each with carefully inter-woven backstories that complement the close-knit community set-up. Indeed, with the storyline built around a double-whammy disaster (i.e. the storm of twelve years ago rearing its ugly head again), the structure works incredibly well alongside these lovingly established characters who are forced to relive the ordeal and face the horrors that took their loved ones all those years ago.

However, such a large cast of characters, each with an interconnecting role to play, does have its drawbacks. And it's certainly something that 'Snowblind' suffers from in abundance. From early on the story becomes far too clogged up with all the different characters; with it becoming increasingly difficult to remember who is who as the various parallel running threads entwine. Okay, so a handful of noticeably memorable characters do rise above the surface enough for them to leave an impression on the reader. The badboy Doug Manning is one such character, with his plan to burgle a number of houses in the better-off-area of Coventry during the returning blizzard proving to be quite an entertaining portion of the book. But Manning and a couple of others are the exception, leaving the rest just stagnating in the already bogged-down plot.

But it's with the novel's main threat – the strange dancing creatures that lurk in the storm (dubbed the 'ice men') - that really drags the tale down. At times it feels like the story is coming close to something that Stephen King might dream up, but then Golden misses all the horror, intensity and actual storytelling from the mix – leaving behind a somewhat weak and at times altogether boring read.

And that's really all that 'Snowblind' has to offer. It has its moments. But they're few and far between. And so sadly all that's really left is an unsatisfying and sluggishly-paced Stephen King-esque horror novel – without the chill factor.

The novel runs for a total of 309 pages.


© DLS Reviews