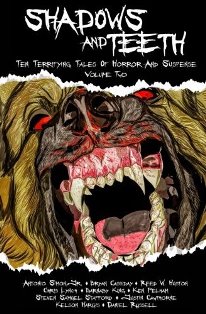 First published back in February of 2017, Darkwater Syndicate's anthology 'Shadows And Teeth: Volume Two' promised another batch of terrifying tales of grisly horror and nail-biting suspense.
Foreword - R. Perez De Pereda
– 2 Pages
Author and Editor Ramiro Perez de Pereda returns with another short, sharp foreword to whet the appetite for ten more stories of horror and suspense. Here De Pereda ponders the notion of real horrors lurking in the shadows, and no amount of looking away or pretending they're not will lessen the threat. It's all wonderfully unnerving. A great, short and snappy introduction for all the grisly horror to come…
Toll Road – Antonio Simon Jr
– 35 Pages
Merrit Owen Galloway was the guy you called on when you wanted someone to disappear. He was a professional. A man who'd mastered his profession. In fact, he'd dedicated the majority of his life to kidnapping. It was lucrative, and if you kept your cool, trouble free. Merrit was now in Florida. It was outside his usual circuit, however money was tight, and the pay was just too damn good to pass up. Hi job was a relatively simple one. Cheung Xi-ang was a Hong Kong hot developer of Macau hotel-casinos. The competition now sought leverage to persuade Cheung to bow out of his work. So there was a ten thousand dollar bounty on his four-year-old son's head. His son was the leverage. Merrit didn't have a problem with what needed doing. It was a job. One that paid well. But as the professional kidnapper was soon to learn – every choice has its consequences…
Starting off the anthology, award-winning author Antonio Simon Jr gets straight into the nitty-gritty-grime of horror with a premise that guarantees to bite you in the ass. The story sets off with a hard-hitting underground crime vibe, sticking the cold-hearted reality of organised crime into the face of the reader. From here we're forced to buckle up for one steadily descending ride into a fucked-up mayhem, where a cacophony of nightmarish scenes flood our drowning senses. Antonio throws down messed-up Clive Barker-esque birdmen and a kid that seems possessed with near-supernatural abilities. You thought your worst nightmares were scary – you might want to think again after reading this. The story's got more strange and disturbingly imaginative twists and turns than a LSD-spiked tour through a lunatic's crazed mind. Antonio – your next session with an overly-paid psychiatrist is long overdue mate!
Boxed – Bryan Cassidy
– 27 Pages
Santa Marita was lost. What once was a quaint California town was now a labyrinth of broken glass, burning cars, offal, and columns of smoke that daubed the sky purple, blotting out the sun. Outside packs of zombies roamed the streets, ripping apart and devouring any who crossed their paths. Inside the hotel lobby, Vince cradled his dying wife in his arms. Before she succumbed to the ghoul's infected bite, she told Vince that she'd seen somebody get bitten by a zombie, right before they ran into the elevator. The very same elevator that Vince had rushed into as soon as his wife died. He was now stuck in there with six others. And he knew at least one of them was going to turn. The question is: who was it?...
Ha! This one's a bit of fun. With the undead out and about and doing what they do best, we have a bunch of survivors trapped in an elevator, with the knowledge that one of them would soon be turning into a flesh-hungry zombie. Only, none of them will admit to being bitten. Furthermore, one of the guys stuck in there is a hot-headed deliveryman with a gun. It's a highly-volatile pressure-cooker situation that's bursting with potential for some nerve-shredding conflicts and intense arguments. To pile on the entertainment factor, author Bryan Cassidy plays with a whodunit vibe, often moving the story into an almost farcical direction, with the seven trapped survivors all turning on each other as they try to work out who's the bitten one amongst them. There's bucket loads of black comedy heaped into the short, but it's the sharp-witted dialogue that ultimately shines through the tale. Utterly entertaining from start to finish.
A Murder Of Crows – Reed W. Huston
– 28 Pages
It was as Danny and Rebecca were moving into their new home along Tideolus Grove that Danny first noticed that there was something not quite right about the place. It was hard to put a finger on exactly what it is that was wrong, but there was an unshakeable sense of foreboding in the air. However, it wasn't until a few days had passed that Danny became convinced the crows congregating outside their new home had it in for him. He was sure there was something to how these birds were acting that pointed to something wholly unnatural. Something paranormal was at work. He's sensed it from the moment they first arrived there. Furthermore, he could see that their cat, Southpaw, felt the same. But it was when he started to hear their voices in his head that he became truly convinced…
Moving into a new property is a premise that's always ripe with horror potential. It's that feeling of uncertainty that we all feel when we move. Not yet knowing exactly what your new home will be like. It's a premise that's been used time and again, and one that author Reed W. Huston has fully embraced for all it's worth. In a nutshell what we have is a short that toys (ever-so-delicately) with the slippery slope towards insanity, alongside the nervousness of relocating into a new home. However it's when our protagonist, Danny, starts hearing the cryptic voices of the crows in his head that the story really starts to get underway. Questions of sanity and what's real or not are bounded about all over the shop. Of course it all zeroes down onto a wickedly inspired twist ending that I doubt many will see coming. All in all, quite a fun little short to keep you guessing.
We All Ate The White Flesh – Chris Lynch
– 19 Pages
It had been a brutal winter. His parents had died, frozen in their timber hut when the last of their lamp's oil was used up. The mountain paths had been made treacherous by snowfall. As such, it was some weeks before he had found them. Luckily their cold, dead flesh brought some much needed nourishment to him and his beloved during those unforgivingly months. His father-in-law was a man of the soil. With a grandchild on the way, he'd worked hard to find food to fill their ever hungry bellies. And finally, with the arrival of summer, the fruit of his labour was unearthed. Although what should have been several turnips, now appeared to be just one. The vast dome of the turnip flesh extended in all directions, some ten foot in diameter. Around it, all the other turnips were shrivelled and dead, as if the very life had been sucked out of them by their gigantic neighbour. From the outset he knew something was deeply wrong with the turnip. But hunger will always override such concerns. And so they ate upon its white flesh. They all ate until their bellies were full…
Man, don't you just love it when an author's imagination is able to conjure up something utterly unique from the most unlikely of places. That's exactly what author Chris Lynch has done. Using Aleksey Tolstoy's classic fairy-tale 'The Giant Turnip' as his inspiration, Lynch has taken the story further, wondering off the pathway of its theme, and plunging it deeper and deeper into the unsettling depths of horror. The writing style remains true to its original incarnation. Told from the first-person-perspective of our unnamed protagonist, the tale maintains a purposeful air of old school 'storytelling' about it. Combined with the gradual creeping realisation of the horror nestled within, the outcome is nothing short of menacing. Ingeniously imagined and expertly executed. Chris Lynch is a writer I will definitely keep an eye out for in the future.
The Lonely Man – Barnaby King
– 37 Pages
What happened to Thomas, some nine years ago, changed him forever. It took place while he was working on his master's degree. His studies took him on a crawl of the many villages dotting the southern English countryside, requiring him to obtain census' from a great number of the out-of-the-way towns and villages, dating back as far as the records could go. But it was the events that took place in one particular village that have haunted him ever since. In the time-forgotten locale, Thomas found the residents far from giving with their town's history. Here, deep in the town's library, where the aging records were stored away under lock and key, he found references to an incident which saw a man persecuted for a crime it was later thought he'd never committed. A murder that haunted the poor man's soul, pushing him further and further from those he had grown up with. And it was in this damp basement, surrounded by the town's hidden history that Thomas swears he encountered the malformed stranger, pleading and pleading for Thomas' company…
There's something about purposefully dated, M.R. James-esque supernatural stories that just pulls you into the time-forgotten atmosphere, creeping under your skin and chilling your blood with tendrils of ghostly fear. Author Barnaby King has clearly mastered this still utilised style. The prose adopted is absolutely spot on. It whispers of the mounting horror. Instils an unshakeable feeling of dread in the reader. Indeed, the setting is one that was often utilised by Lovecraft and James. The out-of-the-way sleepy town. The locals whispering behind our narrators back. The secrets. The glimpses of something strange. Something truly, unspeakably unnatural. However, King pushes the mounting horror that much further. The often glimpsed presence becomes more prominent as every page is turned. And in the end, we're faced with something that feels akin to the grotesque Dr Freudstein from Fulci's classic creepfest 'The House By The Cemetery' (1981). This is proper horror. Unnerving and outlandishly weird. After reading this story, you'll not want to close your eyes again…
The Queen Beneath The Earth – Ken Pelham
– 29 Pages
Charles Bonham was a professional grave robber. Of course, Charles Bonham wasn't his real name. But it suited the image he was trying to project. It was part of what he did. Hiding his true identity. Fooling the locals. And then, when he'd got what he came for, he'd simply disappear as if he'd never existed. He'd come to Knocknarea in the Northwest of Ireland to plunder the tomb of Queen Maeve. He'd seen enough and read enough to know that Maeve's Cairn held many secrets. Rumour had it that the Iron Age queen was buried atop the rocky summit of Knocknarea. All he had to do was scope out the site, and then when the next storm came in, he'd dig up any treasures that lay buried deep under the dead queen's Cairn. And no ancient legend, or foolish folklore would put him off his goal…
Age-old folklore and supernatural horror, more often than not, go hand in hand. After all, folklore tends to incorporate an element or two of the supernatural in its telling. It's therefore not a far cry from all those tales of horror we subscribe to these days. What author Ken Pelham has done is take the Irish legend of the warrior queen of Connacht - Queen Maeve – built upon it and brought it forward into the current day. The story's centred on the antics of con artist and grave robber Charles Bonham, which provides a wealth of wittiness and black comedy. In fact, the light-hearted, comical feel to the short tale is what makes it work so well. The story itself is relatively straight forward, with an easily-predicted twist-ending that pulls on all those usual horror clichés. Nevertheless, the wonderfully inspired and colourful character of grave robbing Charles Bonham makes this otherwise lukewarm plot race by with the entertaining draw of a well-executed piece of character-driven supernatural horror.
Dear Sir – Steven Samuel Stafford
– 21 Pages
With the armistice finally bringing an end to the First World War, medics and surgeons were some of the few left with duties still to perform. Which is how he came to be travelling the heavily-damaged roads to the site of the second battle of the Somme, where he was sent to assist with the dying and the severely wounded at the base of operations at Camp Cavell. It was here that he found men in the direst of conditions, being treated for their pain alone with the most powerful opiates available. Their objective was to keep them placid until the end came. It was amongst these suffering souls that he was passed a strange object, hidden within a delicate hide pouch by a young German lieutenant on his deathbed. For all the carnage he'd encountered, and for all the strange and disturbing fight he'd beheld, none came close to his experience with Heinrich Weixel. Indeed, none came close to the blood-chilling moment when he read the note he had just been given…
Ahhhh…good werewolf stories...there just aren't enough of them around these days. Don't worry, disclosing that Stafford's offering is a werewolf story isn't a spoiler. In fact, the lycanthropic plot is revelled fairly early on, with Stafford certainly not withholding the fact, but instead building towards the potential reality of such a beast. Once again we see a story embedded within the style and prose of the bygone masters of spectral horror. There's certainly plenty of Poe and James in the delivery of the tale, delivered (as is so often the case with this stylised era of horror) in the first-person-perspective, akin to passages in a diary, via an unnamed narrator. The end result is a story that gradually pulls you into its unravelling plot, keeping its cards closely to its chest, to keep the mystery alive until the very last page. Well executed, good strong characterisation, and plenty of tight and tense dread within. Another damn good offering.
Colder Still – Justin Cawthorne
– 41 Pages
John Spencer hated his son. Although, if he was honest with himself, these days he didn't feel much of anything anymore. He'd stopped blaming himself for Peter. But he couldn't completely shed a sense of responsibility. Maybe, sometimes, some people were just born bad. What had begun as a loving and stable relationship had slowly devolved through their time together into an unnatural bond of hate and resentment. Being wheelchair-bound and forced to live under the same roof as Peter was crushing his soul. John had never felt anything uglier in his life, and he had survived through horrors that Peter couldn't even dream of. The pages of his diary, from back when he fought for his country, only told half the story. The rest was locked away in his mind. That, and in that small watertight jar he'd kept hidden over all those years. There were worse things in the world than Peter's fury, and one of them just happened to be in that jar. Peter just didn't know it yet…
Incredible. Absolutely incredible. This sort of calibre of blood-chilling horror is what truly makes anthologies like this. Author Justin Cawthorne offers up a story drenched in pain, hurt and vile resentment. The characterisation, even within just the first handful of pages, is absolutely spot on. It's so thick with pore-clogging emotion that you'll find your jaw physically aching from the sheer anger ripping through your body. And then Cawthorne flings you back to when our narrator, our heart-wrenchingly tortured protagonist, was doing his service in WW2. Told through excerpts from his diary, alongside his vivid memories of that terrifying time, this wonderfully envisioned backstory soon becomes the main focal point for the entire tale. It's here that one half of the story's horror is unveiled. It's gut-churningly creepy, masterfully told, with even more of that perfectly fleshed-out characterisation woven throughout. I say one half of the horror, because Cawthorne has a second slice of the pie left to serve up. Back to the present day, and the next slab of is one embedded within psychological torture. John's son, through his treatment and loathsome contempt for his father, brings about a much more close-to-home horror. Of course, in the end, these two grisly avenues will merge. And when they do, the final hand of gut-wrenching horror rears its bittersweet head. Love it. Possibly one of the finest short stories I've come across in a long time.
Quarry Lake – Kelson Hargis
– 35 Pages
Ever since Whit's brother, John, drowned in Quarry Lake, Whit found he was able to commune with the dead. They'd just been young boys at the time. Whit had watched as it happened. As his brother flailed in the water, before being dragged down below its murky surface, never to return again. Watching his brother drown had scarred Whit for life. Although, after a while, Whit found he couldn't remember what his brother looked like anymore. At least, not until he saw him again the following summer. John wouldn't be the only ghost to visit Whit. Not long afterwards, a young dirty-blonde-haired girl named Sarah started to contact him. And then eight-year-old Tara Luke appeared soaking wet alongside John and Sarah. Whit knew this meant that Tara was at the bottom of Quarry Lake. Her family were undoubtedly still looking for her in the vain hope she might be returned safely. Only Whit knew otherwise, yet he felt he couldn't tell anyone of her fate. No one ever believed him. And then he'd look guilty. He couldn't go through that again. But he knew, deep down in his heart, that those that had drowned in Quarry Lake needed to find peace, once and for all…
This one's pretty grim. I say grim, but I guess bleak, oppressive or slowly suffocating might be a better description. Akin to Duncan Ralston's '
Salvage
' (2015), author Kelson Hargis has opted for a downright depressing atmosphere to drench his supernatural offering in. The subject of drowning youngsters is never a cheerful one. And to be fair, Hargis doesn't overly dwell on this side of the short tale. However, the prose that Kelson uses, alongside the trudging pace and introspective ponderings, makes for a story that quite frankly wallows in a bath of misery. Although that's not to say there aren't some moments of light that manage to break the surface. Meagre scatterings of such rise up from time to time. There's also plenty to take from the tale. A quietly spoken human touch breathes life into the slowing rhythm of the tale. And it's this vital human element that pulls everything together. It sheds away the gloom. Takes away the mist and fog. And forms a lasting message from all the loss that has stayed trapped within the reach of the still lake.
God May Pity All Weak Hearts – Daniel I Russell
– 29 Pages
He'd left all the arrangements for their relocation to his wife. After all, if it had been down to him, they'd no doubt end up living in a purely functional house, devoid of all character and charm. It was Cora who had the eye for indulgence. She was after all, a star of the music hall. However, upon arriving at their newly leased lodgings of 39 Hilldrop Crescent, he finds himself decidedly underwhelmed by his wife's choice in a new home. The property seems grey and drab, without anything in the way of character. But worst of all, in their bedroom, a very noticeable crack runs the entire length of one wall. Why would Cora choose such a property? He finds it baffling. And then, not long after their move, he finds supporting her extravagant career to be a considerable burden on their finances. So much so that he starts advertising for lodgers to support their somewhat meagre income. He's the first to admit that it's not the most ideal of arrangements, but a necessary evil to keep up with his darling wife's habit for gin and late night partying. And now, with the run up to the festive season upon them, she's out almost every night. Of course, it wouldn't be so bad if he wasn't kept up half the night by the clawing and scratching coming from behind the ever-expanding crack along the bedroom wall. It must be rats in the walls. After all, what else could it possibly be?...
To finish the anthology off Australian author Daniel I Russell offers up a final period-set tale, purposefully adopting the style and prose of the likes of Algernon Blackwood, M.R. James etc. Told via excerpts from our unnamed narrator's diary, the short tale is a wonderfully faux-dated one, with the prose and gentlemanly telling of the story conjuring up a distinctively early twentieth century atmosphere. The story itself is very scattered and slow in its fruition. It's one of those meandering stories that seems almost devoid of direction until everything suddenly snaps into place in the final few pages. And that's exactly what happens here. It's not necessarily all that dark, well, not early on anyway! However, there's an odd curiosity about it. Something not quite right. Something just that little off kilter with reality. And it works wonders with unsettling the reader. Which is just what the gentlemanly pharmacist ordered!
The anthology runs for a total of 317 pages.

© DLS Reviews