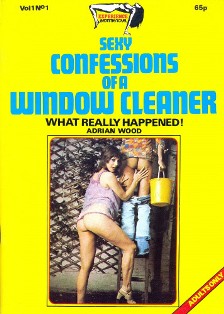 First published back in April of 1975, 'Sexy Confessions Of A Window Cleaner' formed the third 'Sexy Confessions' monthly digest magazine from the Tabor Publications series. This particular story was written by British pulp author Guy N Smith under the pseudonym of Adrian Wood.
Guy N Smith was responsible for penning seven, and very possibly eight of the thirteen digests that made up the 'Sexy Confessions' series. Although the cover for this particular instalment confusingly states 'Vol.1 No.1', despite it being the third 'Sexy Confessions' publication.
It's pretty obvious that Tabor's 'Sexy Confessions' series was mimicking the far more successful 'Confessions Of A…' series which were penned by Christopher Wood under the pseudonym of Timothy Lea. These novels started off with the title 'Confessions Of A Window Cleaner' (1971), which Tabor's 'Sexy Confessions Of A Window Cleaner' was undoubtedly modelled upon.
DLS Synopsis:
After getting sacked from his job as a Gas Engineer for accidentally looking up the skirt of one of the office workers, Adrian Wood leaves Birmingham and heads home clutching a dilapidated old suitcase and only a week's wages in his pocket. Adrian had been living in the city away from home for almost ten years now. His sudden return to his home village was going to raise a few eyebrows and get a few tongues wagging. Least of all, because of his somewhat shady past.
Unsurprisingly, the first questions came from Adrian's mother. Why had he returned home to their sleepy village after all this time? On the spur of the moment, Adrian declares his intentions to set up as a window-cleaner. That's what the village needs – a new, honest, hardworking and reliable window-cleaner.
With the local window-cleaner, Ben Watkins, retiring from the job, the timing couldn't have been better. Adrian manages to purchase the round off him as well as all the window-cleaner's old gear, and within days he's ready to go and make his fortune!
The first house on the round was the vicarage. However, even before Adrian had put cloth to window, he'd annoyed the vicar on account of Adrian churning up the vicar's precious lawn with his wheelbarrow.
However, the vicarage job wasn't all bad. In fact, it was decidedly the opposite of that. The vicar had certainly been annoyed with Adrian over his lawn. Although he wouldn't be delighted to learn that Adrian had clambered into his daughter's bedroom while she was in the throes of maidenly pleasure with a banana. Fiona Cuttbertson was her name. The vicar's eighteen-year-old daughter, who was more than willing to show the new window-cleaner a good time.
Furthermore, the vicar's daughter wouldn't be the only young female to give Adrian Wood a good romp or two over the coming weeks. His new career offered him plenty of opportunity for pursuing some carnal pleasures. From the nympho wife of a wealthy businessman, to sexual frolicking with six sixth-formers in the private school gymnasium.
It appears there's no such thing as a day of rest when you're a window-cleaner…
DLS Review:
You know what to expect from these types of cheap, throwaway magazine digests. It's all about some harmless titillation, with soft porn stories that are designed to get you aroused and feed your sexual fantasies, as well as make you snigger with the outrageous side of the stories. Indeed, written within a banner inside the magazine cover, it proudly proclaims: "Sexy Humour – That's the ingredient of Tabor Publication's latest monthly 'Confessions' series".
Also inside the cover, the supposed Assistant Editor of Tabor Publications, an attractive young lady named Penny Wade, provides a quick introduction to the publication. I'll eat my own socks if Penny Wade is the real assistant editor of Tabor, or indeed if the accompanying photo is really of said editor. Clearly hoping to arouse the male readership that little bit further, as well as potentially broadening the appeal of the stories to the opposite sex, Ms Wade talks about how surprised she is with the reaction she regularly receives from people when they learn these "sexy magazines" are edited by a young female, such as herself. She then goes on to say how "this new confessions series, although very sexy, has women in mind. The magazines are funny, they are erotic, and they make ideal bedtime reading." Enough said!
From Penny Wade's introduction, the mission for the digest magazine is clearly set - have some fun with some light, harmless titillation that doesn't take itself too seriously. That's exactly what to expect and what this issue delivers.
The story is told by way of a "sexy confession" from a fictional individual named Adrian Wood. Of course, we're led to believe Wood is supposedly a real person, and this is a true account of his sexy shenanigans.
The sexy story gets underway with Adrian telling us how he got the sack from his job for accidentally peeping up Mrs Bumm's skirt and spying here hairy beaver. This is all told with much comical wit and colourful analogies, getting you straight into the swing of things with the sexy humour.
There's so little padding between the various erotic events, it feels like a non-strop sex-hungry rollercoatser ride. In essence, it's split into ten chapters, each of which offer up a different sexy encounter. We start off with Fiona Cuttbertson – the eighteen-year-old daughter of the local vicar who's caught masturbating in her bedroom with a banana. Of course, Wood makes his presence known and ends up getting his end away without too much work. Literally the next day he's cleaning the windows of some wealthy couple's mansion, spying on the sexy wife through the window, and before long he's arranged another sexual encounter, this time with the nympho posh bit of crumpet Doreen Higgs-Walker.
Poor ole Adrian's barely managed to recover from these two back-to-back liaisons, when he and his best mate (who he's brought into the window-cleaning business) are playing some sexy games with six sixth-formers' at the nearby high-class private school for girls - Myatt's College.
To recover from such antics, Adrian and Alfie Sidebottom (his mate and window cleaning partner) jump on a train to Wolverhampton to catch a football match. Of course, this little outing ends up with them pulling some sexually-charged tart named Rosemary Wright who ends up taking them both to bed.
Then there's Rachel, the sexy horse-riding trainer, who gives Adrian the VIP treatment in the back of the stables when he goes for a riding lesson. Literally the poor, worn-out fella can't go anywhere, or do anything, without some lass coercing him into giving her a good seeing to.
For Guy N Smith fans, what's great is to see Smith's literary voice coming through in these stories as well. Even when writing soft porn, you can tell it's Guy N Smith from a veritable mile off.
With Adrian's second encounter with posh wife Doreen Higgs-Walker, we see the window-cleaner taking part in some weekend pheasant shooting as a beater, trudging through the private woodlands with Doreen by his side. The rural hunting scenario is absolute classic Smith, with plenty of scene setting showing Smith's ingrained knowledge of such events, before we get down and dirty with some outdoor romping.
On a number of occasions, our confessing narrator – Adrian Wood – gives us clues about the whereabouts of these sexy encounters. He talks of a sleepy village by the Welsh border hills. Knowing Smith's own rural residence in this very region, it's highly likely that Smith had Knighton or Clun in his mind when penning the sexy stories. Again, another nice connection to Smith's later work, which fans of his pulp horror will no doubt enjoy.
It has to be said, the story does get a tad risqué at times, especially around the area of age. Our horny protagonist has sexual encounters with a number of girls, whom he thinks their young age might land him in hot water. With the vicar's daughter, Adrian only learns she "just turned eighteen" in the final few pages. Whereas who knows about the six sixth-formers at Myatt's College. Wood clearly isn't too concerned if they're potentially underage. I guess it's the "I'd best not ask" approach which, in this day and age, makes you a tad uncomfortable, and undoubtably another indicator of the age of the magazine. Early seventies views on such matters were perhaps slightly more lenient than they are in the current day.
I have to admit I was somewhat surprised with the direction the story started to take in the last couple of chapters. All of a sudden, it isn't solely concerned with delivering humorous sexual encounters. Instead, something akin to a suspenseful plot starts to emerge. Here we see Mr Wood finding himself in a rather tricky situation, which takes up the focus of the final couple of chapters, rather than just laying down more sexy shenanigans.
For me though, the real entertainment in the story is in the wildly farfetched and incredibly humorous predicaments Adrian Wood finds himself in. The threesome with the football mad nympho is a classic example. Poor old Adrian struggles with a threesome because a sharp bit of cream cracker gets lodged up his arse mid-thrust. You see, this cock-hungry nymph fancied cheese and crackers before she got down and dirty with Adrian and Alfie. The end result is that Alfie out-performs his window-cleaning partner, causing much embarrassment for our hapless hero.
As you'd probably expect from a publication of this nature, the magazine includes numerous adverts for massage parlours and adult films across many of its pages. It also has a fair number of black and white nudey photos, supposedly illustrating the story. However, when you read the tale, you soon see they have very little to do with the text, other than showing a man with a bucket of water and a ladder having some fun with various scantily clad women. Said women bear no resemblance to those that appear in the story, nor indeed the settings for any of the sexual liaisons.
All in all, this is a fun and very humorous read. You certainly shouldn't go into it thinking you're going to get much of a sexual thrill from the "confessions". The stories are soft porn and leaning more towards humour than proper eroticism. But it's entertainment. Witty, wildly over-the-top entertainment.
The digest magazine runs for a total of 66 pages.

© DLS Reviews